2019 Aerospace Coatings Market
With an expected increase in demand for aircraft coatings, airlines are looking to set themselves apart by using micas and vibrant colours to create custom looks. Utilising a basecoat and clearcoat system helps produce vivid colours and intricate details for exterior paint jobs. Sherwin-Williams provides products that offer a beautiful appearance and deliver excellent coverage, while using less paint to help reduce weight for aeroplanes. Find out how Sherwin-Williams coatings can further enhance both the interior and exterior aesthetics for aircraft.
Article Summary of "The Aerospace Coatings Market" appearing in Coatings World, May 2019, Vol. 24, No 5., p. 33-37. Retrieved from www.coatingsworld.com.
Skip carousel content
Discover More
Industry Expertise and Innovation
See how we help customers find customised solutions for their project and application challenges.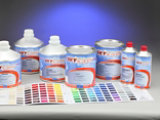 Product Lookup
Explore our product solutions for a variety of applications and aircraft types.
Ask Sherwin-Williams
Ask how Sherwin-Williams can bring the right products and expertise for your aircraft.