Glittering Vision
West Star Aviation's Veta Traxler, one of the top Paint and Interior Designers in business aviation, and Julie Voisin, Global Marketing Manager at Sherwin Williams Aerospace Coatings, discuss what makes for a great aircraft paint design.
"Glittering Vision" appearing in Business Aviation Magazine, Spring 2020, p. 68-71. Retrieved from http://www.bizavltd.com/bam-magazine/
Skip carousel content
Discover More
Industry Expertise and Innovation
See how we help customers find customised solutions for their project and application challenges.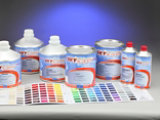 Product Lookup
Explore our product solutions for a variety of applications and aircraft types.
Ask Sherwin-Williams
Ask how Sherwin-Williams can bring the right products and expertise for your aircraft.