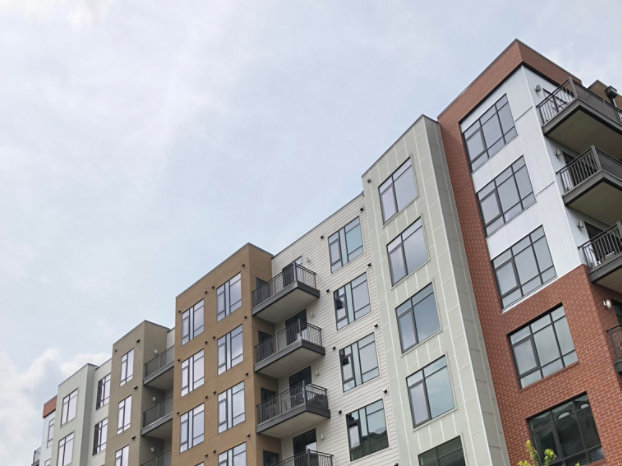 City View Nashville
A Sight To Behold
Crystal Windows and Sherwin-Williams powder coatings bring a touch of modern to this multi-use facility in Nashville, TN.
As cities across the nation experience rapid growth, such as Nashville, so does the demand for new construction of multifamily residential complexes. Crystal Window & Door Systems supplied the materials, coated in Sherwin-Williams solutions, that would make the surrounding views of the city accessible to residents of the City View Nashville apartment complex.
Baker Barrios Architects worked on the architecture and interior design of the 102,400 square-foot building, creating space for 102 residential units, a pool and outdoor deck, clubhouse and fitness center. The contractor, Solomon Builders, helped to make this vision a reality, and Window City instilled the help of Crystal Window & Door Systems to secure high-quality windows for City View Nashville.
Crystal Window & Door Systems fabricated over 2,100 windows and doors for the project. All of the windows and the storefront of the structure were coated in Powdura® 5000 coatings from Sherwin-Williams General Industrial Coatings,in the colors Bronze and Cloud. The fluoropolymer resins and solar reflective pigments in this powder coating defend against UV radiation, enhance thermal stability and deliver a hard, durable finish to combat wear and tear. As a result, the materials will require less maintenance, because the durability of these coatings will serve to protect the integrity of the structure's design well into the future.
Project Details
Architect: Baker Barrios Architects
Window and Door manufacturer: Crystal Window & Door Systems
Contractor: Solomon Brothers
Coatings Provider: Sherwin-Williams
Skip carousel content
Additional Case Studies
Building Products and Other Case Studies
Learn more about other applications for architectural and industrial coatings from Sherwin-Williams.
​ ​