Architects and Specifiers
Protect the Integrity of Your Design
Powder coatings offer numerous efficiency and sustainability benefits that can result in cost savings and reduced environmental impact.
Whether it's an exterior building product that needs to withstand the elements and UV light, or a part for office furniture that needs to hold up to daily wear and tear, there's a powder coating for nearly every application. 
The performance properties, colour and texture options, and overall sustainability of powder coatings make them the smart choice for your next project.
Learn More About Our Architectural Powder Coatings
Supporting Sustainability
Our powder coatings offer durability and colour in an environmentally-friendly and sustainable way. We offer high-quality finishes in multiple chemistries with near-zero VOCs or waste during application.
Learn More About Our Sustainable Standards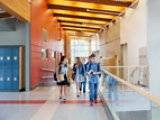 Browse Colour Collections and Tools
Syntha Pulvin® architectural powder coatings offer tremendous breadth and flexibility for your finishing needs, with a wide range of colours, textures and glosses, designed for architectural projects.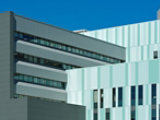 View Fluropon Coatings
Sherwin-Williams offers a comprehensive range of high-performance coil and extrusion coatings that can be used on a variety of metal building products.