iFEX Spectrophotometer
The iFEX® spectrophotometer (spectro) is a hand-held tool designed for precise and consistent color measurement. It provides even faster selection of color formulas within the FormulaExpress® 2.0 color formula retrieval system.
Whether used by a shop to improve throughput, or by a jobber as a value-added service, the iFEX spectro will provide consistent, fast, global color choices for any vehicle on the road today.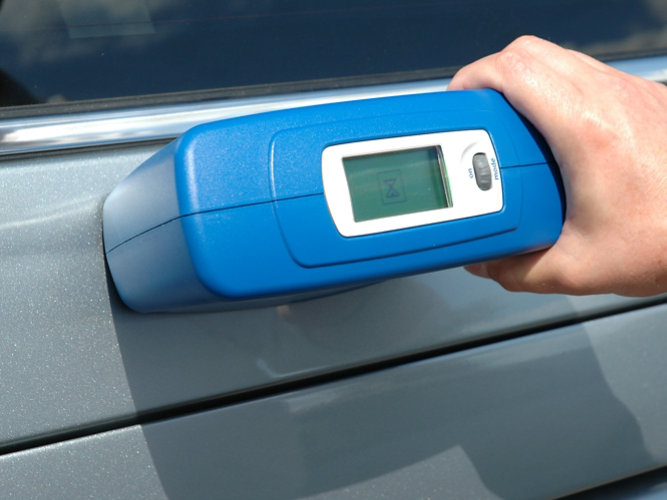 iFEX Spectro Advantages:


Portable: Ergonomic hand-held design
Durable: Comes with a 24-month Manufacturer's Warranty
Fast & Accurate: Robust LED optics deliver consistent measurements with no warm-up required
Comprehensive: Access to an unlimited number of formulas via FormulaExpress 2.0 color management system, with formulas updated daily
Inexpensive to Use and Maintain: Powered by four AA batteries
Powerful: Innovative graphical display allows you to visualize your results before you ever have to mix a drop of paint… Giving the ability to select the best result every time
Supports the AWX Performance Plus™, ULTRA®, Genesis®, and ATX™ product lines

It's simple to use:
STEP 1 - PREP:  Clean the surface to be measured. Make sure that the area being measured by the iFEX spectro is clean, dry and free from any scratches. It is always a good idea to polish the area to be measured in order to get the best reading.
STEP 2 - MEASURE THE VEHICLE:  Place the iFEX spectro against the vehicle and press the "Operate" button. It's that simple - one measurement is all that's needed.
STEP 3 - UPLOAD YOUR MEASUREMENTS: Connect the iFEX spectro to your FormulaExpress 2.0 PC via the USB cable and upload your measurements.
STEP 4 - CHOOSE THE BEST MATCH: With a couple of mouse clicks, FormulaExpress 2.0 analyzes the uploaded measurement from the iFEX spectro, and the innovative graphical display allows you to see just how close the results are to your vehicle before you ever mix a drop of paint.