Achieving Green Building Standards with Sustainable Metal Coating Systems, a new AIA/CES presented by Sherwin-Williams Coil Coatings
Minneapolis (Jan. 2021) – Sherwin-Williams Coil Coatings presents "Achieving Green Building Standards with Sustainable Metal Coating Systems," a new, online continuing education program for architects and design professionals. This course is recognized by the American Institute of Architects' Continuing Education Services (AIA/CES), the Green Business Certification Inc. (GBCI) and the International Design Continuing Education Council (IDCEC) for professional development credits.
The course will be presented live online at 12 p.m. CDT, on Feb. 4, 2021. There is no charge for the course. Attendees are required to register in advance at https://sherwin-pcg.brand.live/c/sustainable-metal-coatings-ceu. Starting in March, the course also will be available on-demand as a free, online video webinar at https://www.thecontinuingarchitect.com.
Those who successfully complete the new "Achieving Green" introductory-level course will gain an understanding of:
Factory-applied coil and extrusion coating types and application methods
How solar-reflective metal coatings improve energy efficiency and help mitigate the urban heat island effect
How to achieve green building standards through design and implementation of the Living Building Challenge™ (LBC), the U.S. and Canadian Green Building Councils' LEED® v4.1 rating systems, and Independent Declaration Programs – and their key differences with regard to metal coatings
The one-hour video webinar course is presented by Kara Baldev, Assoc. AIA, the North American architectural account manager for Sherwin-Williams Coil Coatings. Baldev enjoys inspiring architects to design with innovative metal coatings. She also works closely with specification professionals and metal product manufacturers to select the optimal coating systems for high-performance and highly sustainable interior and exterior projects.
Supporting architects and design professionals in achieving their green building project goals, Sherwin-Williams offers the full range of 70% PVDF resin-based, high-performance coil and extrusion coating systems. Its flagship Fluropon® coatings have been showcased on commercial and monumental building projects around the world for more than 50 years.
Fluropon® Pure and SR (Solar Reflective) coatings are specially formulated to help projects seeking to meet green standards and certifications. Fluropon Pure coatings meet both the LBC and LEED v4.1 standards, are considered Red List Free once they are applied to the substrate, and are supported with Health Product Declarations (HPDs) and Declare Labels. Fluropon SR coatings for energy efficiency help meet performance requirements for the Cool Roof Rating Council, ENERGY STAR® and LEED programs.
"Achieving Green Building Standards with Sustainable Metal Coating Systems" by Sherwin-Williams Coil Coatings has been approved by AIA/CES for 1.0 Learning Unit meeting Health, Safety and Welfare criteria (1.0 LU HSW). AIA Architect members are required to complete 18 LUs from registered AIA/CES providers each year. Of the 18 LUs, 12 must be in the topic areas of HSW.
This course also has been approved for 1.0 general continuing education (CE) hour by the GBCI, which provides third-party credentialing and verification for the U.S. and Canadian Green Building Councils' LEED program. Every two years, a LEED Accredited Professional must earn 30 CE hours and a LEED Green Associate must earn 15 CE hours to maintain their credentials.
In addition to offering courses approved by the AIA and GBCI, the course has been approved by the IDCEC for the American Society of Interior Designers (ASID), the International Interior Design Association (IIDA), and the Interior Designers of Canada (IDC).
Learn more about Sherwin-Williams Coil Coatings and its educational and inspirational resources at http://www.coil.sherwin.com/architect.
About Kara
Kara Baldev is the North American Architectural Manager for Sherwin-Williams Coil Coatings based out of Chicago, IL. After completing her degree in architecture, Kara found a niche in the building materials industry. For the past 15 years she has worked with several large multi-national companies and has been in the coatings industry for the past 6 years.

Currently Kara enjoys maintaining a role in the architectural community by inspiring architects to design with innovative metal coatings. Sherwin-Williams Coil coatings helps create a link between the architect's penchant for unique color and the end façade or roofing product. Kara works with both extrusion and metal panel product manufacturers to specify coating systems for interior and exterior projects.
About Sherwin-Williams Coil Coatings
Sherwin-Williams Coil Coatings delivers a full range of high-performance coatings in polyvinylidene fluoride (PVDF), silicone-modified polyester (SMP) and polyester formulas, designed to meet the most demanding environmental requirements while providing protection against weathering and pollution. The Coil Coatings Division is part of the Sherwin-Williams Performance Coatings Group, which supplies a broad range of highly-engineered solutions for construction, industrial, packaging and transportation markets in more than 120 countries in the world. Founded in 1866, The Sherwin-Williams Company is a global leader in the manufacture, development, distribution and sale of paints, coatings and related products to professional, industrial, commercial and retail customers. For more information about Sherwin-Williams Coil Coatings, visit coil.sherwin.com.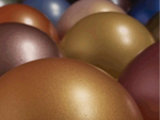 Browse hundreds of Fluropon colors or collaborate with us to create your own custom shade. Sherwin-Williams offers industry-leading turnaround times for coil and extrusion color samples and all samples are free of charge.