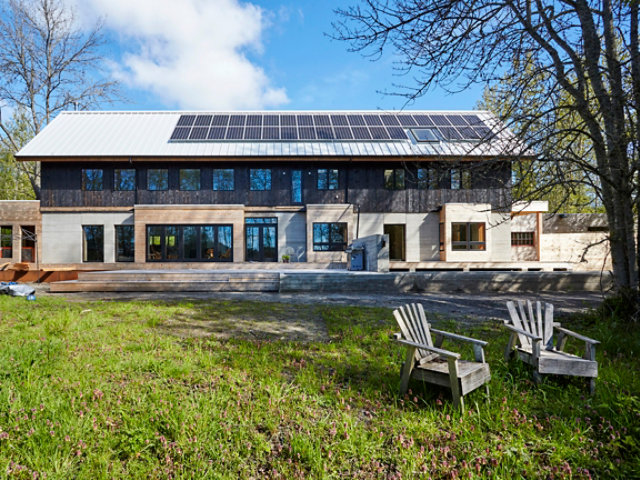 Fluropon Pure
The Material Transparency You Need
We believe it's our responsibility to be transparent about the materials we use in our coatings. Our Fluropon Pure coil and extrusion coatings are red-list compliant and can contribute toward LEED v4 and Living Building Challenge's Declare Programs.
Building For The Future With Fluropon® Pure
It's ideal for building with red list requirements or anywhere you many desire a more sustainable product. With reduced hazardous materials, these coatings are formulated with both the environment and our grandchildren in mind. In fact, since we support our customers who participate in LEED v4 and Living Building Challenge's (LBC) Declare Program, Fluropon Pure coil and extrusion coatings can be included in your plans for participating in these programs. Fluropon Pure is the first Red List free coating when applied to the substrate, which enables our customers to meet the Red List imperative under LBC. Fluropon Pure may be applied to galvalume, hot-dip galvanized and aluminum substrates. 
Fluropon coatings are our flagship product. As part of the Fluropon family, Fluropon Pure coatings are backed and warranted by Sherwin-Williams Coil Coatings, just like all our coatings that carry the trusted Fluropon name. The brand you know and trust.
Material Transparency
At Sherwin-Williams Coil Coatings, we respect that you want to make informed decisions about the products you use on your buildings. In the spirit of transparency, Fluropon Pure is formulated for compliance to Living Building Challenge's Red List. Sherwin-Williams has received Declare Labels for our coil and extrusion coatings and is listed as a Red List Compliant product. Enabling our customers to achieve Red List Free. Sherwin-Williams has published a Health Product Declaration on this product as it pertains to the Building Product Disclosure and Optimization – Material Ingredients Credit under LEED v4.
Declare Label
Product transparency label for Living Building Challenge
Declare is like a 'nutrition-label' for products, providing a clear, elegant and informative method to disclose ingredients. Declare is transforming the building materials marketplace through transparency and open communication. Developed by International Living Future Institute.
Health Product Declaration (HPD)
Product Transparency Report for LEED v4
Essential information for designers and builders to make healthier choices about human and environmental health. HPD's is a flexible tool for achieving the LEED v4 Material Ingredient Reporting credit. Sherwin-Williams has completed an HPD for Fluropon Pure for our coil and extrusion coatings.
What colors are available?
Sherwin-Williams Coil Coatings has a database of more than 50,000 available colors. If you are considering Fluropon Pure for your project, reach out to your Sherwin-Williams Coil Coatings representative, and they will work with you to ensure that the colors you are considering for your project are able to be created in the Fluropon Pure chemistry. Any color can serve as inspiration, a solid color and/or our special effect finishes and later formulated in a range acceptable for your discerning eye.
Solar Reflective
Fluropon Pure can also contain solar reflective pigments, which reflect harmful UV rays and lower the heat island effect - decreasing the structure's energy use.
Fluropon Pure Product Paper
This article provides an overview of Sherwin-Williams Coil Coatings Fluropon Pure coating and how it supports participation in LEED and LBC certification programs.
Fluropon Pure Technical Whitepaper
This paper provides an overview of the real-world exposure data that supports Sherwin-Williams Coil Coatings warrantied chromium-free primer solution for HDG and Galvalume. Sherwin-Williams Coil Coatings has been a leader in the development of chromium-free coatings since the early 2000s and continues to innovate with active evaluation underway for the warranty of additional pretreatment systems. Sherwin-Williams Coil Coatings is committed to formulating its coatings to perform strongly under real-world conditions—providing long-term durability and beauty.
Coating 101
Quick overvivew on all that goes into coatings, application process and so much more.
Learn More
Sherwin-Williams offers the color, confidence and collaboration to bring every project successfully to life.
Learn More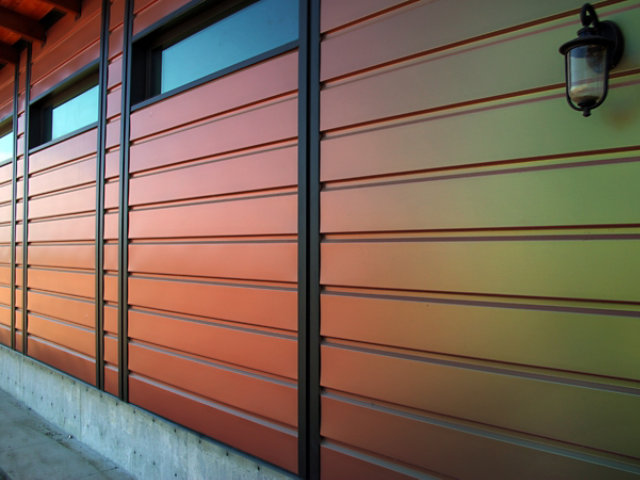 Let's Talk
We'd love to discuss your needs for field-tested high-performance architectural metal coatings.