Solutions for Sign Builders Webinar
May 20, 2020 - 2:00 PM EDT
Join Alicia VanDuyse, Sign Segment Market Manager, for a discussion on coatings designed specifically for sign builders and improving your operations.  We will discuss how we can help sign manufacturers operate more efficiently with new products, processes, service and technical support.  Sherwin-Williams Sign Coatings, the sign of a good finish.   

Color. Speed. Service.

Our dedicated local facilities and world-class coatings technologies are a winning combination that expertly covers the entire finishing process, delivers high-quality finished products, and improves efficiency and productivity in your shop.  From products stocked in a nearby facility to an onsite GENESIS Lustral mix bank, we've got you, and your signs, covered.  Learn more about our service and technologies with reduced dry times and long, workable pot life can improve your operations and help you provide your customers with a lasting impression.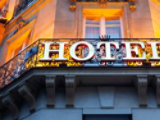 Let's Connect
Get in touch with your local Sherwin-Williams representative to learn how Sherwin-Williams can be your competitive edge.
Contact Us