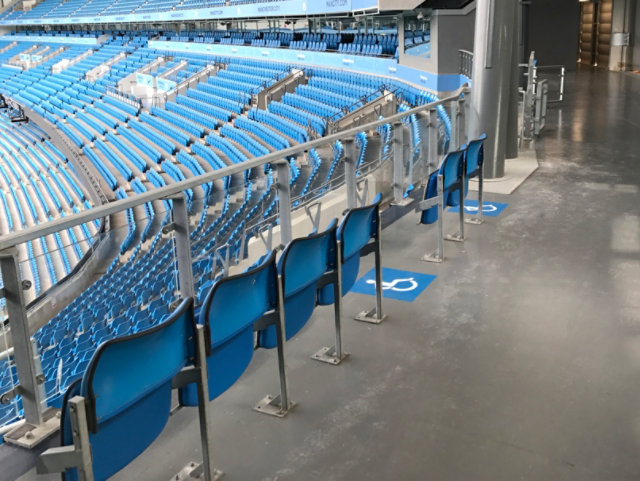 Stadiums and Arenas
Durable, decorative resin floor solutions for concourses, concessions and washrooms
Whether you need decorative flooring systems with extensive color options and design styles, or seamless resinous flooring options for public walkways, stairways and bathrooms – our solutions deliver excellent resistance to wear and can also incorporate slip-resistant surfaces to enhance visitor safety. Sherwin-Williams systems are impervious and resistant to stains and chemicals, helping spills stay on the surface and get easily cleaned to help maintain a safe environment. Our durable resin floors can stand up to aggressive cleaning regimes such as hot water or steam cleaning, high-pressure washing, and using harsh chemicals.
Solutions for Your Industry
Concessions

Range of non-slip, long-lasting resin flooring systems suitable for arena concession areas to withstand high volume footfall from visitors and abrasion from vehicle traffic.

Concourse Areas

Proven durable resin floor solutions for stadium concourse areas that provide a seamless finish to meet health and safety non-slip standards, is easy to clean and resistant to impact, scratches and abrasion.

Washrooms

Hard-wearing, non-slip, easy-to-clean resin floor solutions for washrooms and toilets in stadiums and arenas that can tolerate high volume traffic and use.
Find out more about our innovative floor systems for a variety of industries.
FIND A SYSTEM