2018 Aerospace Coatings Market
The aerospace coatings market continues to grow – fuelled by both strong demand for new aircrafts and higher aftermarket demand. According to GMI, "the aerospace coatings market size is estimated to surpass $1 billion by 2024", which will be achieved by supplying coatings for military, space and commercial aircrafts. The general business aviation and business jet markets have experienced remarkable growth, according to Chip Mullins, Global Sales Manager, Sherwin-Williams Aerospace Coatings. Aircraft producers choose high-quality, innovative paints and coatings to optimise manufacturing cost and product efficiency. To assist in the market growth, Sherwin-Williams launched several products, including SKYscapes GA for the general aviation market and SKYscapes Shimmer Basecoat, which offers a shimmer effect for intermediate clearcoats. Sherwin-Williams also expanded its military aircraft coatings with qualified topcoat systems in gloss, semi-gloss or lustreless sheens.
Article Summary of Aerospace Coatings Market appearing in Coatings World Magazine, May 2018. Retrieved from www.coatingsworld.com.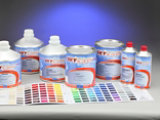 Product Lookup
Explore our product solutions for a variety of applications and aircraft types.
Ask Sherwin-Williams
Ask how Sherwin-Williams can bring the right products and expertise for your aircraft.