Dreaming in Colour
Unlike repainting a home or car, it's not always obvious where an individual goes to repaint their aircraft. Corrigan Air Centre understood the importance of not only offering their customers custom interior options, but also the opportunity to customise the exterior of their aeroplanes. It is crucial for exterior paint to be durable, prevent corrosion and offer a unique aesthetic. Julie Voisin, Global Marketing Manager, Sherwin-Williams Aerospace Coatings, explains how products, such as SKYscapes GA, help paint shops achieve these benefits. 
Article Summary of "Dreaming in Colour" appearing in Business Aviation Magazine, Summer 2019, p.80-85. Retrieved from www.bizavltd.com.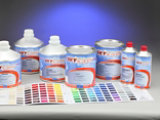 Product Lookup
Explore our product solutions for a variety of applications and aircraft types.
Ask Sherwin-Williams
Ask how Sherwin-Williams can bring the right products and expertise for your aircraft.