Aerocare Aviation Services Ltd.
An MRO's Perspective on the Latest Trends in Aircraft Paints & Coatings
Aerocare Aviation Services is an established Part-145 provider with facilities based in Chester, United Kingdom.  They work to meet customer's expectations through their use of Sherwin-Williams products and distribution services.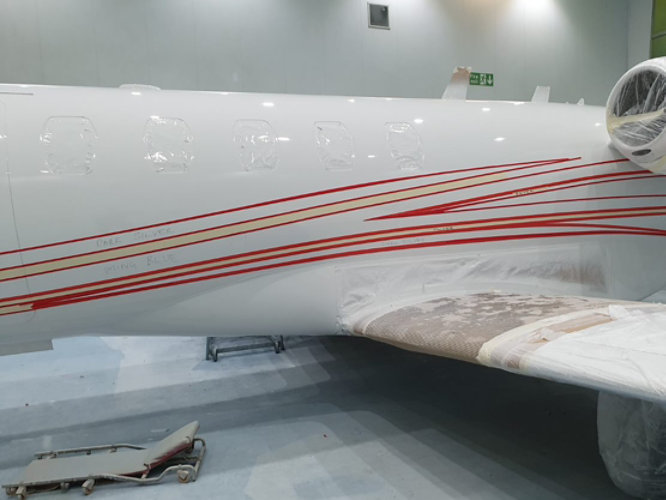 Aerocare Aviation Services is an established Part-145 provider with facilities based in Chester, UK, and is noted for its ability to handle all aircraft paint requirements, from custom designs to current factory paint schemes, registration number changes, refreshes and touch ups to both fixed-wing and rotary aircraft in its paint facility.
For MRO companies, a successful painting project means achieving what the customer wants and "making sure we can deliver", explains Graham Davidson-Guild, of Aerocare's sales, estimating & planning department. "It's all about meeting customer expectations, and more so making sure it's all within their timeframe and budget." 
Often they are looking for a very special result; one that would best be reflected by using a higher-end coating like a Sherwin-Williams Aerospace Coatings finish, and that's consistent with what our reputation brings to the market.
"Most customers want the original understated classic lines that enhance the look of the aircraft reapplied or incorporate minor changes to registration positions/style. Other customers want the latest OEM demonstrator livery or want a metallic or special effect paint applying", adds Davidson-Guild. "One customer wanted a colour scheme to "fade" from blue to white based on his wife's scarf.
"Our paint facility in Chester is purpose built – probably one of the finest in Europe – and it's one of the most professional, cleanest and fully designed to include paint, prep and mix, and is all environmentally self-contained. It combines an all-holistic approach which provides all-world results", says Aerocare's commercial manager Ruth Roberts.
"The painting part of an MRO project here serves as the finishing touch and gives the owner and their clients the confidence that the aircraft is well maintained at Aerocare's one-stop shop MRO facility.
What has been changing in aircraft finishing?

According to Dave Leonard, Aerocare's Paint Facility Manager, emerging trends in aircraft finishing include customers "moving over to chrome-free and other types of more environmentally friendly products, and also using new coatings systems that provide faster dry times and reduce downtime. Also significant is the paint process on new technology composite materials." 
"Composites have been around in some form for many years. Preparation has changed from applying a conductive coating on a panel to now having a conductive material built into the weave of the composite, which makes the painting process easier, so long as the dry film thickness of the paint material is within aircraft manufacturers' tolerance."
Has the COVID-19 crisis affected market demand for aircraft painting?

"Pretty much everyone in the industry has been affected by the COVID-19 crisis, but we've been looking and building toward the future and are well positioned" notes Roberts.
"We see ourselves returning to 'normal' levels of business by the end of the year; and one of the key reasons is the great working relationship we have with our partners, not just our 'suppliers'".
"In the MRO business, our relationships are imperative. Working together provides a win-win scenario. When we use the best products, combined with the best service, this allows us to produce a great offering. The best marketing tool is a happy customer." Roberts adds.
What should an MRO look for when choosing a paint and coatings supplier?

Aerocare's Leonard points out, "When you choose a coatings partner, you need one that provides the best of everything: durable products, mixing, matching, availability of colour and one that provides us with the productivity we need. We use Sherwin-Williams' SKYscapes GA (General Aviation) Basecoat/Clearcoat. It's one of the fastest drying coatings in the industry and really helps with our turnaround."
Picking a coatings partner is one of the most important decisions you make as an MRO; the support we get from Addev Materials is amazing, and appreciated,. If we ever have an issue, they can be here and handle a technical or application issue, with hands-on service.
Aerocare's paint distributor, Addev Materials at nearby Borden Hampshire in the UK, is represented by Philip Lutteroch, its Aerospace & Defense International Sales Manager. "Sometimes aircraft owners often want a champagne finish for beer prices – they may not realise how much work goes into a quality paint project."
"We work with Aerocare and its team to meet whatever each customer is looking for, while making sure the project is correctly completed and with the best quality from the ground up", notes Lutteroch. "The start-to-finish process is to conduct an incoming damage survey to ascertain the condition of windows, composites, fluid leaks and general condition of the airframe."
Then all windows, composites static ports, leading edges, and areas not to be stripped are masked. We then apply an environmentally advantaged and PH neutral paint remover and then the airframe jet is washed, followed by a solvent wash and eco-friendly surface treatment.
Then the aircraft is moved into the clean environment of the paint booth and apply Sherwin-Williams CM0483790 chrome free primer as a three-coat system to allow sanding for a smooth finish. Panel joints which require sealant will receive application and surface imperfections in composite will have a filler application. 
After sanding, they apply another single coat of CM0483790 chrome free primer, inspect the finish for imperfections and then prepare to apply Sherwin-Williams Jet Glo Express topcoat or Sherwin-Williams Acry Glo topcoat for the livery.  Other options are to go with a faster drying SKYscapes Basecoat/Clearcoat system.
Aerocare's Davidson-Guild agrees. "When you consider how much work goes into each project, it's crucial to work with the suppliers to make sure work is done with the highest productivity, on time and on budget. And that means you work with the best materials and coatings available – and means better DOI and lasting durability; it's a win-win."
"And besides, the best paint just goes on better."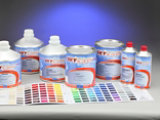 Product Lookup
Explore our product solutions for a variety of applications and aircraft types.
Ask Sherwin-Williams
Ask how Sherwin-Williams can bring the right products and expertise for your aircraft.