Jet Glo Express SMART Repair Video
Watch Sherwin-Williams Aerospace Technical Services Manager, Richard Giles, perform a SMART paint repair using Jet Glo Express polyurethane on an aircraft. After the repair is complete, he shows the various supplies used.
---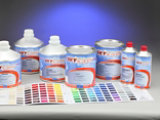 Product Lookup
Explore our product solutions for a variety of applications and aircraft types.
Ask Sherwin-Williams
Ask how Sherwin-Williams can bring the right products and expertise for your aircraft.