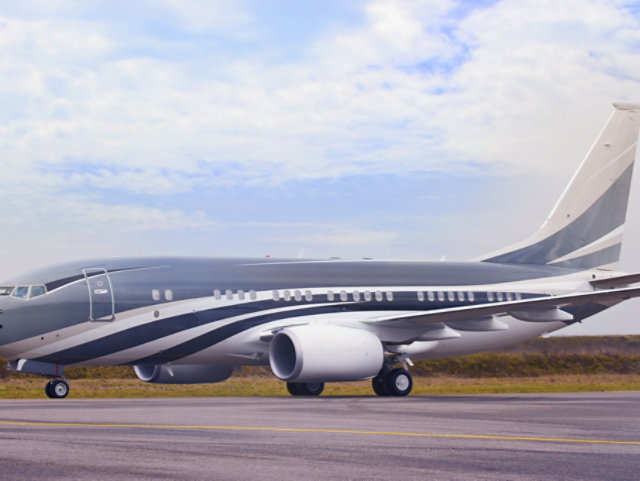 Shades of Grey
Jet Aviation Basel Delivers Amazing BBJ
Using Sherwin-WIlliams Jet Glo Express in a challenging and sophisticated design.  
We recommended and ended up using Sherwin-Williams Jet Glo Express polyester urethane topcoat, which gave us a sleek, durable finish, along with a clearcoat to protect the finish and ensure that it stayed shiny for years to come,
Skip carousel content
Image Gallery
Inspiration Shots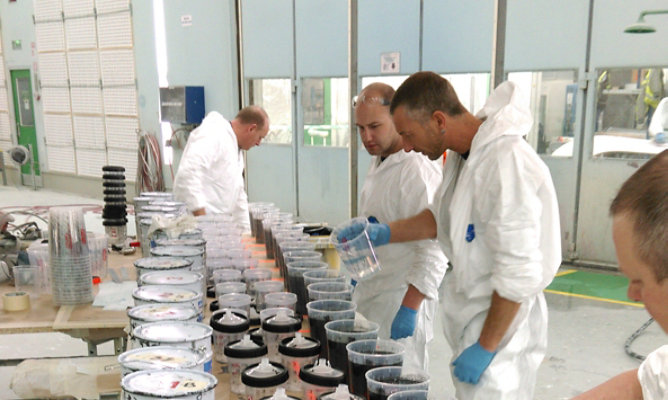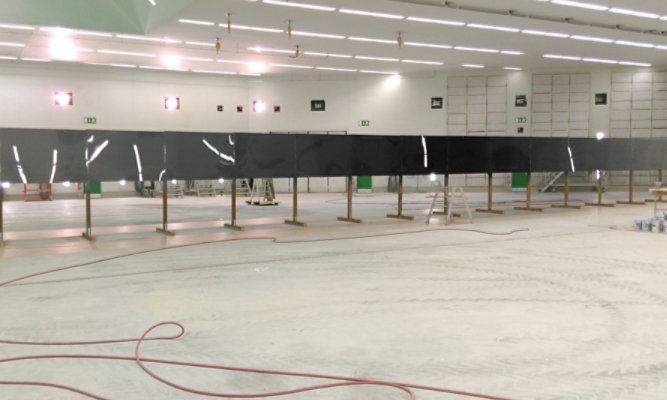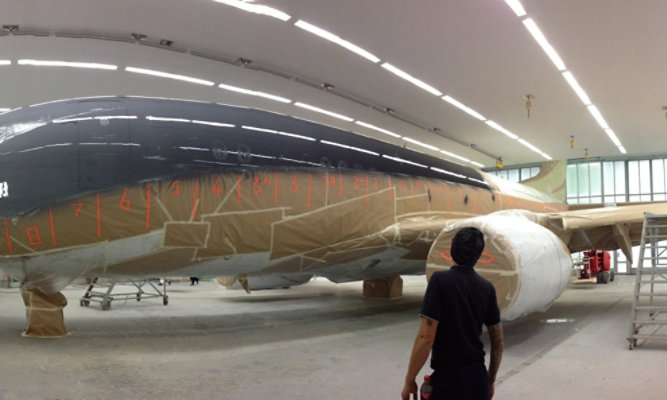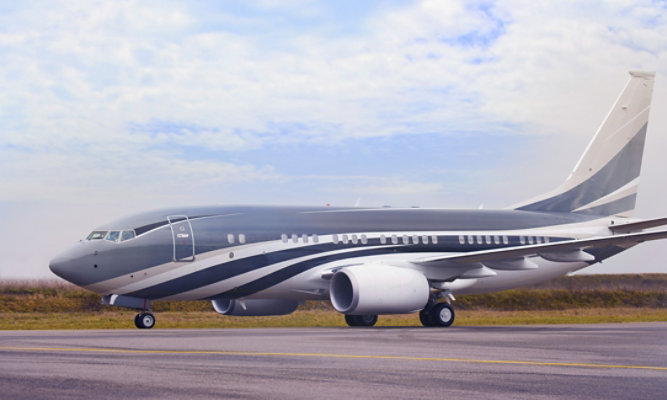 Serge Volpatti, Field Technical Advisor at PSG, Sherwin-Williams' distributor in Europe and the Middle East, was on hand for much of the project, providing technical advice.
"I was contacted by Jet Aviation Basel as to our views on the best way to achieve the fade from one shade to the next", says Volpatti. "By running repeated training exercises, it became clear how best to achieve the fades without too much playing around with the paint gun."
 "We ran through a complete paint practice run four times on the full scale mock up", says Peens. "We had to change colours 38 times as we moved down the fuselage and we used laser pen markings on the fuselage to indicate to the painters precisely when they needed to move to a different pot of paint. While painting the aircraft, the painters on both sides of the fuselage had to stay in constant contact and paint at the same pace, changing at the same points."
The four practice runs paid off handsomely. When it came time to actually paint the waves onto the aircraft, everything went smoothly through the course of a single afternoon's paint session.
"There is no doubt that this was the most exciting, and the most complex paint project we have ever undertaken", says Jeremie Caillet, Director Project Management at the Jet Aviation Basel Completions Centre. "This aircraft was our 25th BBJ completion. So, we've been at this a long time, but we'd never before undertaken such a challenging livery design."
The Centre has already gained several new projects as a result of other owners being highly impressed by the design.
"Other principals have seen the aircraft and enquired where it was designed and painted – and that has been tremendous for us", Caillet said.
"This is a great example of Sherwin-Williams being able to supply a high-quality topcoat and clearcoat while working with our European partner, PSG, to meet the needs of a terrific customer in Jet Aviation Basel", says Julie Voisin, Global Product Manager, Sherwin-Williams Aerospace Coatings. "We are delighted with the quality of the finished project, with so many mixed and applied custom colours, and all in a great looking coating that will last for years."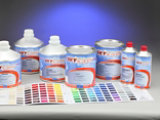 Product Lookup
Explore our product solutions for a variety of applications and aircraft types.
Ask Sherwin-Williams
Ask how Sherwin-Williams can bring the right products and expertise for your aircraft.