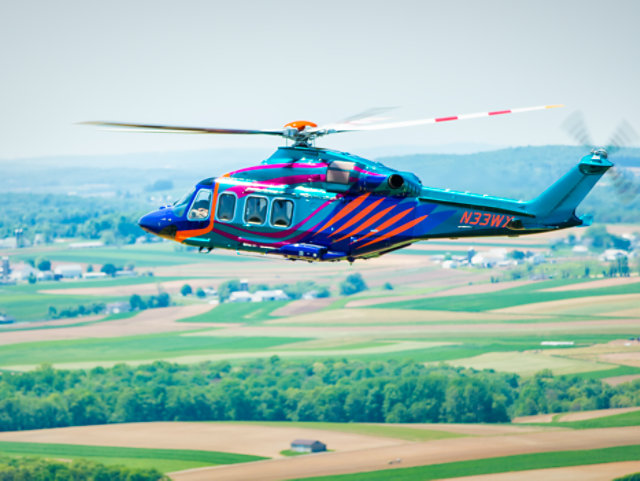 Helicopter Painting 101
SureFlight's Stunning AW139
Exotic Helicopter Paint Scheme Completed with SKYscapes
Painting helicopters is a whole different ball game when compared to painting their fixed-wing counterparts. Just ask DeWitte Binkley, General Manager at SureFlight – he has 40 years' experience in painting aircraft.
"Owners, pilots and passengers can see and touch nearly every surface of a helicopter, which in turn puts great demands on helicopter painters and paint products", says Binkley. "In addition, rotor blade wash pushes heat exhaust directly onto the painted surfaces, and rotors stir up all manner of particles that test the durability of coatings."
"Also, unlike fixed-wing aircraft, helicopters have a variety of surfaces and added equipment jutting from the main body – these unique surfaces and add-ons demand special care. Helicopters demand expertise in removal and replacement of these parts, each of which requires specific care."
"In addition, when you enter a fixed-wing aircraft, many passengers just walk up an airstair and go right in without paying too much attention to the skin. With a helicopter, you can walk up to it at any angle, at any level. The helicopter must be perfect through 360 degrees. You are touching the helicopter and can see everything as you enter, so attention to detail in the painting process must be extremely high. On fixed-wing aircraft, the best technician in a crew typically paints at, and around, the entranceway. That approach does not work for helicopters, where all surfaces are close by and in view."
"Helicopter painting is an intensive, detailed process. In our shop, every exterior part comes off of the helicopter during preparation – every cowling, every access panel – and is individually addressed. We basically take that helicopter apart, do all the preparation work and paint the removed parts individually using the base colour. Then we reinstall the parts to perform all the layout work, making sure that everything lines up correctly."
We use aerospace coatings from several manufacturers, but recently painted an extremely detailed AgustaWestland AW139. We applied six different colours and then clearcoat and used a mix of Sherwin-Williams SKYscapes polyester urethane basecoat and its Acry Glo acyclic urethane to apply everything in the colour scheme. In general, for aviation painting, the pigments and resins are solid based as are the clearcoats but are within all required VOC limits throughout the United States. The aircraft-finishing industry is on top of things nowadays. Depending on the quality of the work and the level of after job care, a helicopter paint job can last from four to 10 years.
Skip carousel content
Image Gallery
Project Shots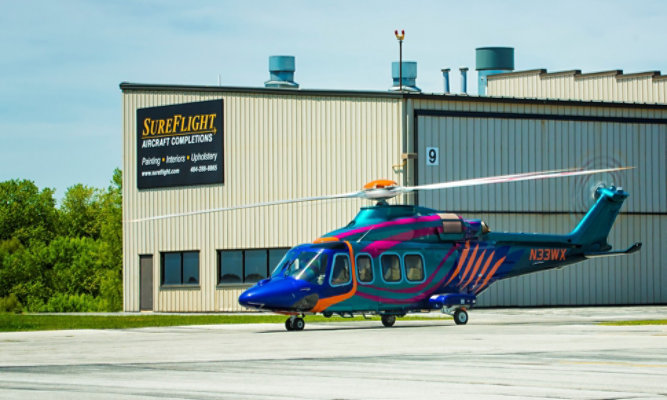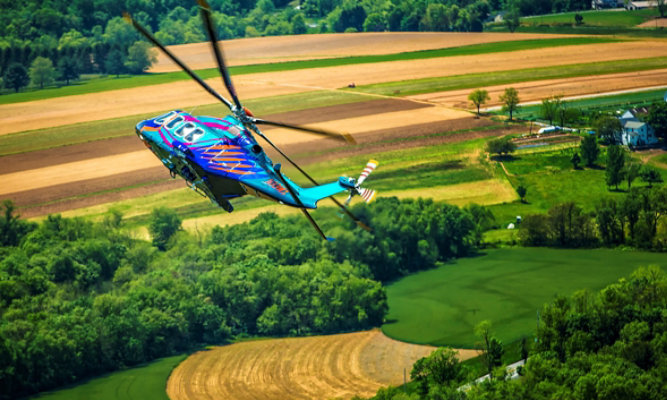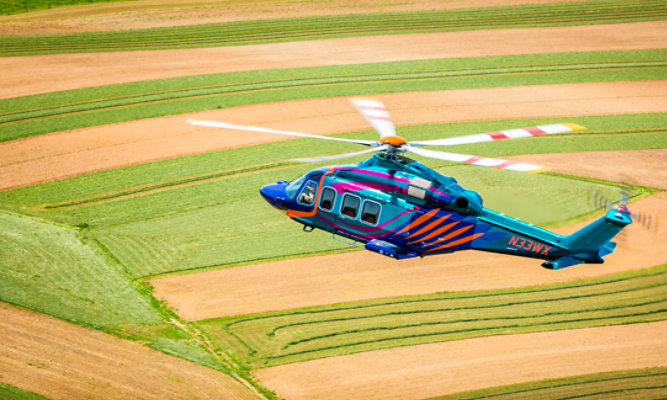 "A regular painting regimen is a key requirement in any helicopter maintenance programme", says Julie Voisin, Global Aerospace Coatings products manager, Sherwin-Williams Aerospace. "A new paint job not only enhances the aircraft's aesthetics, but most importantly, it protects its surfaces from wear, tear and corrosion, especially in the most punishing environments (think excessive heat damage right behind exhaust cowlings)."
"Even the most durable, high-quality aerospace coating system will require thorough inspections and regular maintenance. Often a helicopter needs only minor touch-ups to its existing paint system; other times, an inspection will prove that an aircraft requires a complete repaint. And that, likely, means most every single external airframe piece."
"Quality coatings play a critical role in an aircraft's operation, regardless of the helicopter's mission: air ambulance and/ or medical transport, safety and law enforcement services, media observation, aerial firefighting, tourism/recreation, search-and-rescue, offshore oil and petrol transport, or military operation. With the right maintenance, products and applications, any helicopter will look and fly great for years to come."
Voisin recommends two types of topcoat systems.
"A highly durable and often helicopter-specified aerospace coating is the multi-component polyester urethane topcoat system", says Voisin. "Such is Jet Glo Express™ from Sherwin-Williams. It offers excellent coverage and protection, and as a result, can be found on all types of helicopters. Notable features include excellent flow and levelling, good buffing characteristics and outstanding gloss and DOI (distinctness of image)."
"Another option is the latest basecoat-clearcoat technology, like Sherwin-Williams SKYscapes. These are state-of-the-art, modified polyester topcoats applied through a revolutionary process. They allow paint facilities to apply many colours in a shift and quickly move the helicopter – or any aircraft – through the painting cycle. The result is great colour and a highly durable finish, and both the shop and helicopter's owner save time and money. They are also ideal for special effect finishes such as micas and metallic."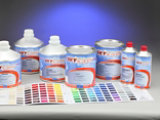 Product Lookup
Explore our product solutions for a variety of applications and aircraft types.
Ask Sherwin-Williams
Ask how Sherwin-Williams can bring the right products and expertise for your aircraft.