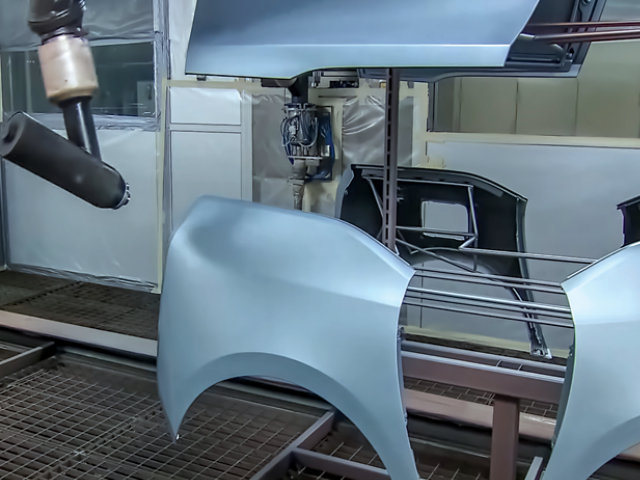 Design Engineering
Let Us Be Your Competitive Advantage
Need help designing and implementing a finishing operation? We are your resource, we provide support for every step of the finishing process, with an eye on your specific areas of focus. We make your job more comfortable with the right people and expertise to support your operations.
In addition to providing the best product finishing technology, we give you the tools and processes to put that technology to the fullest use. The Sherwin-Williams design engineering group can create a custom finishing line solution for our customers – whether you need to streamline, upgrade, or design a new turn-key solution, we are here to support your finishing needs.
From a single element to an entire system, the Sherwin-Williams design engineering group can add quality and efficiency to any finishing line. Following is a top-to-bottom overview of our value-added services, any one of which can make your line operate more smoothly and efficiently.
Coating Selection – To ensure you'll get the proper coating for proper performance on your line we perform product finishes evaluations in our state-of-the-art application lab.
Surface Preparation –  Surface soils and recommended cleaning methods are identified, as well as which conversion coating is needed to improve your intercoat adhesion and corrosion resistance.
Application Method – Your production needs are analyzed to determine the most efficient application method for your product using liquid or powder coatings. We help you define process parameters and test them in our state-of-the-art application lab to ensure they will work on your line.
Equipment Selection and Project Management – Once an application method is selected finishing equipment is recommended. Designs and layouts are custom-tailored to your production needs using the latest CAD systems. The project is managed from the definition stage through final installation.
Production Analysis – Based on your production schedule for a new product, we will help you define the process required to meet your goals. An audit of your existing line is performed to identify bottlenecks and determine methods for increasing production with minimal equipment upgrades.
Material Handling – We help you define the most efficient method for transporting products from unfinished to finished. Optimal storage conditions for your finishes, ensuring maximum usability and shelf life are also provided.
Troubleshooting – Our team will continue to support your operations to identify problems and recommend solutions in equipment, coatings and processes over time.
Skip carousel content
Design Operations
Maximise your finishing operations
Build the most efficient line for your operations with help from our finishing experts.