Sherwin-Williams Super Matt Coatings
A deep matt low gloss finishing for beautiful surfaces.
The Super Matt waterbased coatings of Sherwin-Williams provide a superior deep matt finishing of interior wooden surfaces. The clarity of the film is unseen, and the matt creates a very fashionable effect.
Next to the astonishing esthetical qualities, the Super Matt coatings
have a lot more to offer.
Esthetic, Deep matt and soft-feel effect
Pigmentable, In any colour required for the best pigmented finishes
Performant, High chemical, UV and physical resistance (above average)
Self-Repairable, Outstanding self-repair properties
Easy, No special technology required (e.g. excimer)
Sustainable, Waterbased and low-VOC formula
The Super Matt coatings are specially developed for a wide variety of interior surfaces
with high chemical-physical resistance such as kitchen cabinets, interior furniture, flat
and turned parts and matchboards. The spray application (conventional, airmix or
airless) and standard drying conditions make them suitable for a vast majority of
applications.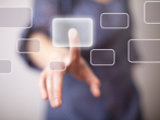 Get in touch for more information
Don't hesitate to contact us if you want to know more
about our range of Super Matt coatings.
Super Matt - The next generation
---