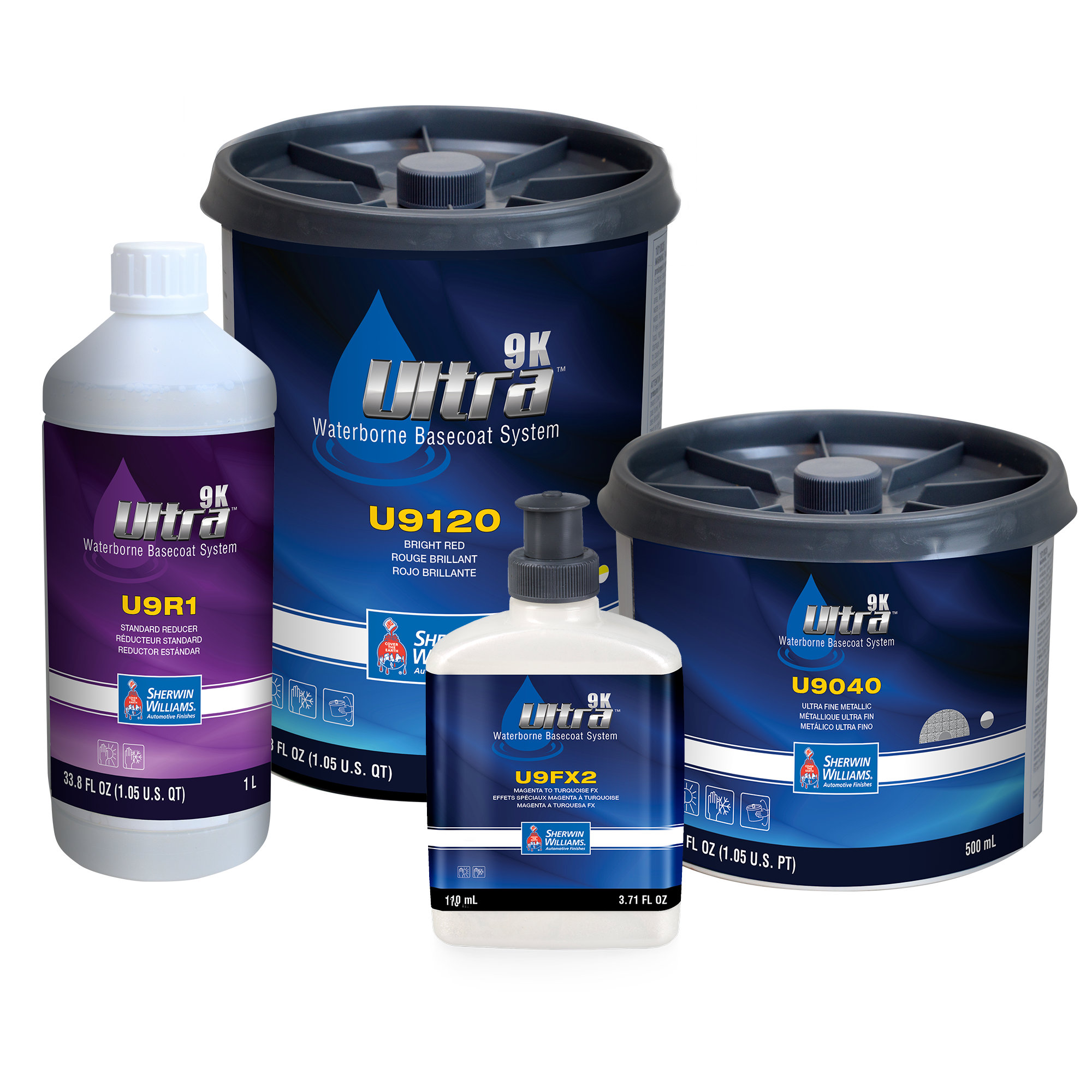 Ultra 9K Waterborne Refinish System
This non-stir system makes mixing easy with 68 toners and a single reducer. Users report dependable color match, ease of application and repeat performance.
The Ultra 9K™ Waterborne Basecoat System is one of the easiest to use refinishing systems on the market; 68 toners and a single reducer make up the non-stirring mixing system to provide customers with dependable color and reliable application properties. Designed to drive productivity and efficiency in the shop, Ultra 9K comes with an all-new color retrieval experience (Color Access), a spectrophotometer and global color box—making even the most difficult color match easy.
Products available for this system:
Premium BS12 - Ure-Blend Clearcoat Blender

This ready-to-spray clearcoat blender can be used when full panel refinishing is not desired and it saves time, reduces waste and doesn't require the use of a spray gun.

Premium 2.1 VOC Performance Plus Clearcoat

Premium 2.1 VOC Performance Plus Clearcoat 1100757 is a "Glamour Type" clearcoat with Ure-Flex technology designed for force-dry or air-dry applications and for use on spot to multi-panel repairs.

Premium HP Process Clearcoat HPC15

Premium HPC15 HP Process Clearcoat delivers productivity and is designed for same-day delivery for 1-3 panel repairs without ever needing to turn on your bake cycle.

Premium CC200 Dynamic Clearcoat

This premium, dynamic clearcoat delivers consistent premium appearance without sacrificing productivity and is designed to be the go to clearcoat for any painter, application, and repair environment.

Premium Matte Clearcoat 1100727

This pre-fixed, elastomeric, versatile urethane clearcoat provides the ability to achieve various gloss finishes for today's low gloss refinishing requirements.

Premium SpectraPrime 2K Color Primer Surfacer

This wet-on-wet sealer is a premium quality 2K-urethane primer that utilizes state of the art Ure-Flex Technology to provide the ultimate in performance, versatility, and productivity.

CC250 Dynamic+ Clearcoat

CC250 Dynamic+ Clearcoat adds an additional clearcoat to the speed glamour category amongst premium clearcoats, offering superior appearance in half the time of a typical glamour clearcoat.