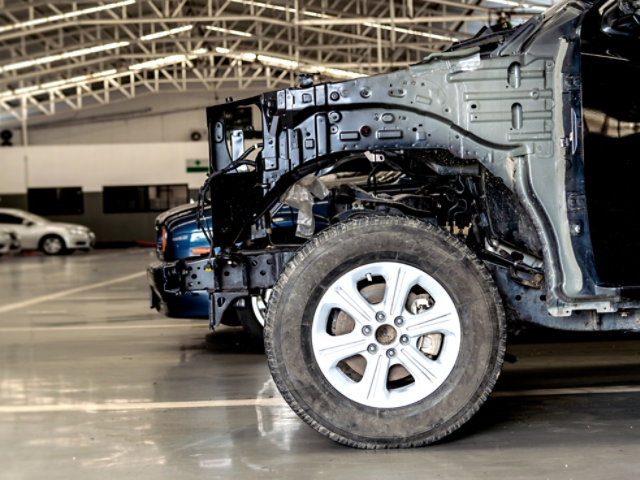 Benchmarking for a Competitive Edge
What's holding your business back from high profits and revenue? We can help you optimize processes and operations—from the front office to the shop floor—with a comprehensive audit of all of the functional areas of your business. We call this an "Impact Assessment."
From estimating to damage analysis and even the parts department operations and paint and materials utilization, we look at all of the key areas of your business to determine root cause and where improvements can be to make an immediate "impact" on revenue.

HOW DOES IT WORK?
Over the course of several days, our of industry experts conducts a comprehensive review of the operational processes and procedures used in your shop. They spend a lot of time on your production floor observing and discovering obstacles or challenges often that go unseen during a traditional walkthrough. They also analyze day-to-day business operations across the entire shop, including:

Financial Control ⁠— the ability to make a profit from all work performed
Operational Efficiency ⁠— the ability to free up capacity in order to take on more jobs
Business Development ⁠— the ability to increase market share

Our team records all of their observations and provides you with an executive summary of inefficiencies in your system currently. They also provide a customized recommendation, or plan, outlining recommendations for improvement—reflective of industry best practices and what premium operators are doing to drive business, every day.

WHY DOES IT WORK?
First, our team provides fresh perspective. They're independent of your business, and able to identify what you're doing wrong and where you can make the necessary improvements for positive change—now. They're also benchmarking and giving you recommendations not only based on their combined industry expertise, but reflective of what the top repair operators are doing to drive revenue growth month over month.

WHAT HAPPENS AFTER THE ASSESSMENT?
Upon completion of the Impact Assessment and once you and your team implement the recommended changes, you will see immediate and positive results, including:
Standardized process and procedures
Improved workflow and cycle time
Eliminated waste in multiple shop areas
Increased revenue and profitability
Exceeding insurer expectations

Ready to request your customized, step-by-step optimization and action plan to drive revenue growth?
Complete the below form to request an Impact Assessment by our team of industry experts.