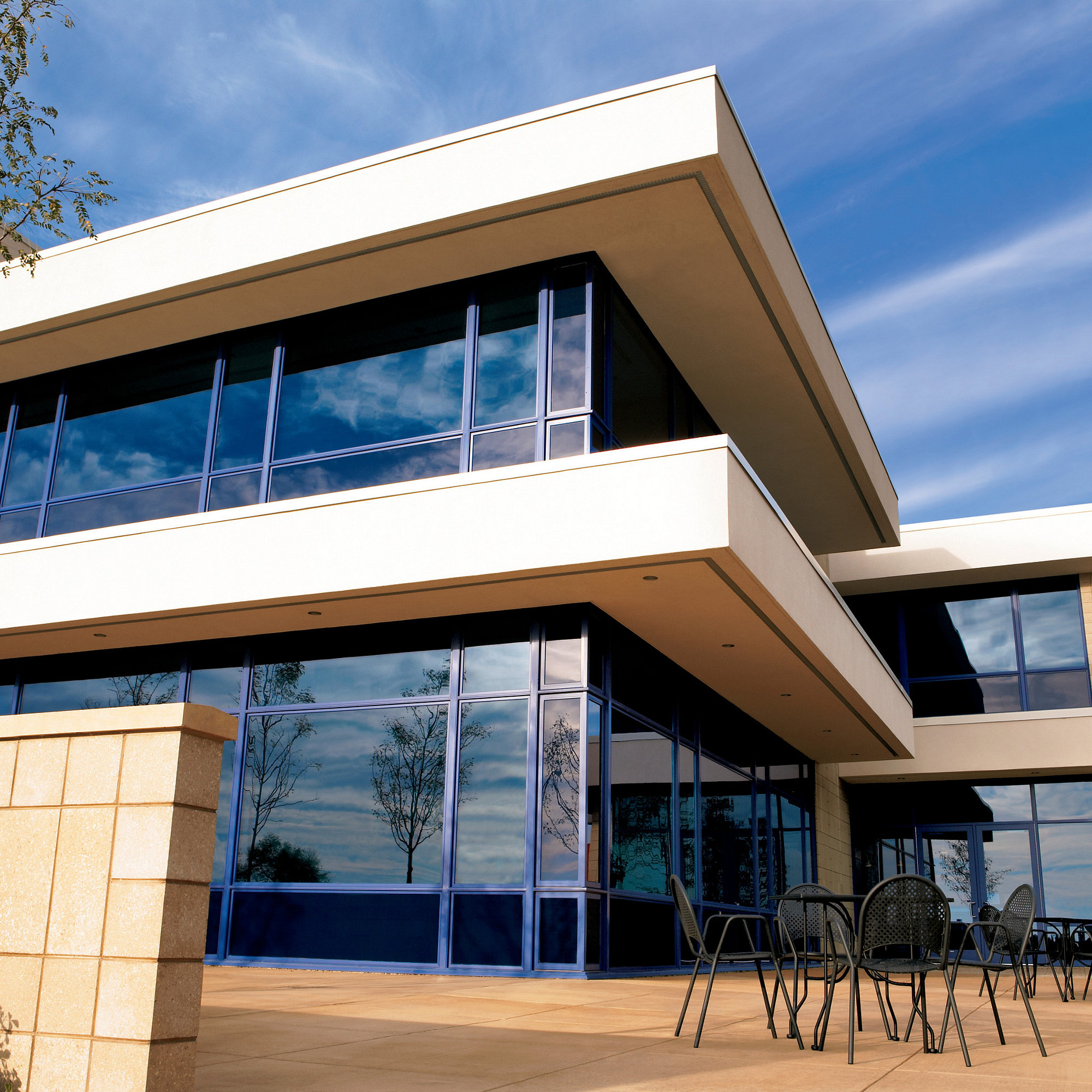 Click to view larger image
Fluropon Extrusion Family
Fluropon 70% PVDF Extrusion Coatings from Sherwin-Williams offer best-in-class performance for curtain wall and aluminum extrusions. Fluropon coatings are available in unlimited colors and effects and are extremely durable to keep your design looking new for decades.
Fluropon® coatings for aluminum extrusions are formulated to retain color and gloss for years to come. Appropriate for curtain wall/window systems, louvers and fins, and other aluminum building components, Fluropon coatings offer superior performance that has been proven on monumental architecture around the globe for over 50 years.
Benefits
Excellent overall adhesion


Outstanding color retention and consistency


Superior resistance to UV rays


Advanced film integrity
End Use
Window Trim
Roof Panels
Soffit & Fascia
Wall Panels
Building Accessories
Curtain Walls
Industry
Architectural
Building Products
Approvals/Certifications
Living Building Challenge
Finish Description
Fluropon family systems are available in a wide range of colors, sheens, gloss levels and special effects to achieve nearly any look that can be imagined.
Product Technical Data

| | |
| --- | --- |
| Number of Coats Recommended | 3, 2 |
| Finish | Standard Finish, Mica/Metallic, Nova, Kameleon |
| Application Method | Extrusion |
| Resin Type | 70% PVDF |
Product data is a representative set of attributes and characteristics for this system or product line. Data for individual products may vary and is subject to change. Please reference the individual product datasheet for exact specifications on the Datasheets tab above or through Search.
Fluropon Premiere

When you want to make a statement with bold and bright colors, this three-coat system brings out the depth and beauty of bright pigments while offering a clear coat for added protection.

Fluropon

Fluropon® Extrusion Coating is our flagship coating. Its excellent performance is a direct result of Sherwin-Williams' innovative technology- a two-coat, solid color fluoropolymer formulation that continually exceeds performance needs while maintaining its color and durability long into the future.

Fluropon Effects Nova

Fluropon Effects Nova is a proprietary system that offers richer, deeper hues with an intense sparkle aesthetic that has never before been achieved in 70% PVDF architectural coatings. Bring a new dimension to a classic color: Fluropon Effects Nova can be matched to nearly ANY color - neutrals, brights, pastels, whites, and even black - using gold or silver sparkle as a finish. Achieve brilliant colors that deliver the same outstanding performance as our trusted line of Fluropon 70% PVDF coatings.

Fluropon Effects Kameleon

When you want unique, mesmerizing effects, look to Fluropon® Effects Kameleon™ Coating. The innovative Kameleon system uses mica flakes to create a consistent iridescent, gradient look. A blend of ceramic and inorganic pigments creates an original, brilliantly subtle look that will turn heads for years to come. It's ideal for monumental high rises, commercial and residential buildings.

Fluropon Classic II

Fluropon Classic II offers a mica/metallic appearance with exceptional long-term weathering performance in just two coats.

Fluropon Classic

Fluropon Classic's high-performance, three-coat system features special metallic-effect vibrant colors plus a clear coat for tremendous shine and protection.

Fluropon Pure

Fluropon Pure extrusion coatings are formulated to be eco-friendly with reduced hazardous materials. Sherwin-Williams supports our customers participating in LEED v4 and Living Building Challenge's Declare programs. Fluropon Pure can be included in your plans to participate in these programs.
Available Colors
Expand for additional information and to order samples.
Search
No results found. Please check your spelling/number, or broaden your search.