IW-606617-V 11/3 Industrial Wood Colormix Webinar.mp4 GFX: "Sherwin-Williams MODE Industrial Wood Colormix Forecast 2022" being carved into wood panels Speaker 1 [00:00:07] Hello and welcome to our Colormix Industrial Wood forecast for 2022. My name is Lauren West and I'm the Director of the Global Color and Design Center for the Sherwin-Williams Industrial Wood Division. I'm very excited to be here with you today to present MODE, our Sherwin-Williams Industrial Wood forecast. This forecast is intended to be a resource for you as you develop wood finishes for your own products. In the next 30 or so minutes, I hope you'll find some moments of inspiration as I share with you, the stories and the drivers behind our 2022 Colormix collections. GFX: Circles with the letters M O D E in each circle MODE is an acronym. It's defined by Method, Opus, Dreamland and Ephemera. It's a direct reflection of the times both current and forthcoming. It's ever evolving and customizable to new styles. It embraces growth and adaptability in our spaces. MODE delivers the striking colors and finishes that will guide new product development and emerging styles in the industry. Curated into four unique collections, we forecasted how twenty four trending finishes will inspire wood product manufacturers in the coming years. When exploring through custom color proprietary finishes, MODE presents endless possibilities. Guiding industry trends throughout the next three to seven years. We're seeing consumers embrace individuality when it comes to the products they choose and the way they design their spaces. The finishes captured in MODE are meant to inspire wood product manufacturers to develop wood products that align with these consumer preferences. So without further ado, let's dive into MODE. First, we'll take a look at Method. Let's watch. Video: GFX: "Sherwin-Williams MODE Industrial Wood Colormix Forecast 2022" being carved into wood panels GFX: Method GFX: the natural order of things Video: wood panel and yarn, person holding a coffee cup, text: art deco in a beige room, wood panel and someone spinning a clay pot, text: intention, fashionable reading nook, window open and curtain fluttering, sitting chair and white stones, text: organic with a nice well-lit sitting room, wood panel and wheat, text: postmodernism, dresser, wood panels appear on screen, GFX: Sherwin-Williams Colormix Industrial Wood Forecast 2022 to learn more, visit: wood.sherwin-williams.com/colormix2022 GFX: mothod wood panels and colors on display This collection is all about organic neutrals. Method brings soft tonal luxury to product designs, grounded layers that whisper barely-there finishes paired with refined wood grain accents and feel rooted in nature. Bleached tones are reminiscent of sun baked driftwood, providing understated texture that is well-worn and familiar. This palette's earthiness and rich warmth result in pieces that balance a polished look with rustic authenticity. So as a reaction to technology fatigue, we seek to create a calming refuge in home and office. Wood surfaces are shifting to simpler, more organic design that contributes to a sense of serenity. An authentic wood these days is celebrating nature's imperfections. GFX: a modern kitchen table The role of neutral is evolving to a warm expression. We'll see momentum in 2022 for a return to humble natural finishes, rounded shapes and understated texture. Organic and naturally derived colors and finishes reflect craft, community and sustainability. GFX: kitchen with wood cabinets Extended time spent at home led to a rise in the need for self-care and intentional moments throughout the day. The relationship between well-being and our environment is being re-evaluated as people take a more holistic and restorative approach to their health. Environments are more calming and supportive. They're mainstreaming as designers and architects explore new methods to promote healing and therapeutic spaces. GFX: a bedroom with a chair and a bright window A style term in the design lexicon, referring to an esthetic which balances a mix of modern lines with natural materials and finishes while organic modern nods to Scandinavian minimalism, it also borrows from mid-century modern and bohemian styles to create spaces that are warm, natural and inviting. Organic modern esthetic ultimately seeks to harmonize elements of nature and a modern lifestyle. GFX: a kitchen table and chairs made of wood Our fourth influence, it takes us back to look forward. So postmodernism was the quintessential 1980s expression. We often use the term postmodern to describe any design style that seems avant garde. It's ironic, humorous, whimsical and unexpected. Colorful, asymmetrical and meant to attract attention to itself. For Method, we pulled out the sculptural elements and shapes of the movement, rounded curvy, cylindrical, soft, all fuzed with a natural color palette that creates a casual and an expressive warmth. GFX: wood panels, notebooks and other trinkets arranged text: materiality report. In this section we will explore key materials for method Product developers, they all have an interest in materiality. Because of the physical properties of building materials and finishes, but also because of the intangible value. It's never been more important to view materiality in terms of a product's long term impact on a space or an environment. In this section, we'll explore key materials for Method. A profound respect for nature drives material choices for this story. Yarns are left untreated or dyed naturally, while surfaces are kept rough and authentic. GFX: a kitchen, bedroom and living room with wood accents As an example, in flooring, you can expect white oaks with warm undertones. Walnuts with gray undertones, which creates cooler browns as well as distressing, but only if it's authentic. Unstained oak provides a raw, organic look that serves as a foundation on which to build and showcase color. Hickory and oak are up trending in kitchens and bath because they can be appreciated in their natural appearance. GFX: a chair in a room with a funky patterned wall, art in a museum The biomorphic esthetic of Noguchi's sculptural works are inspiring contemporary interiors, and they have been actually for years. Mid-century modern style and organic lines interweave across wall treatments, furniture and small accessories. GFX: kitchen features with wood and metal accents The cool elegance of metal, blends with the charm and the warmth of wood for a precious, low profile style. Fine silver or gold finishes add a subtle touch of light to contrast with rough, raw materials and add an opportunity for personalization as the addition of jewelry to the room. Now we can dream about what that looks like for you and how it could be applied. Think silver, gold, matte black, raw, rough, smooth, tarnished, and we love to talk about shimmer. GFX: wood panel, close ups of a floor and bench Natural materials, cerusing, wire brushed, sanded surfaces, matte and barely-there finishes highlight woodgrain texture. Soft touch is emerging and adds a sense of tactility to a product, and it's all about the feel. I'd love to hear from you. What's your favorite effect for adding texture to a wood surface? Go ahead and chime in using the feed on the side of your screen. So this section is called our gallery. GFX: dresser text: Designs, materials and interiors curated to bring the Method palette to life We're going to show you the designs, materials and interiors curated to bring the Method palette to life. Enjoy. SFX: Calming music GFX: table text: Herman Miller Noguchi Table, GFX: plates of cookies text: ordinary home, GFX: pots and bowls text: photo by Melanie Rey O Nellyrodi GFX: wood desk text: IG @dare_studio GFX: bed with wood frame text: Sarah Ellison Studio GFX: wood bench text: Max Lamb, Gallery Fumy GFX: a bottle on grass text: Nout Parfum GFX: open airy rooms with wood features text: Goop Offices Designed by Rapt Studios, while commercial in nature, hospitality and contract spaces are being re-created in residential applications as a dedicated "stay-cation" experience. This movement is boosting the importance of natural, quiet colors along with individual space to replenish and recharge. GFX: living room and sitting room with brown features and modern furniture text: Rafael De Cardenas Designs New York showroom for fashion Brand Ulla Johnson text: Architect: Chet Callahan Designer: Chislaine Vinas Los Angeles, CA GFX: open office area and orthodontist office with wood features text: Chelian orthodontics by merge architects. The overhead voids are carved into a Series of wide scalloped profiles that Suggest rows of giant pearly White teeth. GFX: simple kitchen table text: Method Hem Studio This concludes the Method collection. We're moving on to Opus! Let's watch. Video: GFX: "Sherwin-Williams MODE Industrial Wood Colormix Forecast 2022" being carved into wood panels GFX: bold statements simplified GFX: wood panel and lamp beads GFX: chic living room text: modern maximalism GFX: purple flower blooming GFX: a purple curtain and a wood panel GFX: wood panels and flowers GFX: orange room with wood trims text: glam industrial GFX: piano keys GFX: wood panel and a spiral staircase GFX: living room with wood walls text: moody eclectic GFX: wood panel and scrolls/swords violin GFX: sitting room text: theater GFX: wood panels appear GFX: Sherwin-Williams Colormix Industrial Wood Forecast 2022 to learn more, visit: wood.sherwin-williams.com/colormix2022 GFX: opus wood panel collection and colors Dramatic depth reminds us of the maximalist fundamentals, proving that more is more. This collection of deep tones and unexpected finishes was created to be a new kind of classical to set drama and emotion to the art of good style and to never, ever fade into the background. In the Opus collection Dark Foundations lead to an eclectic, luxurious design esthetic. Charred and distressed finishes, unexpected accents highlight pieces with a subtle and natural charm. The innate beauty of wood shines through these chocolaty browns and matte blacks, resulting in spaces where dark and natural elements complement each other. As personalization becomes more important today for consumers, these one of a kind finishes allow clients to add a unique sense of flare to their space. So drop a note in the comments, if you would. Which of the finishes or colors of Opus resonate the most with your segment? GFX: darker living room and kitchen shot text: color cue Industrial maximalism combines with theatrical opulence for a movement that lives both luxurious and a little punk rock. The duality implies a confidence and self-assurance and edgy self-expression. Be bold here. Take chances and be brave. Oxidized surfaces, deep chroma and classical design elements all converged to characterize a raw yet precious patina. When it comes to product design, the bolder, the better. GFX: shot of a reading chair with a tall lamp Glam industrial. Often remembered for materialism and consumerism. The 1980s was also the decade that saw the rise of social awareness in punk rock narratives. Exploration of the gritty underside of urbanism and the balanced opulence of glam industrial draws an interesting parallel in our current political and economic state to the dark and industrial days of New York and London in the early 1980s. In terms of interiors and architecture, there are references to brutalism, Italian futurism and the esthetic is unapologetic, functional and honest. GFX: sitting room with a pink wall text: theater The rise of vintage maximalism along with the other cores are not a coincidence, considering we're emerging at the tail end of a decade defined by minimalism. This theater in design is a way of revolting against this bare white walls of a room and the perfectly placed wooden salad bowls. It's about personalization and embracing the eclectic. It's about consumers opting for individual curated pieces versus the matching collections of yesterday. To look at a maximalist space is to get a sense of what the inside of a person's brain might look like. The places they visited, their heritage, the random objects they've amassed over a lifetime. It's about celebrating the theater of life. GFX: bedside table with rustic bedframe Drawing inspiration from the fantastical, we see wild and luxuriant themes and deep, dense shades, creating eclectic interiors. From vintage Victorian to the slightly bizarre and exotic, moody and eclectic interiors, harmonize powerful finishes and color schemes, layered textures and surfaces with dark and vibrant shades creating a dramatic esthetic. GFX: panels and textures laid out on a carpet text: Materiality Report In this section we will explore key materials for Opus In this section, we'll explore key materials for Opus. We see a sharp discomfort in materials in this story instead of softness shapes or angular and challenge instead of re-assure materials are chosen for gravity severity with heavy glazes, strong color, aged patina and synthetic or industrial design. Collage of room shots with wood features The Global Color and Design Center, GCDC, which we affectionately call it, we are fully immersed in product development and that starts with our Industrial Wood design thinking process. Furniture always reveals the fastest story of color shifts in our future casting endeavors. Now, more than ever, wood species is taken into account and becoming a focus at retail. Texture, distressed rustic finishes, cerused effects and book-matched veneer patterns are leading the way visually to tell the story of wood-from more organic to dramatic. As personalization becomes more important to everyone, actually, but most importantly, today's consumers, our custom one-of-a-kind finishes allow manufacturers to express their brand using color at every price point for broad customer appeal. GFX: black cabinets and cabinets text: black shine From the most blue-tinted black to the brownish tone, the most highly lacquered to the flattest matte surface, the accent is on black in all its myriad shades. GFX: spiral staircase and metal items text: antique patinas Metal, stone and wood excel in pared design and raw or precious patinas simulate the effects of passing time. Extreme, aggressive, angular forms create a new vision for volumes. Black mattes where it's at. GFX: chairs with sharp angles As well as Urbane Bronze, which is the perfect finish for this design path. So let's enjoy the gallery for Opus. GFX: chair at a red table text: Designs, materials and interiors curated to bring the Opus palette to life SFX: inspirational music GFX: black chairs and a black sphere with gold inside text: AE Studio, Bloomingville, Boris Berlin & Poul Christiansen, Sumi Limited by Fil, Teno Lumio by Max Gunawan GFX: lightbulbs, pink door, scrolls/swords, flower boquette text: Moody Navy and Coral Jewel tones inspired by floral paintings of Dutch masters GFX: inside of a dark bar/restaurant text: Lucky Cat London, Dark interiors, deep color palette and dim lighting ensure that LuckyCat doesn't photograph well (anti-instagram) so that diners have a private place to escape to. GFX: wood sink, dim bar, beetles on the wall text: J Boroski Bar in Shanghai by Atelier XY GFX: stylish conference room text: Opus Our next palette is Dreamland. Let's watch. Video: GFX: "Sherwin-Williams MODE Industrial Wood Colormix Forecast 2022" being carved into wood panels GFX: washed styles & wellness GFX: wood panel and swirling colors GFX: flower GFX: pink room with white features text: biomimicry GFX: two wood panels and two purple backgrounds GFX: pink office space text: renewal GFX: wood panel and leaf GFX: butterflies flying GFX: green sitting room with white chairs text: eco-style GFX: wood panel and flower blooming GFX: wood kitchen table text: wellness GFX: wood panels animate in GFX: Sherwin-Williams Colormix Industrial Wood Forecast 2022 to learn more, visit: wood.sherwin-williams.com/colormix2022 GFX: Dreamland panel and color collection Well-Being and living well continue to be top of mind for lifestyle, design and interiors. We're moving past the tones of nature here into something more effervescent, intersecting between the digital and the natural. In Dreamland, we'll explore the fullness of living. The Dreamland collection is sophisticated yet jovial. This collection truly nurtures renewal and wellness. Bleached styles lend a pearlescent shimmer to wood grain, leaning into misty metallics that bring additional simplicity to Scandinavian inspired finishes. Grounding in the natural beauty of wood, warmer blonde finishes join the trusted soft grays to create ethereal looks. Desaturated natural hues create a soft impression, while calming greens creates a natural mood. This palette is very versatile. GFX: living room text: color cue The soothing and harmonizing colors and finishes of Dreamland are ideal for hospitality and health care institutions where a sense of comfort is desirable, especially in common spaces. GFX: wood wall text: renewal The security of shutting a door and knowing you're safe, calm and quiet will continue to be important in 2022. Natural elements in nature provide soft security as the outside world may seem dissonant and exhausting. This pallet is complete with renewing finishes that help to achieve an uplifted sense of balance and calm well-being. GFX: wood side table Our shared experiences of the past two years will see consumers assessing their emotional and physical status with a new understanding of how the two are interlinked and how they contribute to the overall health and effectiveness and well-being. People worldwide are prioritizing their health and wellness, both physical and mental. GFX: wood root sculpture text: eco-style Circularity, pragmatism and recycling are key themes shaping design directions as we become increasingly concerned with material origins and product afterlife. Biomaterials is a relatively young and dynamic research field, which is gaining traction as incredibly important in terms of sustainable innovation and waste management. Here we note the naturally abundant resources that are being transformed into important material alternatives. Think mushrooms. GFX: panels and textures laying on the ground text: materiality report, in this section we will explore key materials for Dreamland Spending more time at home during the pandemic has turned many people's attention inwards, and there is more emphasis on textures of materials that focus on comfort. So when you design products for comfortable and calming spaces, what finishes and colors come to mind for you personally? Drop a comment. Let us know. GFX: Collage of tables, outdoor space, kitchen and living room Experimenting with gloss levels or adding iridescence for a statement piece, both interior and exterior unexpectedly exaggerate wood's appearance and creates dramatic impact. Stained inky and diffused effects are being seen across all segments and substrates, residential and commercial applications are developing more sensorial experiences when specifying products and materials. Think about creating rich finishes or custom color that ask to be touched. GFX: pink table, wood panel and a translucent table text: opaline transparency, shimmer table glas-italia Translucent, opalescent and ethereal surfaces shimmer and reflect like prisms, highlighting soft, sensual colors, focus is on the texture of the frosted glass, tinted plexiglass, milky plastics and composite resins for a new take on transparency, with a hint of luxury. For wood finishes think shimmer and pixie dust, and you may not think that this is for you, but it definitely works in interior and exterior applications. Take a look at the light panel on the top right of your screen. There's a subtle shimmer on cement board that adds a hint of unexpected movement that helps reflect light and adds to the depth of the product. GFX: wood panels and sanded materials text: textured striations Sanded wire-brushed and embossed finishes look through the filter of a psychedelic lens to reveal graining and create effects with surreal texture. GFX: Images of a wooden table, curved chair text: comforting softness What we're seeing, shapes are cozy and rounded, tufted and pillowy, touch and tactile giving wood products an inviting profile and a new narrative. So next is the gallery for Dreamland, so let's soak it in. GFX: wood desk in a pink room text: Designs, materials and interiors curated to bring the Dreamland palette to life. GFX: white chair in a greenroom and a wood panel text: Calming blue & green Drawing inspiration from tranquil waters and expansive skies, calming blues and greens brings stress-relief and restorative qualities to products and interiors. Color is soft, subdued and inconsistent; achieved through stained, mottled and speckled effects. Calico Wallpaper Odd Matter GFX: Images of a reading nook, table, towels text: Quite Organic, A serene but grounded aesthic emerges, encouraged by a need for calm, comfort and an easy existence. Natural simplicity manifests as unprocessed, humble materials and slouched, comfy silhouettes. Color is pared-back and neutral, and enriched through organic imperfection. Charlotte Thrane, Poppy Lawman, Carl Hansen and Son GFX: wood panel, lilipad mirror, Cottonbro, Kristina Ziegenhagel available at moviemento.club, Brian Wangenheim GFX: huge airy building with plants inside text: SHoP Architects, Atlassian HQ, Sydney, The world's largest hybrid timber building, which pointedly blurs the boundaries between outside and inside. "In these in-between spaces, we forge natural connections with daylight and vegetation. The building begins to breathe." GFX: wood panel with people laying on a rock text: Spanish photographer Silvia Gil-Roldan depicts the enjoyment of lounging outdoors in her editorial project Silence, through her use of soft, warm color, nuanced light and natural landscapes. GFX: trendy office space text: dreamland This concludes the Dreamland collection, our final collection to review is the ephemera palette. Let's watch. Video: GFX: "Sherwin-Williams MODE Industrial Wood Colormix Forecast 2022" being carved into wood panels GFX: new takes on the classics GFX: wood panels with a ferris wheel, old school living room text: nostalgia GFX: wood panel and bike GFX: wood panel and old radio GFX: living room text: retro futurism GFX: old tv stand text: optimism GFX: record player GFX: wood paneland old phone GFX: blue room text: meaning & memory GFX: wood panels appear GFX: Sherwin-Williams Colormix Industrial Wood Forecast 2022 to learn more, visit: wood.sherwin-williams.com/colormix2022 GFX: Ephemera panels and colors Nostalgia is a subtle but powerful tool that delivers comfort and a sense of well-being. We often look back to look forward and in 2022 we'll see a strong resurgence in heritage style, heirloom craft and vintage curation from the fleetingly familiar to the forever loved, it's important to honor the timeless of mid-century modern design and explore how Ephemera is a play on a primary color and an evolution of the authentic finishes of bygone basics. The rich finishes that define the Ephemera collection are playful, yet contemplated. New browns are evolving. Undertones of orange, yellow and red step aside for rich chocolates and ebonies to revive the historical essence of luxury found in the wood pieces. Solid foundations pair with refined wood grain to redefine past styles and timeless finishes. So how are you and your mind going to incorporate these new browns into your product lines? And if you are, how are consumers reacting to them if you already have? Drop a comment in the feed if you would. GFX: living room and kitchen with wood accents With a muted retro quality, this collection is designed to look back for inspiration in previous eras and find the comfort of the familiar. Turning to nostalgia is a common psychological response that produces feelings of comfort. GFX: old clock On the surface, it's easy to put a yearning for times gone by down to pure nostalgia. However, there's more to it than that, and it's an appreciation for the innate charm of the design styles. Their reemergence is attributed to a strong design characteristic that have the potential to work in any discipline and not only brought about by attachment from fond memories. Simply put, we often look back to look forward. GFX: old photos Nostalgia therapy or reminiscence therapy, as it's often referred to, is the practice of using physical prompts such as photographs, film footage, props furniture and music. It's become common practice for a lot of aging care facilities to create nostalgic spaces like a simple 1950s living room setup. Research has shown that nostalgic spaces help improve mood, cognition and general behavior. For those who struggle with their short term memory, it's thought that evoking past memories of happy times and places help elevate people's moods and create a feeling of belonging and safety. Nostalgic spaces helped bring about comfort. GFX: old plant stand Optimism is an important psychological resource that helps individuals cope with life stressors, build strong relationships, find and maintain meaning in life, and become more creative and inspired. Our fond memories of times gone by can help to maintain current feelings of self-worth and can contribute to a brighter outlook on the future. GFX: panels and cloth samples laid out And now we'll look at the Ephemera materiality report. GFX: wood kitchen and bath, wood desk Manufacturers in all areas from flooring and building products to furniture and kitchen and bath are tasked to create products that fit cohesively into spaces. The textured elements, calming tones and nostalgic influences of Ephemera are fluid and grounding. The fastest evolving color we're seeing for Industrial Wood is brown. The new evolution will move gray to a down trending accent color. Gray has had its day or a few years, as a matter of fact. Warmer browns will blend seamlessly with the up trending blues and greens found in nature. From light fawn to the richest deep dark chocolates sun-baked to sultry, the brown range will dominate product offerings at every price point. GFX: retro bathroom and make-up text: 1960s minimalism Minimalism, a smooth, polished esthetic highlighting the dark woods and round compact volumes, reminiscence of nineteen sixties design. Natural leathers, lacquered aspects and matte all come together in a warm harmony to create new spins on designs that are reminiscent of the past. GFX: rooms with brightly colored features text: new geometrics New plays of graphic, interlocking and assemblage to take a modular, post-modern turn, think from Cubist inspired rugs to asymmetrical, almost Tetris like shelving units, furniture plays on unusual and complex geometrics, etc. It's all the new geometrics or they're doing their own thing. So now. Next is the gallery for Ephemera. GFX: pink door GFX: old school living rooms text: Birly Lodge 2LGStudio Inspired by 1980s Brutalism 2lgstudio.com GFX: old restaurant with orange chairs text: mix image colourhive, curology, vyta covent garden GFX: colorful cutlery text: Raw Color works across design disciplines to materialize color by blending the fields of Graphic Design, Photography and Product Design. From their Eindhoven based studio, Daniera ter Haar and Christoph Brach work together with their team on self-initiated and commissioned projects. GFX: color ful living rooms and tables text: @ego_paris_official, @prchtg, @cathdelichtenberg, @dirkvanderkooij GFX: study space that is blue and yellow text: Felxi Meritis Building Amsterdam A bold and bright color palette elevates historical spaces through contemporary graphic furnishings. GFX: old desk area, color circles text: muuto GFX: sitting area text: Ephemera GFX: wood panels of evergreen fog This collection, Ephemera collection, sums up our MODE palette, which we love, and now we're going to take a look at our 2022 color of the year. Evergreen Fog. Evergreen Fog our 2022 color the year exhales nature into product design, and its green biophilic influences set the tone for a year of growth. This color is soft and organic, which allows it to easily evolve into a wood stain across both interior and exterior design. A welcome offering to flooring, kitchen and bath, furniture, architectural building products, millwork, everything. Evergreen Fog balances a variety of versatile and sophisticated stains for refreshing, restorative design. Prior to the pandemic 19 months ago, when we were discussing our next COTY, color the year, Sherwin-Williams cross divisional color experts collectively identified that consumers were already starting to struggle and become sensitive to overstimulation. They would be looking for environments in a color that would reduce anxiety and stress. Evergreen fog is a quiet, unsettling green that instills a sense of grounding, rest and reflection. So in the age of virtual, I think we all can agree that it's become more and more important to be able to work from anywhere. The last two years have certainly proven that. We know developers of wood products need to be flexible, and our Virtual Panel Studio is the perfect way to access inspiration anytime from anywhere. This is a unique tool available exclusively to vetted product developers and product designers for manufacturers of wood products that allows you to access trending finishes 24-7 from anywhere. It's a great way to connect with our Global Color and Design Center and download, share with your teams, save hundreds and hundreds of panels for use as inspiration on your next great project. You can find all of the panels in today's presentation, along with countless others on the Virtual Panel Studio. To request access, visit wood.sherwin-williams.com/vps or click the link on this page beneath the video. OK. This concludes our webinar today, I want to thank you for joining me, and I hope you were able to pull a few ideas that will inspire you in your development of your own product lines. If you have any questions about anything I've shared with you today, please feel free to reach out to your Sherwin-Williams sales representative. Have a great day!
Join Lauren West, Sherwin-Williams Global Color & Design Director, as she shares the inspiration and influences behind our 2022 Colormix Forecast. In this presentation, you'll learn about the four industrial wood color collections we see trending for 2022. A direct reflection of the times, both current and forthcoming, MODE embraces growth and adaptability in our spaces. This webinar is designed to give you a glimpse into the most popular wood finishes, and how they are shaped by the design trends and the world around us - all valuable insights you can take with you as you continue to develop your wood products.
---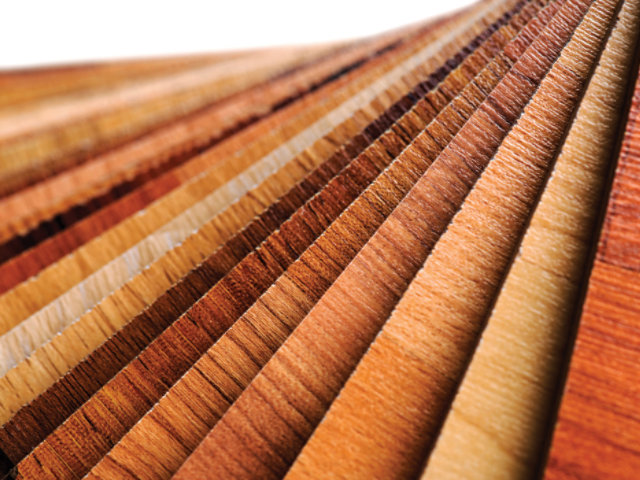 Let's Connect
Get in touch with your local Sherwin-Williams representative to learn more about how we can be your complete finishing solution.