Flooring Trends at the NWFA 2020 Virtual Expo
Color Style Trends VE2020.mp4 Sharron [00:00:04] Thank you for joining us. For the education session during the first ever NWFA Virtual Expo. We appreciate you taking the time to expand your knowledge through continuing education and networking opportunities that this virtual expo provides. Today's session is entitled Color, Style and Trends. My name is Sharon Shalah, the member engagement manager at NWFA, and I'm going to serve as your moderator for today's session. And just remember, there is a questions pain on your control panel. So if you have any questions for the presenters today, please type them in and we'll address them at the end of the session. And we have two presenters for today. It's Christina Rowe is the senior marketing manager for Interior Would Care with Sherwin-Williams. She manages product and marketing strategy for the Duraseal Wood Finishes brand. Christina engages with color experts, technical experts and internal and external research to turn data points into products that meet contractor and customer needs. She has a B.S. degree from Miami University. Les Smith is the market development manager for Sherwin-Williams Industrial Wood Division. His responsibilities include marketing strategy and execution for the industrial wood market, including flooring. With nearly twenty five years of coating experience, Les speak at many industry trade show events. He's earned his Bachelor of Arts and Science degree from Ohio University. So take it away Les. It's all you. Les [00:01:41] Thanks, Sharron. And good afternoon, everyone. You know, my job is market development manager and I get to travel the world, travel the country, and I could see a lot of things. So I'm kind of still us off with a quick survey. Are bellbottoms trending? I want to ask that question. I'm not talking about the nineteen sixties version of it that we saw or even the Saturday Night Live version I'm talking about just in general. And the answer is, absolutely. We're seeing this more and more every day, we see this in airports and some of these pictures, this picture on the far right actually took at an airport and somebody told me it was somebody famous after I took it. I can't remember who it was. But I guess the bigger question is, why do we care? And when we talk about friends, we have to know where trends originate and where they come from. So just in general, we follow fashion in the wood industry. We typically follow fashion colors and styles. That translates into furniture, which then translates into a European kitchen. For years, this process took a couple years to get back to the US. Does anyone have an idea of how long that would take today? Would you be shocked if I told you that happens in six months now? How many people during your morning coffee were on one of these social media platforms using it to communicate, follow things, look at things, look at trends? You know, there's a couple on here, Pinterest and Houzz that are really trend forward, I think. So how do you keep up in this fast moving environment? Well, we encourage you follow designers. Look at LinkedIn, Facebook, Instagram and follow them. You know, they're always looking for followers and they're always looking for pushing things out. A 10 shows like NWFA show, the Neocon, things like that. They're going to get all your best friends coming from there. Go to showrooms, restoration hardware. And this time right now, it's a great time to take virtual tours since we're all locked in our homes and doing everything virtually. Much like this presentation. The other thing I want you to do is pay attention to shows. Now being from Kentucky. I tend to drink a little bit of bourbon and I found it interesting, I was watching a show on the airplane the other day called the internship, and I noticed that in the internship they celebrated with Pappy Van Winkle many years ago, that would have been vodka, that would have had some other drink. But now bourbon is trending. So you're starting to see it in some of the shows. And you'll look at the kitchens and the shows and the flooring and the shows, they all trend forward in the latest TV shows and things like that. The other thing I'll tell you is partner with a good supplier or distributor. You know, for us Sherwin-Williams, we have the Global Color Design Center, Greensboro. We have a virtual panel studio that I'll talk about a little bit later. We have color specialists and field sales reps in the field there. They're looking at trends all day, every day. We also at Sherwin-Williams, we have the color mixed forecast that we do every year from the housepaint side. So what do we watch? We watch the high point market, we watch Color Neocon, the color marketing group. We have our field teams there's like I talked about and you see some other organizations NWFA, the KCMA, AWI, we all attend these events, looking for information in the marketplace and trends. Another thing that we watch closely is the National Association Remodeling Index. Christina [00:05:27] So according to the 2019 remodeling impact report, new installation of wood flooring is among the top eight in terms of appeal to buyers and return on investment. Consumers really view new wood flooring as providing 24 percent better functionality and livability and also offers one hundred and six percent return on investment. This is a better roi than other projects, like kitchen upgrades at 52 percent and basement conversions at 64 percent. The top reason given for even suggesting the projects are upgrading worn out surfaces, finishes and materials. Wood flooring is classic and timeless and one of the best investments you can make. Most buyers love them. Wood flooring immediately influenced as if their home buyer will like the house as they walk into every single room, hallway and kitchen. Next slide. In the same report, refinishing existing hardwood floor, scoring a top 8 as well. Consumers indicate that refinishing an existing floor provides 26 percent better functionality, livability, beauty and esthetics. There's an estimated one hundred percent return on investment here. In just over a quarter of realtors suggested that refinishing hardwood floors will actually help close the sale. Whether the need for refinishing a floor is due to worn out surfaces or simply a need to modernize the look and feel the benefit to the seller and the homeowner are clear. Hardwood flooring, whether new or refinished, is definitely worth the investment. Next slide. Les [00:06:57] That being said, I think one of the things that you have to do as a manufacturer or refinish for flooring is keep up with trends and these trends come from our global color design center. And these are trends that we trend forward, as we say. We're looking at things not for 2021. We're looking at twenty two and twenty three now because we're already mid-year coming up to mid year 2020. So the things that we've launched for 2020 are starting to come out of trend a little bit. So what's coming in the future? The bleached look, this will be taking it Afro wood and toning it down a little bit. We do this with reactive stains, reactive conditioners. We do this with a white top coat. Just something to bring color down a little bit. The other thing is highlighting the texture. Now, whether we do this through sprucing, we do this again through reactive conditioners. There's a couple of different techniques. And you can see in these panels how we kind of step through the process to get to the final look. The organic look, which is a very natural look to the wood, not really doing anything. Maybe highlighting the grains just mildly. And then you have nostalgia goes back to that hundred year old floor finish or hundred year old cabinet finish, the thing that you'll notice with these browns is they are true brown. They're not in red. They are a very, very true brown. And that's very playing very highly into what's coming and what you're going to see over the next couple years. What about color? Well, you know, I think everyone's going to be aware that the number one color, surprisingly enough, is white. Just like the screen. The next one, grey. And if you can put those colors into what you're doing in flooring, that's a great thing. But the key to color is the color translation. In twenty nineteen Sherwin-Williams entered cavern clay as a color of the year. Not really something to get too excited about. Terracotta pot, maybe. But when you take cavern clay, you integrate some natural greens, do a little bit of highlighting and distressing. Maybe you come up with something that looks like this that you could bring into an earthen collection that can sell. So color is the key. But lighting plays into that as well. Christina [00:09:24] I'm sure we've all seen rooms where colors look different the morning versus in the late afternoon. Now, when you add in all the new technologies of light bulbs and you have a whole different viewpoint on color. So why are we even talking about this? Flooring, which I'm hoping everyone here agrees is often the anchor of the entire room wall, paint and wall covering choices as well as other in room furnishings must work well with the floor color choice. The color can reflect onto the walls, which can then change the look. The customer may have wanted it possible. Your best idea would be to have a customer see the color on the floor for at least 24 hours. If you have a few extra pieces of similar wood stain the color or colors the customer is contemplating to allow them to see it in both the morning and evening light, show them options for different scenes in the same lighting as well as this could also completely alter the color choice made. But don't forget about artificial light as well. The customer should be the color choices under the anticipated artificial light as well, so that they can make the correct choice. Lampshades, light bulb tones and reflections from the wall color and furnishings will all impact the perception of color on the floor. Next. Les [00:10:36] So I talked earlier about colormix with the color mix, 2020 was launched in Neocon. And it's a great tool. Again, it's a wall paint tool. We are a wall paint company as well as other things. So what we started to do in the industrial Wood side is we have a translation. So Alive, which was a previous screen. Now looks like this. And in twenty twenty, twenty nineteen, we launched the industrial wood version of a color mix. So we go through the five given pallets that color mix is the standard for. And we give each one of them a wood translation. So this is a great tool for you to grab a hold of and look at it and see what the trending colors coming out for. Twenty, twenty. Twenty one. Twenty two. You can see some of the nice color somehow some of the colors play off the wall coloring and how you can integrate them in moderate and middle reasons and very serene type feel. Very nice colors. Little bit of a little bit of color in these as well. So some things will start to look at you see a lot of bleached and naturals in these in this color palette. Play is a fun color and a color on the bottom left is ocean side. That was a color for twenty eighteen. The ocean side by itself, not very attractive. But when you put a little black spruce over, top of it starts to look pretty nice, like in the upper left hand corner here. The other is others make up your palette very well. But I think this color here in the middle would be a very nice wood floor color in the middlemiss type situation. Havens are number one. This is a nice well, I like this palette a lot. There's a lot of color and a lot of movement in the boards in this one. So and heart is the final and heart puts me in mind of some relaxing areas, maybe some things at the beach. You got some nice greens and reds and different things like that could play into your vacation home. But here, the nice thing about this is these are all custom colors. We do have some standard colors as well. Christina [00:12:51] So from an onsite finishing perspective, Duraseal has a wide variety of easy package colors to make, real quick work of staining. But we also offer the ability to intermix and create just an endless array of custom color and finish options for your customers. Now, while we provide recommendations for inter mixes on various color cards, the color world really is wide open to your tuberose. Clear finishes may not alter the color of the wood, but that she's chosen is also a critical part of the overall design. As Les mentioned, some of the trends rely on a map finish, while others may come to light with a higher gloss. Choose the change of best, fit the desired end result. And don't be afraid to play with color and intermix is to get something truly unique for your customer. Les [00:13:37] So as I spoke earlier about the virtual panel studio, what this is, is a way that you can digitally sit down and look at different hands. And all of these are designed in our color studio in Greensboro. And all of them are digital pictures that we can give you the exact footprint of how to create that in your studio. The other thing that I would encourage everybody to do right now is d istress, and when I'm talking about distressing is taking the stress out of your life. And I know nothing makes me happier than just tearing up a nice piece of wood. There's a lot of things that you can do and tools that you'll need to to go through the distressing process, whether it be a wire brush machine, whether it be the old traditional just wire brush, all that on a drill. But when I first started learning about distressing and tearing wood up, I met with a gentleman and we went to a shop and we stopped in front of a railroad track and he jumped out and started picking up rocks and railroad ties and different things. And I thought, what in the world are you doing? Well, he was building a distressing tool kit. As you can see, it doesn't always have to be the greatest tools. Sometimes simplicity is the right answer. Wire brush looks very popular. A lot of different ways to get there, whether you want to spend, you know, 40 or 50 thousand dollars on a wire brush machine or you want to do it by hand. But the key with wire brushing is bringing out that texture that you're tearing out of there. And the Sarus job you see here is a nice way to highlight that as he tore out with a wire brush. Reactive conditions have been around for some time. We've traditionally called them smoked or fume or aged or bleached. The nice thing that we've done with these is we've made them more controlable. These are some standard colors that we have available to you. Now, again, the key to remember, these react with the tannins and the oils in the wood. So not every piece of wood is going to be exactly the same. Not every piece of wood is going to react exactly the same. So it's best to try this out in a few different select species. See what your reaction is and see what you see what you like and what you think you can sell. Again, this is a very inconsistent process. So even twenty boards out of the same tree may give you 20 different colors. just kind of be aware of that. Will this work for me? Absolutely, whether you're doing a free finish or refinish all of these processes and and and steps that we're giving, you can be done in your shop or in the field. So whether you're doing the distressing the old fashioned way or you're making the investment in a large piece of equipment to add into your line to make it a higher production facility. This is a great way to move into the future. You know I'm 51 going to be 52 this year, and one of the things I remind remember fondly from my used was going to this favorite store. I was picking out the video of the things that I tend to block out were the service charges, the late fees, the rewind fee and everything else. But, you know, as we talk about trends, the things that we have to talk about, too, is technology trends, because it's things that we face all day, every day from a manufacturing standpoint. There's one blockbuster alive today. So if you want to go to Blockbuster, you better rush, because I don't think itll be around much longer. But I do understand that there was a pop up store in somebody's cubicle and a tech center that they just brought in videos and held them in there. But what killed Blockbuster? Well, everybody wants to blame Netflix. But what really killed Blockbuster was the DVD. Netflix took advantage of the technology and the DVD that didn't need rewind. That was easy to ship. That was cheap to ship. That was relatively indestructible. And today, Netflix rules. Blockbusters down to one store and a pop up. So why technology trends? Well, we deal with government regulations from formaldehyde. We deal with raw material manufacturers. We've lost a few manufacturers. We've made some resin improvements. And sometimes it comes down to shear costing that the manufacturers are pushing us out of resins just from a costing standpoint. One of the new things that's happening to us and happened in 2019 was natural disasters. When the hurricanes hit Texas, we lost some major manufacturers of solvents that we use in our coatings and we had to overcome that. And again, these are things that we deal with every day that affect you in the field. And you as end users, there's also technology advancements that have come. Water-borne has been a great thing. Formaldehyde free has been another one, not isocyanate. Non formaldehyde coatings are really on the forefront right now because they are truly safer in the house and safer in the environment. And then over coatings as water resistant coatings that we're all facing today are really a nice advancement. Some others we're looking for improved table resistance and scratch resistance, improve stain resistance and self healing coatings. This is something that's really come into the forefront right now to where you have a minor scratch and through a heat process or a time process, the scratch kind of dissipates or disappears over time with just a minimal amount of effort rather than sanding and refinishing. How can we implement these ideas? The one thing that I'll tell everybody on the call. Help us help you. Pain or you're experiencing is a VSC issue. Do you have a quality problems or you want a new add a new line. You want to add additions to your current line. Give us all the information you can. We can help you. Understand your current facility and or site limitations. Not everything will work everywhere. So we have to understand that and kind of work around that. What is the cap X that you want to invest? You know, if you're not willing to buy the 50 or 60 thousand dollar piece of equipment, is there a way that we can get a similar look without that investment? What are your goals and this is a big one, because, you know, we have a great idea that we want to do this, but what does that really mean? What's our end goal? We want to add a new line that we can sell more of. Or do we want to be available? And more more facilities. What's your finish expectation from a look, feel and durability standpoint? You know, this is a big thing that we have to we have to make sure that we match our recommendation for a coating to what you want because we can make a coating almost impervious. But it may not look like you want it to look or may not feel like you want to feel or it may be too durable and it may it may have a plasticy look that you that you don't want. And what's your timeframe to change? This is one that I think everyone has to face, is the fact that these changes don't always come overnight. There are things that we can do to help overnight. But many of these are long term investment and long term timeframes. And how will you manage the change? And I stress you manage the change because everyone loves change so much. They look forward to. That's really not the world we live in. So you have to manage through that change process. You have to bring your people in, informed them and you manage through the change. We're here to help. But it's up to you to manage. So I challenge you trend forward. Come out of the 60s and 70s. The Saturday Night Live. Don't be the blockbuster. Be the Netflix. Do we have any questions? Sharron [00:21:48] Thank you less and Christina for this informative presentation. Appreciate that. Now we will open it up for questions. There are a few questions in here, but just as a quick reminder, everybody go into your questions pane and ask away and we'll try to get them. We do have enough time for this session for answering those questions. So the first question comes from Rick and he asks, how do we get access to the color mix? Les [00:22:16] So Color Mix is published. It'll come out sometime around June, July. Every year, your local Sherwin-Williams representative or D'Urso representative will be able to get that for you. The industrial version follows the House paint version. So usually we're in a August type timeframe because we have to see the final from the house paint side before before our GCDC team can get involved and start doing the translation forward. Sharron [00:22:47] Pay less. Do you have another slide with your contact information on there? Les [00:22:51] I do. [GFX: Leslie Smith. Sherwin Williams Industrial Coatings leslie.h.smith@sherwin.com 859-992-1574] [GFX: Christina Rowe. Duraseal premium wood floor finishes christina.l.rowe@sherwin.com 216-339-9737] Sharron [00:22:53] If you could just show that so that people can go there. Awesome. Thank you. All right. Let's see the next question. Are the reactive conditioner's able to be used with UV oil or urethane? Les [00:23:08] I won't answer that question universally, yes. I know they work. But I think for the most part, they are a water based product. So after a wait period, they should work. But I would encourage you to do your own testing and your provocation before you launch into something. Sharron [00:23:31] All right. After white stains, excuse me. Where are we going after that? Looking down the road. After white stains, where are we going after that? Looking down the road, you understand that question. Les [00:23:50] I guess I guess, you know, we were looking at the whites going to be around for the next couple of years, so you know what, I think you'll see a transition out of that. But right now, I think you're gonna have to deal with it for the next couple of years. And again, you're going to see a trend towards the more natural colors, like we talked about things like that. In stain. Sharron [00:24:19] Next question is from Andrew and he asks. It appears to me that the darker look has become the blast of the past. Seems the trend is going more to the lighter look, gray, especially. Do you agree? Christina [00:24:34] Absolutely. Now, let's say absolutely you've seen the Grays continue to be a hot trend and it doesn't seem to be slowing down anytime soon. Some of the lighter grays as well from a tourism standpoint, that we don't anticipate that changing over the next year or so. Les [00:24:53] I think with a lot of those dark stains and those dark colors is we got him in the home and we found out how much they show dirt and how much they scuff and everything else. I think people the thought that that was it is a beautiful floor disagree, but it's not an everyday flaw. Sharron [00:25:14] OK. Michelle asks, can you talk more about self healing finishes? This is a new term for me. Les [00:25:21] So self healing is really what we call a nanotechnology, and it. What it what it really means is, is the scratched stays very minimalist and just a simple rub with a rag or a light polish will bring that that stuff out. Some of them are heat reactive. So you heat them up to a certain temperature and then you can rub that scratch out. We've seen that. We saw this in course. Five, six, seven years ago, were they they call it scratch resistant and it really wasn't. It's more of a self healing technology. Again, if I take a knife and go into a piece of flooring, I'm going to scratch that's not going to heal. This is for your minor scuffs and scratches. Not for something major. Sharron [00:26:13] Tony wants to know when using reactive stains. How long will they continue to evolve? Les [00:26:22] I assume by evolve, you mean change color. They change color as long as they are wet, once they dry out. And you don't reactivate them with water. They pretty much stay stable. Sharron [00:26:36] OK, and wall paint, textiles, cabinetry, furniture and flooring. Who's the leading trendsetter for color and who legs furthest behind? How do trends flow between those segments? Les [00:26:51] So I guess my general statement to that would be, fashion always comes off the runway, so. And from there, you can always follow the dollars. The things that are easiest to change in the House seem to be the quickest to adopt the trend change. So if you take a standard room, let's say it cost you a couple hundred dollars and paint to paint your room to a different color. You that's very easy and very trendy to do. The next thing would probably be furniture. It's relatively inexpensive to change a room with furniture to be trending forward. But when you talk about flooring or cabinetry or something like that, you're usually talking about a capital investment loan or something like that. And again, that's a little slower to take into the trend. You know, as far as textiles is concerned, that's very quick because that really came right off the fashion floor. Sharron [00:27:45] Next question from Sarah. Low gloss seems to be a trend. Do you feel high glass may be making a comeback? Les [00:27:56] We went through this in cabinetry and we went very, very low. And now we're starting to see it come back up, but it's not going. Your high glosses are very selective situations. Trends teams stay around satin to a dull and getting away from them. Christina [00:28:18] Yeah, agree, agree. Things like gloss finishes are more of an accent and less of a full floor. Sharron [00:28:25] Next question from Rose. Do you have a room visualizer to try to color mix on the floor? Les [00:28:36] In-process, I'll just leave it at that. It is. It is. We have accomplished that for a couple different segments, the flooring segments. Not on there yet. Sharron [00:28:48] OK. And Cliff asked, are the reactive stains conditioning finishes available for job site work? I only seem to hear from them from overseas manufacturing. Christina [00:29:04] From a refinished standpoint, we do not have any rective stains as part of our Duraseal line. Or maybe some are available from some other suppliers, but it's not something that we have launched yet. As part of duraseal. Sharron [00:29:15] Which kind of leads to the next one, does Sherwin-Williams cell reactive stains in the UK. Les [00:29:23] So I believe so. Yes. Sharron [00:29:27] Yes, they do. OK. Can you guys send up color swatches and not pictures of swatch charts? Les [00:29:40] I don't understand the question. Sharron [00:29:44] I don't either. Christina [00:29:49] From a Duraseal standpoint, we have brochures and we have fan decks that best mimic what the what the color will look like. But there's so much variability in terms of how the color will look on the individual pieces of wood. It's not as easy as that sounds. If that makes sense. Les [00:30:09] It wouldn't change with colors on them, it is even though we would use them. It would be very hard to mimic. We do have available color representations on wood. That is very limited. I think it's 55, maybe 60 colors total. It's not the entire color palette. Sharron [00:30:33] All right. Michael wants to know in regards to your reactives, through testing, have you folks found any fading of color over time? Les [00:30:49] I don't know that we've tested for that because the reactors are relatively stable, once cured, once dry. You know that that can happen depending on how wet you apply and how much water you mix them with, anywhere from 12 to 24 hours. So we haven't seen color fade. From a from a visual standpoint, not to say that, you know, like any flaw, if you put it in the house and direct, uv sunlight, you could see some faint. Sharron [00:31:22] All right. Keith wants to know, can you explain a little more in depth the self healing coatings? Does Tabor affect the healing? Les [00:31:40] Yes, Tabor does affect the healing. But the higher the TABOR, the less the self healing coatings come into play. So this would be almost did the self healing coatings or something that you'd have a very, very low Resistency on. And that's where they would come more and. Sharron [00:32:04] OK. How receptive is the North American marketplace for low or zero gloss wood floor finishes? I see this a lot in Europe, but I'm not sure if it's making any impact here at home. Les [00:32:18] We see that as well, and I think the difference is the European mentality on floors that will need maintenance and care. And it's been a lot of the Europeans are using U.V. oils and then continually maintaining them. We have a couple zero sheen Low sheen type finishes that are that are gaining popularity. I think that it's too early to tell what the total acceptance will be, but I know there are a few manufacturers are started to run with some some five and less degree sheens. Sharron [00:32:54] OK, Cheryl asked. Do you see color trends changing geographically? Les [00:33:00] Yes, we we track it by geographic region of the US. There are some universality to it to where the four or five palettes that we talk about do carry across every marketplace, but where the the alive would be maybe more on the south coast and Florida type place. It's still have relevance in different parts of the US. But yes, you do see that. And we do track that. Sharron [00:33:32] There's a two part question from Justice. First is the new color technology going to be a future over U.V. or natural? And then second part, how do you see LED technology in the future market? Les [00:33:58] Right now, the manufacturers of led curing bulbs are not able to achieve a a stage cure very effectively. Very good B stage. So they keep improving, improving every year. I think there you will see a trend towards that. But from a durability standpoint, I don't know how fast that will happen. As far as LED lighting, I think that's here to stay. It's very effective and very cost efficient like. Sharron [00:34:34] OK, I have a couple of questions here on on regional differences. First, what is your experience on regional differences in trends and then trends like white, great, more regional? Les [00:34:47] No, white gray is worldwide personally. But, you know, that's just that is a worldwide trend that's been around for five, six, seven years now. And it continue. The shades tend to move a little bit as far as we already have trends. Again, if there are some universal universality, too, they will fit in. But you will find, like in the Northeast, that you'll find washed looks tend to tend to play very well where when you get into the Midwest, it's more of the traditional styles. Your type looks where you live. Hundred year old Finnish. Sharron [00:35:31] Next question comes from a manufacturer. Any tips for creating new pre finished colors when we utilize ceramic urethane? You've UV Finish. Les [00:35:44] I'm sorry, can you say that one more time? Sharron [00:35:47] As a manufacturer, any tips for creating new pre finished colors when we utilize ceramic urethane, uv. cured finish. Les [00:35:58] Well, from I mean, your color development comes from the whitewood up. So I the the top coat shouldn't play into that too much. I mean, you have to incorporate that in. Because the top coat does change your color marginally typically. But it it shouldn't drastically throw your color one way or the other. I don't know if you're talking about color development from the standpoint of whitewood up or if you're talking about what is trending and how do we develop those colors in manufacturing process. Sharron [00:36:34] With the bleached look coming back. Do we need to use actual bleach to achieve? Les [00:36:41] No. No, you know, there's a few ways to do that. But no, bleach is not necessary. Sharron [00:36:50] And OK, here's one from Abraham. I have one designer that says Sherwin-Williams stains are for cabinets, not floors. What do you think about that? Les [00:37:05] I think that's just an educational point. You know, we we make stains and finishes for every aspect of every piece of wood out there. Sharron [00:37:18] OK. Next question. There are some Duracell stains, especially in the great town that don't seem available in Canada. Do you know when if they will become available to us? Christina [00:37:28] They should be available to you today. If you want to send me an email or give me a call at my contact information, I can put you in touch with the appropriate sales team to get that cleared up for you. It may be something as simple as of your distributors not stocking it, or if there was for some reason available and availability issue in the past. But that's something that we can work through with you. Sharron [00:37:52] Thank you, Christina. What about species? Do you see natural maple or birch coming into view with designers alongside the natural white European oak? That seems so popular in Wide Plains now. Les [00:38:06] We do see quite a few designers going to Maple. The variation in the maple color from region to region seems to be a hindrance to some people. Is the same way that the birch has two or three, maybe four different color variations, depending on where the birch is coming from. And Maple Maple has a tense tendency to maybe go a little bit brownish and some of them are very pure white. I think what the manufacturers are trying to do is stabilize that color throughout and some of them are doing a very good job with it from what we say. Sharron [00:38:44] A lot of questions here for you and Les and Christina, another one. These reactive stains have been developed with white oak, most because of the tannin content. Has there been any testing and developments on other domestic uses and exotic hardwood species? Les [00:39:04] As far as development, the development is done more at a an individual level. We've done testing on White Oak. We've done testing of Red Oak, Hickory Hickory, actually. It's kind of amazing. Some of the coloration you get out of the different levels reactive that you put on it. You know, maybe has a little bit of. Little bit of change, but not nothing that would be worth adding a step to the process. There are some exotics that have a lot of change depending on. Again, it's about the certain set of boards that you buy a certain piece of a near that you buy. And what's in that and how it's going to react. And then the amount that you let down the reactive to gain the reaction. Sharron [00:39:52] A question from Mike. I have heard from a designer that earth tones are going to be the new trend. Is that something we're going to see in wood floors? Les [00:40:02] I think that was something that was brought out of this for stained balence is that they're going to very natural look, you know, may be a little age looking. The bleach, the histology. Getting the 100 year old. Look, these are true. Brown, yellow, brown, brown, green, brown or large brown. Just a true brown. So we're going to see a lot of that. Earth tones look. Sharron [00:40:29] Ethan asked regarding the still feeling. Is there a higher acrylic content in these? For example, with a lower glass transition temperature? If so, I would expect the overall hardness to be lower. Is that true? Les [00:40:46] It is. I'm not a chemist and I don't play one. But I will tell you this. The technology's totally different. So. It actually is a harder finish that actually resist scratching better than an acrylic would. Sharron [00:41:06] OK. And Penny wants to know, where do you see glossed levels trending? Les [00:41:13] Right now in the US, they seem to be trending down and I think you're going to see that for at least another year or two. But I think a five to seven seems to be the hot commodity right now. I think a lot of playing with zero to five range and then and struggling with the ability of zero to five range. Again, it's more about the end of the line. They're looking for and the homeowner or what they're looking for. New you whales and things like that. And we just launched a new. The oil that has great durability, but it's a hybrid UV. Again, still takes a maintenance, has a little bit more durability, but as a nice low sheen that people. Sharron [00:42:04] OK. Another two part question from Elizabeth. Where do you see rustic now? Not natural color changes. SAP heart mixes. And where do you see with wide and clear is eventually unfriendly? It is. I'm sorry. Is eventually it's environmentally unfriendly and they want it at the same price as Narrow and Nottie. Les [00:42:29] Yeah, I think you part one, the rustic look, is it's a nice look, but I think people, again, are looking at hand scraped was a thing a couple of years ago that when it got into homes, people found out that all the hand scraping holds dust. It tends to it tends to scratch at times. You know, you have the same problem with the rustic looks that they they tend to hold dust chip, scratch and things like that. So and again, it's one of those things I don't think it's going away, but I do think that you're going to see less and less of a. To the other question. I'm sorry. Repeat part two again. I thought I might. I couldn't get it to. Sharron [00:43:25] OK. Where do you see with wide and clear environmentally unfriendly. Les [00:43:32] Yeah. Again, it's. I think with is a personal choice. And I took a little bit people think too much about the environmental side of it when they're purchasing flooring. I think they like look and they like the feel of a wider width. I don't know the word out forecast anytime in the near future. And it's going to go back to the twos and threes. So. Sharron [00:44:03] I believe this is a question from a contractor. So he asks. Will Sherwin-Williams educate customers to hire a professional to do wood floors and stain trends? Les [00:44:12] Will Sherwin-Williams hire somebody? Sharron [00:44:18] No, will you educate and educate to hire professionals to do it? Les [00:44:26] We try to educate our customers to their ability. And again, I think there's a lot of people that think they're better than what they are. You know, I think it's one of the things that we will we try to inform the customer as best we can as to what goes into this. And then let them make the decision. And we do educate as best we can. But no, we do not put a great deal of money or effort into educating the customer other than what happens in the stores. Sharron [00:45:06] I'm sorry, had a little technical issue there. The next question is, how much do you feel trends are following those in Europe? Les [00:45:16] We typically follow your Europe and Canada seemed to jump on trends a lot faster than we do. Again, it comes off the show floor, the line right to them, and it's right in the face. So I think they're much more willing to invest in trending than the US is. Again, the timeframe is down to six months where it used to be a couple years than it took for that transfer to happen. So I think it will go faster and faster. But I still think that Europe is Europe and Canada seemed to jump on trains faster than we do. Christina [00:45:49] I think that that plays into the regionality of it as well, so you'll see some of the coastal areas and the bigger cities jumping on those European trends faster than places in the Midwest. Sharron [00:46:00] Andrew Andrew asked on Redlich. Do you have suggestions to get rid of the red tones prior to staining like gray? Les [00:46:13] Green typically kills red. So if you used a slight green undertone be prior to. Move, moving on to your final stain. Whether that be a dye or whether that be a light wiper wash coat to kill that red tone a little bit. There again, you are going to change your upper color as well, because the gray is going to move with the board as much as it does anything else. Sharron [00:46:45] All right. This one's for you less than a light white floor. When finished with your thanes are hard or hard, wax tends to umber a bit. My question is, are we expecting to ever see a finish that keeps the real white color undertone? Is that in the works? Les [00:47:07] You could do that finish. But it would have to be out of the uv spectrum. uv tends to turn yellow a little bit. turn yellow a little bit. And the Wax's are the same kind of animal. They they tend to turn yellow a little bit. You can do that finish, but it would be in an acrylic and or or either a urethane acrylic or water-borne acrylic, either one. But again, we're all fighting sunlight and sunlight UV is very, very tends to tear things up and do it. Usually white turns yellow when it gets torn up. Sharron [00:47:53] OK, I think we're going to take one more question and all these questions, there are so many more questions, Les and Christina, you will get a report with all those questions and you can feel free to answer them at your leisure. But last question. Can you share more about the virtual panel studio you mentioned earlier? How can this be used in product development? Les [00:48:20] So the way the virtual panel studio works is our our global color design stylist. They were given a panel. They have a thought that says, you know, I think this would be a nice color. So they build a sample panel that it's sent over to our our photo lab. They take pictures of it and then they upload it. So the way the virtual PAN studio works is all of those pictures have keyword searches. So if you wanted a let's say, with a black spruce in it, you put an oak black spruce in, then we'll show you all the panels that have been created that are stored and housed in our global color design center that will have that. Or if you want a red stain or a blue stain or whatever you're looking for, it's very it's a Google search, intuitive type search. So if you just put in red, you're going to get red oak, red color, red stain, red paint. So you kind of have to play around with it. But it's a great tool when you're when you have a concept in your mind and you really can't get it to reality to sit there and just start typing in and looking at panels. And then once you find a panel, then we can recreate that for you to fit your manufacturing process. Sharron [00:49:31] Well, thank you less than Christina for answering all those wonderful questions, and thank you, everyone, for attending this session at the NWFA Virtual Expo. And if you have any further questions, we didn't get to them, please contact left and Christina with the information found on this screen.
During this year's NWFA Virtual Expo, Les Smith, Sherwin-Williams Market Development Manager, and Christina Rowe, DuraSeal Senior Product Manager, discussed the impact color trends have on what's popular in the wood floowing industry, and what's in store for 2020 and beyond.
---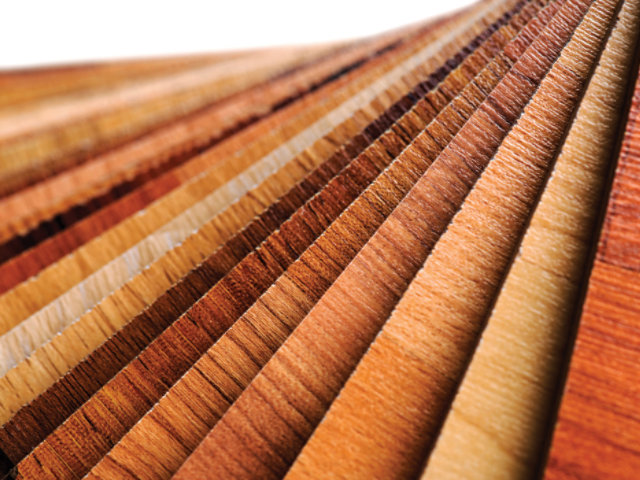 Let's Connect
Get in touch with your local Sherwin-Williams representative to learn more about how we can be your complete finishing solution.