FIRETEX® M90/03
The First Lifesaving Step: Hydrocarbon Passive Fire Protection
FIRETEX M90/03 is a highly-reinforced, 100% solids, anti-corrosive epoxy intumescent coating from Sherwin-Williams, effective in mitigating fire risk up to four hours per UL 1709, revision 5. FIRETEX M90/03 requires no to low maintenance for the design life of the asset, making it the lowest lifecycle cost option.
Contact Our Fire Protection Experts
FIRETEX M90/03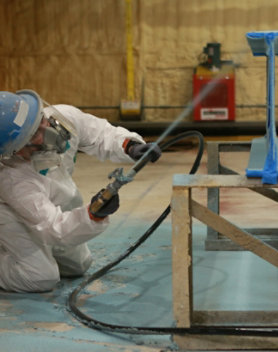 Why FIRETEX M90/03?
Tested, Certified Protection with Easy Application
Effectively insulates steel structures during hydrocarbon fires for up to four hours
Often requires only two coats for up to 150 minutes of protection
Best-in-class application properties, whether applied using plural PFP, single-leg airless RAM feed or by trowel
Application in shops, modular yards or onsite

Protection from fire and corrosion through the proven performance of Sherwin-Williams epoxy formulation
Skip carousel content
Discover More
Industry Expertise and Innovation
Explore customized solutions we deliver for customers to address their project and application challenges.
Explore our industry solutions and technology to help protect your assets.
LEARN MORE
Find out more about our innovative coatings for a variety of industries.
FIND A PRODUCT