Advanced Electronics gets Smooth Seamless Floor Finish with Resuflor Topfloor X
Resuflor Topfloor X self smoothing epoxy resin screed creates a very hard and durable floor surface which is smooth to accommodate efficient movement of vehicles and maximise production whilst also providing a great aesthetic look to their facility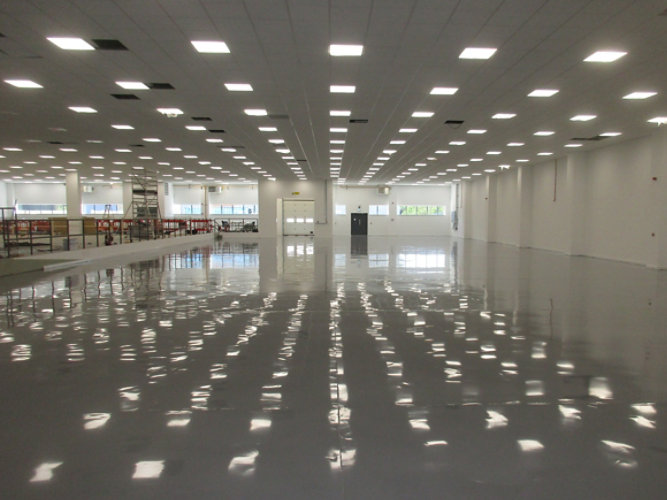 Advanced Electronics is a leading North-East manufacturer in the United Kingdom operating commercial intelligent fire alarm and detection systems. They relocated their four separate sites to Balliol Business Park in Longbenton to meet UK and international demand. The move improves production processes and utilises new technologies that will create a reduction of energy consumption and environmental impact. Advanced systems are installed on projects such as the Shard in London. Local Architects and Interior Designers were employed to ensure the most modern standards in manufacturing were achieved on this project.
Fast installation
The installation of the Resuflor Topfloor X system using the product Resuflor SL X was completed by specialist flooring contractor Resin Flooring North East. Resuflor VF 3mm self smoothing epoxy resin was used to help create an exceptional environment to work with improved light reflection and performance. The smooth gloss finish provides a modern efficient seamless finish delivering benefits for manufacturing operations

Resuflor SL X as a self smoothing product allows fastrack installation. Its possible to install up to 1000m2 of the product in a single day where required when working to tight deadlines. The product has such good adhesion it becomes part of the building creating a monolithic substrate suitable to receive industrial traffic and regular cleaning.
Find out more about our innovative floor systems for a variety of industries.
FIND A SYSTEM