Community College Transforms Student Center with Stunning Terrazzo Floor
Sherwin-Williams Resuflor™ Terrazzo TG System (formerly Thin-Set Epoxy Terrazzo #1100) Applied in College Student Center
Normandale Community College in Bloomington, MN asked Sherwin-Williams to supply a flooring system for their services center that featured a welcoming, artistic expression and durability against the heavy foot traffic of thousands of students.
Nestled in the suburb of Bloomington, Minnesota just outside of Saint Paul, Normandale Community College holds the title of the largest community college in the state, with an average enrollment of nearly 15,000 students. The college hosts a variety of students – from incoming freshmen to non-traditional students to working professionals looking for continuing education.
Normandale prides itself on being an open, welcoming environment for all. As part of that mission, the collage invested in remodeling the services building as a "front door" to the campus. Sherwin-Williams was part of a team of contractors and suppliers who helped render the college's vision into a physical reality with a customized terrazzo floor installation.
Normandale Community College Flooring Solution
Resuflor™ Terrazzo TG epoxy flooring was an ideal choice for the college services center. Terrazzo allows for endless design possibilities, while also providing high durability, low lifecycle costs and  minimal maintenance to manage heavy foot traffic on a college campus.
Barbara "Bebe" Benson Keith was selected as the artist for the project. Based on the "front door" vision requested by the college, Barbara created a design pattern for the terrazzo installers to follow. Her official artist's statement describes the thought process behind the design:
"You walk through the front doors of your new college. There is a beautiful foyer there to greet you, full of energy, sparkle and life, just like you […] Now look around. On the floor you will see a pattern of circles. They overlap, intersect and interact with each other, just like the people we have known throughout our lives. Just like the friends we have yet to meet. You can follow the path of the ring and reach an intersection. Which way will you go? Where will life lead you?"
With the design concept nailed down, installer Advance Terrazzo & Tile Co., Inc. got to work. The college services building was in use during the entirety of application, so the project had to be completed in multiple phases during the day. One-half of a corridor at a time was shut down to allow for student flow during the day, with polishing and finessing being completed overnight.
Before the system could be laid down, the bare concrete substrate had to be mechanically profiled to a concrete surface profile (CSP) of 4-6. Next, Sherwin-Williams Resuprime™ 3579 primer was applied at 250 square feet per gallon to yield 5-6 mils wet film thickness (WFT). A special blend of oxblood red and raven black aggregates representing Normandale's colors, as well as standard mother-of-pearl and marble, were used with Sherwin-Williams Resuflor™ 3520 resin matrix and allowed to cure over 24 hours. Next, Sherwin-Williams 3520 grout was squeegeed on. This layer must also cure for a minimum of 24 hours before the final polish. Approximately 1,150 linear feet of 4-inch cove base was also installed, adding to the complexity of this project. Cove base is typically added for a seamless, easy-to-clean flooring system.
Installing a terrazzo floor involves many complex steps – but the payoff is spectacular. According to HGA, the architect on the project, "though the building's interior may change over time, the floor will remain relevant." Normandale Community College now has a beautifully remodeled space that matches its welcoming philosophy and will continue to usher students through its halls toward their futures.
Skip carousel content
Photo Gallery
Resuflor Terrazzo TG Floor at Normandale Community College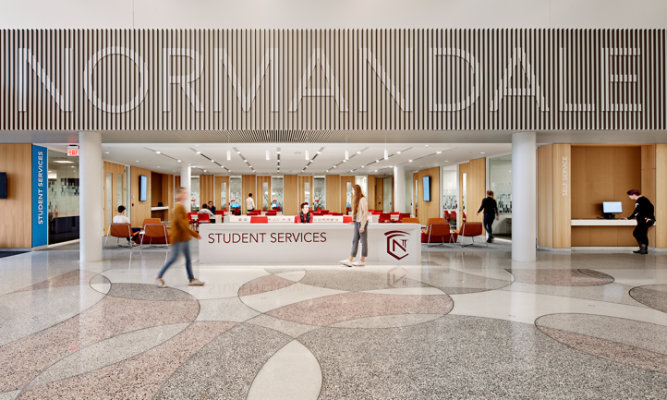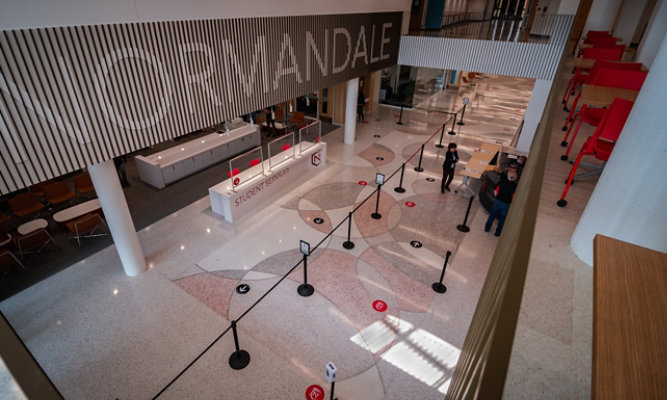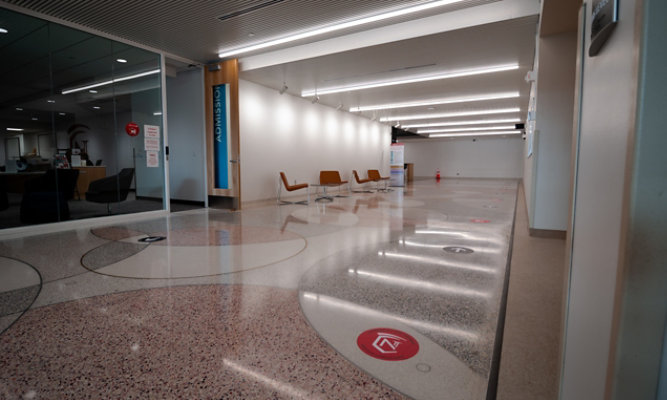 Skip carousel content
Discover More
Industry Expertise and Innovation
See how we help customers find customized solutions for their project and application challenges.
Find out more about our innovative floor systems for a variety of industries.
FIND A SYSTEM