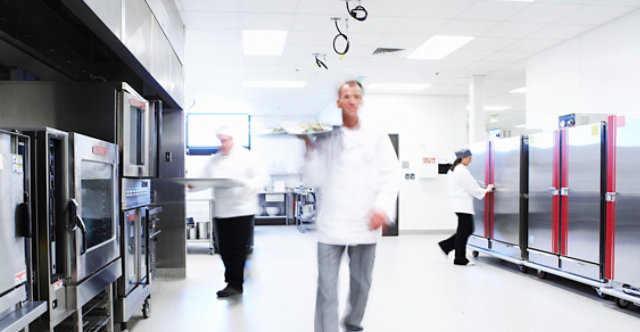 USDA Approved / Compliant Epoxy Flooring and Coatings
While the phrase "USDA approved flooring" is commonly used, the United States Department of Agriculture (USDA) and other government agencies are careful not to endorse any flooring manufacturer or brand. In other words, regulators cannot put a stamp of "approval" on any specific product. Rather, as part of strict construction guidelines, they outline clear standards for any floor covering used in commercial and industrial food facilities to help prevent creating a breeding ground for microbes, mold and structural damage. Fortunately, with Sherwin-Williams, you don't have to worry about whether or not your floors adhere to standards—every single one of our flooring systems meets USDA flooring requirements.

Learn More or Get a Free Flooring Evaluation
Nearly Limitless Options for Food Grade Hygiene Standards
With Sherwin-Williams, you can choose any of our epoxy flooring and other resinous coatings, because they are all "approved", that is, meet the requirements of the USDA. These seamless, high performance systems are often unofficially referred to as "food grade flooring", as they can prevent common by-products like fats, acids, blood, oils and more from seeping into your commercial or industrial concrete floors, damaging your concrete slab investment, and becoming hotspots for bacteria growth.
No matter what flooring and coatings you choose, you get peace of mind — your concrete surface is receiving industry-leading support in your fight against mold, bacteria, fungi and other threats that can contaminate your facility from the ground up. Even our decorative finishes are "approved", giving you custom aesthetic options with USDA compliant, industrial-strength protection.
Because of the unique array of benefits offered by Sherwin-Williams commercial and industrial concrete floor systems, they are a popular choice with any facility that faces regular scrutiny from the USDA and other regulators.
Our USDA "approved" flooring and coatings are frequently chosen by facilities concerned with agency compliancy, including:
Commercial and institutional kitchens
Food processors and packagers
Restaurants and fast food operations
Hospitality and recreational venues
Grocery and specialty food stores
Meat and poultry processing
Dairy production and processing
Beverage production and bottling
More Practical Benefits of Food Processing Compliant Flooring
As all of Sherwin-Williams flooring and coatings meet USDA standards, you can give your facility the practical benefits it needs to make everyday use safer and more efficient. Any and all of our high performance and chemical, solvent, acid and slip resistant topcoats meet or exceed the recommendations of the USDA and are compliant with the latest regulations for incidental contact in meat and poultry facilities. These include our thermal shock resistant, moisture tolerant, and highly acid and alkali resistant cementitious urethane finishes—the number one type of material used in the food and beverage processing industry.
Skip carousel content
Discover More
Industry Expertise and Innovation
See how we help customers find customized solutions for their project and application challenges.
Find out more about our innovative floor systems for a variety of industries.
FIND A SYSTEM