Pilatus Aircraft Ltd Qualifies Sherwin-Williams Aerospace Coatings System for all Aircraft
A complete exterior coatings system is qualified under Pilatus Aircraft Ltd specification number PMS0600-52-01.
Check out the video to the right to see a recent Pilatus PC-12 NG completed with Sherwin-Williams aerospace coatings.
ANDOVER, Kans. – 6 May 2021 –Sherwin-Williams Aerospace Coatings exterior systems are now qualified by international aeroplane manufacturer Pilatus Aircraft Ltd.  With a wide variety of topcoat products and systems now approved to the Pilatus PMS0600-52-01 standard, Pilatus gains multiple options for how it can process exterior colours and design schemes on its aircraft.
Sherwin-Williams products that are now qualified for all Pilatus aircraft include: 

Chrome Hazard Free Quick Dry Epoxy Primer CM0483712
Chrome Hazard Free Epoxy Primer/Surfacer CM0481968
Jet Glo Express™ 840-Series Colours
SKYscapes® Next Generation Basecoat Solid Colours
SKYscapes® Next Generation Basecoat Mica Colours
Acry Glo® Conventional CM0571-Series Solid Colours
Acry Glo® Conventional CM0571-Series Metallic Colours
SKYscapes® Clearcoat CM0850180
Working closely with Pilatus to meet its stringent processing and control standards, we are excited to provide exterior coating systems that will be an integral part of their high performing aircraft. Today's aviation coatings specifiers and painters rely on Sherwin-Williams to provide quality coating systems and technical support throughout the global aviation marketplace.
Sherwin-Williams makes exterior and interior coatings that deliver custom solutions for commercial, general aviation and military aircraft, including a full range of specialised livery colour options for an outstanding, durable finish. Its products and systems undergo extensive testing to demonstrate they will deliver a lasting protective coating for any aircraft in a commercial fleet or private owner and have earned numerous AMS 3095 certification and aircraft OEM approvals.
Founded in 1939, Pilatus Aircraft Ltd is the only Swiss company to develop, produce and sell aircraft to customers around the world: from the legendary Pilatus Porter PC-6 to the best-selling single-engine turboprop in its class, the PC-12, and the PC-21, the training system of the future. Its latest aircraft is the PC-24 – the world's first ever business jet for use on short unprepared runways. 

About the Automotive Finishes Division of Sherwin-Williams
Sherwin-Williams manufactures and distributes a complete line of advanced technology paint and coating systems for automotive, aerospace and fleet refinishing industries through its Automotive Finishes division, including a complete line of advanced technology paint and coating systems for a variety of commercial, general and military aircraft. Sherwin-Williams Automotive Finishes is a part of the Sherwin-Williams Performance Coatings Group, which supplies a broad range of highly engineered solutions in more than 120 countries around the world. Founded in 1866, The Sherwin-Williams Company is a global leader in the manufacture, development, distribution and sale of paints, coatings, and related products to professional, industrial, commercial and retail customers. For more information about The Sherwin-Williams Company, visit www.sherwin-williams.com.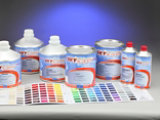 Product Lookup
Explore our product solutions for a variety of applications and aircraft types.
Ask Sherwin-Williams
Ask how Sherwin-Williams can bring the right products and expertise for your aircraft.