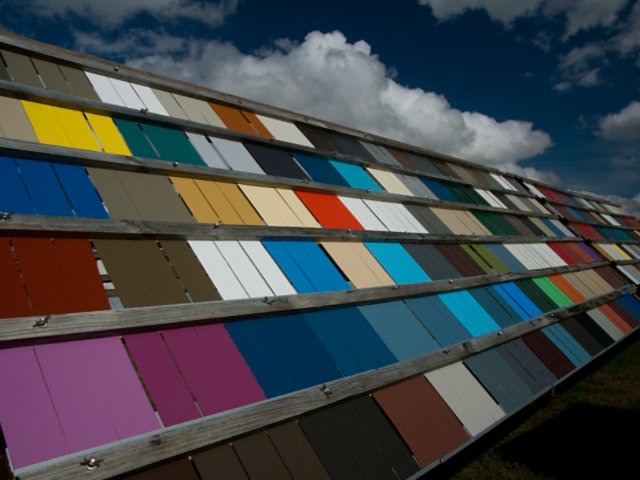 Commitment to Quality
Beauty that stands the test of time and weather
Every Sherwin-Williams Coil Coatings product is subjected to the harshest testing environments and conditions to ensure our coatings and colours last for decades.
Quality and Performance
When your name is on the product or building, you don't want to settle for a coating that's anything but the best. Why Sherwin? Because our coatings deliver performance you can depend on, field proven with outstanding resistance to UV rays, exceptional colour retention and resistance to chalk and chemical degradation — we don't skimp on quality. Just as important, our dedication to provide expert customer service and technical support. And we never stop working to earn your business. We perfected our manufacturing process to reduce downtime, improve quality, speed of troubleshooting and improve everything we do. We back up what we sell and Sherwin-Williams is a global name and coating you can trust.
Relentless Research
Our world-class laboratory carries out a wide array of tests to measure saltwater and air corrosion, chemical degradation and UV damage and other factors. We also perform extensive and continual testing on resins and pigments to ensure that we achieve the highest industry standards for solar reflectance, retention of colour and gloss, adhesion and finish consistency, and quality.
Going to Extremes
Sherwin-Williams owns more than a dozen additional facilities around the world. In Rochester, Pennsylvania, we test acid rain; in Marengo, Illinois, we test freeze/thaw; and in Queensland, Australia, we test the impacts of high-UV light. All of our facilities collaborate to ensure coatings are tested in every condition possible.

Manufacturing Excellence
We make sure we're giving you what you need with speedy time-lines, reliable coatings, and top-notch customer support. Our automation and blend systems deliver top speed and consistency to provide the best lead times in the industry for production turnaround.
State-of-the-Art Testing
Exposure to the sun (UV light), moisture and humidity, high temperatures and temperature fluctuations can lead to colour changes, chalking, blistering, corrosion and many other physical factors to the protective metal coating. Knowing our enemy and understanding how it can affect our product helps Sherwin-Williams develop and deliver superior products to our customers.

Testing and evaluating how these elements interact is an important step in the coatings industry. UV light from the sun usually starts the breakdown of the coating molecules but it is a combination of the sun, heat and moisture that can accelerate the damage more than any one factor alone.

So the test of a coating is its ability to resist weathering.
Featured Video
Innovation Begins on the Test Fence
Travel to Fort Myers, Florida to visit the Sherwin-Williams "Test Fence" facility. Take a behind-the-scenes look at the science and innovation that go into testing each new Sherwin-Williams coil and extrusion exterior metal coating.
The Ultimate Test Fence
The centrepiece of Sherwin-Williams Coil Coatings exposure sites is a 6.25-acre test fence facility in Fort Myers, Florida. For more than 50 years, over 100,000 panels have faced the toughest conditions Mother Nature can dish out. Based on its subtropical location, this weathering site provides conditions that are perfect for natural exposure testing. In fact, it's the most accredited natural exposure facility in the coil and extrusion industry.
Determining QUV Lamp Testing to Simulate Natural Weathering
Accelerated Weathering's impact on performance of Sherwin-Williams Coil Coatings
Weatherability Matters
Developing coatings for all conditions, take a glimpse into our test facility.