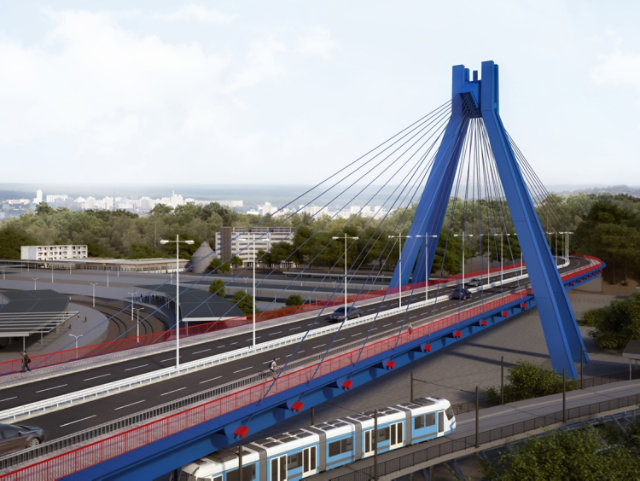 Durable Fire and Corrosion Protection of Steel Bridges
A key component of transportation infrastructure for centuries, bridges play an important role in keeping our roads, railways and footpaths connected.  Joachim Pflugfelder, Project Development Manager at Sherwin-Williams, explores how correct coatings selection and application methods can overcome complex project challenges and reduce a bridge's lifecycle costs. 
Bridges have been part of our infrastructure and of cultural importance for centuries, and they will continue to be important for a mobile society in the future. However, with an average life of 100 years, bridges require considerable investment - not only in construction, but also in their life cycle costs. The latter usually exceeds the cost for the original construction of the structure by a factor of one and a half.

The life cycle cost of bridges also includes the maintenance of the coating systems that protect the steel from external influences. For economic reasons, it is advisable to use technologically high-performance systems for this, in order to ensure long-term functionality. This applies particularly to steel bridges, as compared to concrete as a construction material, the lighter steel can be used to build slender bridges that can span larger distances. However, steel is susceptible to corrosion and loses its load-bearing capacity in the event of a fire at a critical temperature of approx. 500°C. 
Corrosion protection of steel bridges has been used for decades to ensure durability and for economic efficiency, and this technology has been continuously developed based on the experience gained. Fire protection coating systems, on the other hand, are not usually required for steel bridges. However, due to the design, or possible fire hazards in the immediate vicinity, some of these structures also need to be protected against in addition to corrosion protection. Coating systems that provide corrosion protection and at the same time protect the steel from rapid heating in the event of a fire, are an economical solution. This saves valuable time until the critical temperature is reached and the load-bearing capacity is lost. These innovative 2-component epoxy systems have been tested in accordance with the current standards, have been tried and tested in practice for over ten years, and are state of the art. They are thus a technologically advanced and economical method of maintaining the functionality of steel bridges safely, and in the long term.
The requirements for fire protection and corrosion protection of steel components for bridge construction are increasing, and covered by different standards and specifications.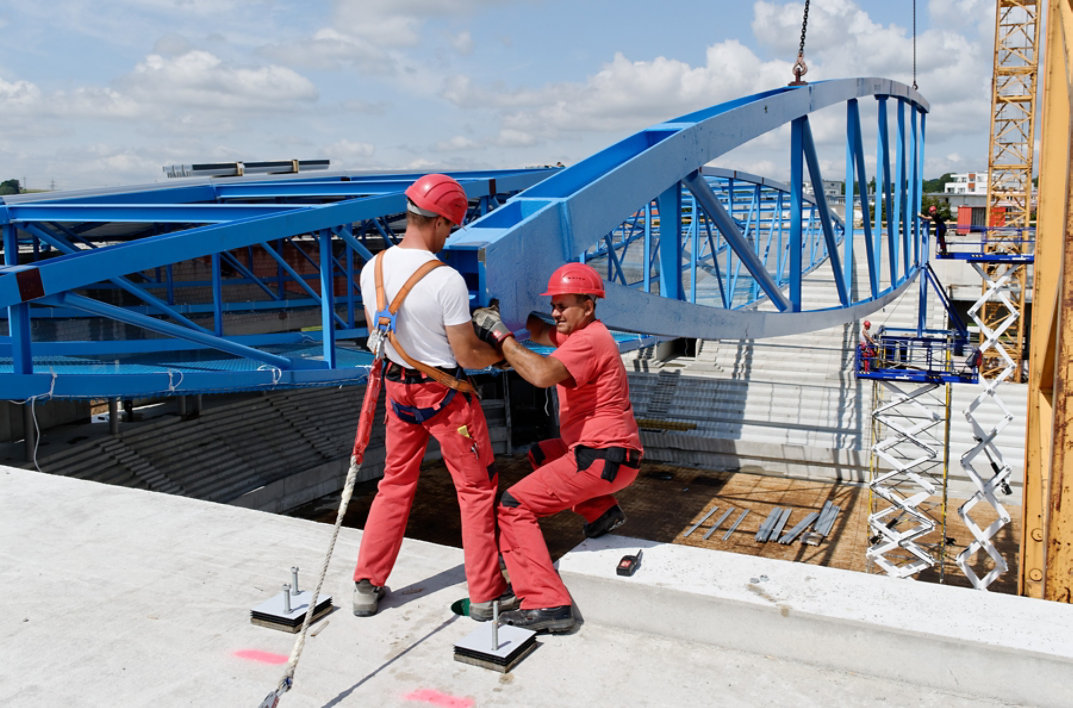 The service life of steel bridges is estimated at 100 years. Innovative 2-component epoxy coating systems enable economical and long-term protection of these structures.
The 2-component epoxy fire protection coatings, only a few millimetres thick, preserve the filigree structures of steel bridges in case of fire. Due to their insignificant weight, intumescent coatings have no influence on structural calculations.
Steel is susceptible to corrosion and loses its load-bearing capacity in the event of a fire at a critical temperature of approx. 500°C.
Fire protection for steel bridges

Fire protection coatings for steel structures are systems that react chemically when exposed to temperature in the event of a fire, and can protect steel components from failure for a specified period of time. In a fire, unprotected steel structures deform when exposed to temperatures of approx. 500°C, thus losing their load-bearing capacity and collapsing. Unprotected steel components reach this critical temperature after only about five to ten minutes, depending on their profile and wall thickness. 
Reactive fire protection coatings are tested to DIN EN 13381-8 and classified according to DIN EN 13501-2 in the fire resistance classes R15 to R180. According to the Guideline for European Technical Approvals for Fire Protection Products ETAG 018-2, and the Export Accompanying Document (EAD), the use of fire protection coating systems can be confirmed via a European Technical Assessment, the so-called ETA assessment. In addition to this approval document (ETA), in Germany the General Construction Type Approval of the German Institute for Construction Technology (DIBt) regulates the applicability of this construction type in terms of the state building regulations.
Currently, all system manufacturers test their reactive fire protection coating systems according to DIN EN 13381-8, so that their application is based on a European Technical Assessment (ETA) and a General Construction Type Approval (AbG). Depending on the critical steel temperature, between 350°C to 750°C, the profile shape, and the U/A value, the ETA regulates, among other things, the film thickness required to achieve the designated fire resistance duration of up to 180 minutes.
Above and beyond the required service life
The period of ten years for fire protection defined so far in an ETA is based on an assumed service life for the intended use of ten years, and is a theoretical value set by the Commission which has nothing to do with the actual service life and durability of intumescent coatings. This period should be understood to be more as a revision period, after which the fire protection coating must be checked for damage and defects. However, the periods described in the ETAs are changing. Currently, there are ETAs with service lives of more than 25 years, whereby a distinction must be made as to whether the approval of the coating was granted for interior or exterior use.
Bad Vilbel Municipal Library
The municipal library in Bad Vilbel, Hesse, is the first bridge structure that is both a pedestrian bridge and a library. The modern structure is part of the large-scale redesign of the city centre, and extends over the banks of the river Nidda, which has been re-naturalised in this area. For the fire protection of the main supporting structure, which was designed as a truss construction, the protection class R90 was required, and for the corrosion protection, category C3. The fire and corrosion protection coating FIRETEX® Platinum applied in the factory easily withstood the extreme mechanical loads during the construction phase caused by heavy goods traffic, varying weather conditions, rain, snow, ice, condensation and temperature changes. The patina that had built up due to this natural weathering could be easily removed with a high-pressure cleaner without affecting the coating.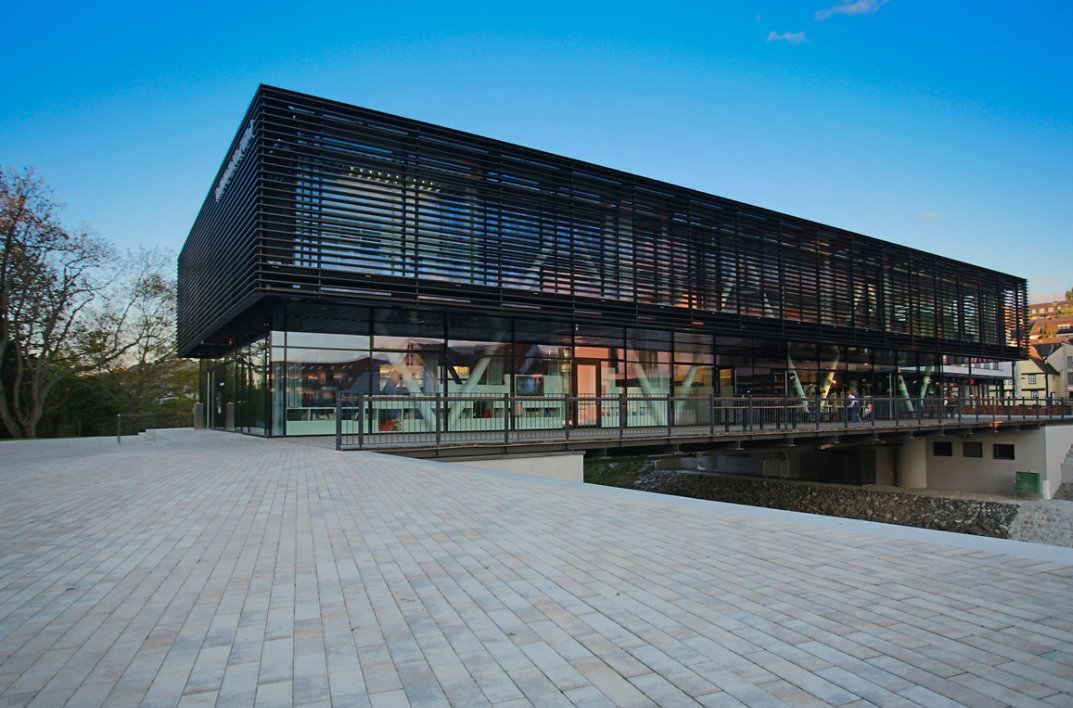 The municipal library in Bad Vilbel meets the fire protection class R90 and in corrosion protection the category C3. The factory-applied  FIRETEX® Platinum coating easily withstood the extreme mechanical loads and weather conditions during installation and has remained intact for ten years.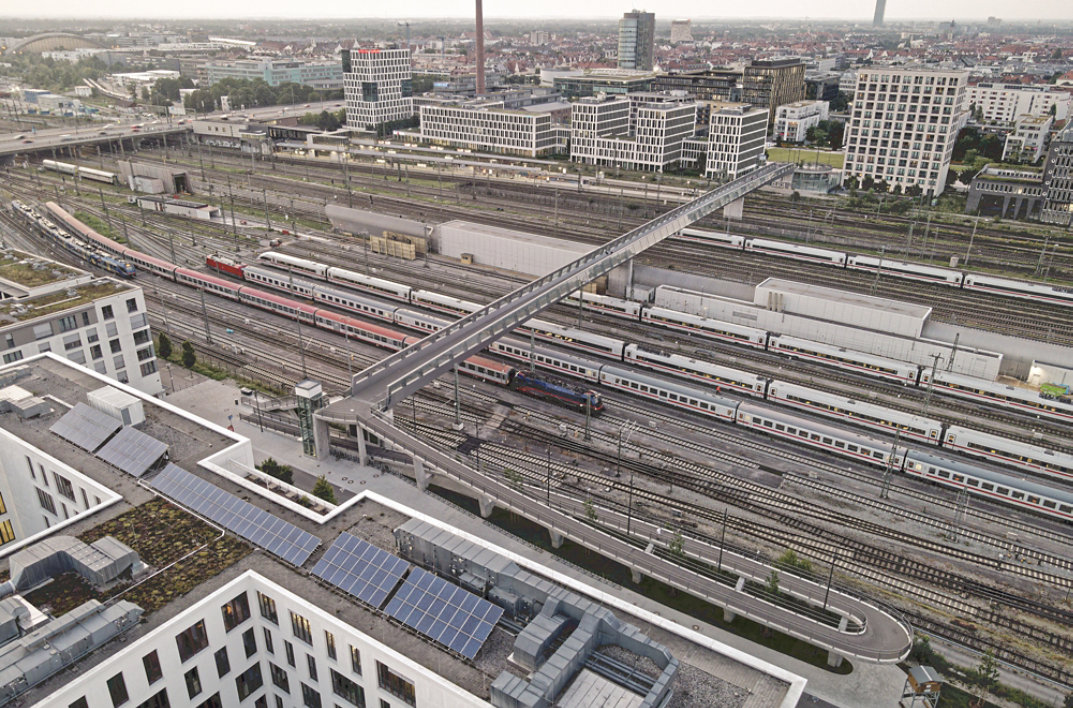 The pedestrian bridge over the Arnulfpark in Munich is coated with FIRETEX® Platinum and fulfils the fire resistance class R90. Approval in individual cases was not necessary, as the proof of ETA is available.
Arnulfpark Pedestrian Bridge
For the pedestrian bridge over the Arnulfpark in Munich, the requirement for corrosion protection was an approval according to ZTV-ING Part 4, Section 3, Sheet 87. For fire protection, the fire resistance class R90 had to be met, as there is a coach wash for ICE trains under the steel bridge. The corrosion protection and fire protection coatings were applied in the factory. Macroproxy® EG was used for corrosion protection and FIRETEX® Platinum for fire protection, the ETA made an approval in individual cases superfluous. On site, the steel components were then welded, coated, and moved longitudinally in cycles, and areas damaged from moving were repaired or recoated with FIRETEX® Platinum. For cosmetic reasons, the entire construction was finally given a complete top coat. 
Kieler Street Bridge
The A7 federal motorway was widened from the Hamburg-Nordwest junction to the Bordesholm junction by up to six or eight lanes. The old steel Kieler Straße bridge in Stellingen, functions as the entrance and exit of the city tunnel, the so-called Hamburger Deckel, and could be retained unchanged. However, the steel bridge soffit and the bridge box had to be fire-protected to fire resistance class R60 on site, as a lorry or car fire under the bridge could otherwise lead to the collapse of the structure. Likewise, the steel supports and the traffic sign bridge at the portals were protected against fire and corrosion with 2-K epoxy fire protection intumescent, and blue cosmetic top coat. At the same time, the fire protection coating was to protect the structure against moisture and de-icing salts, and meet the requirements of category C5 for corrosion protection. Therefore, FIRETEX® Platinum was used.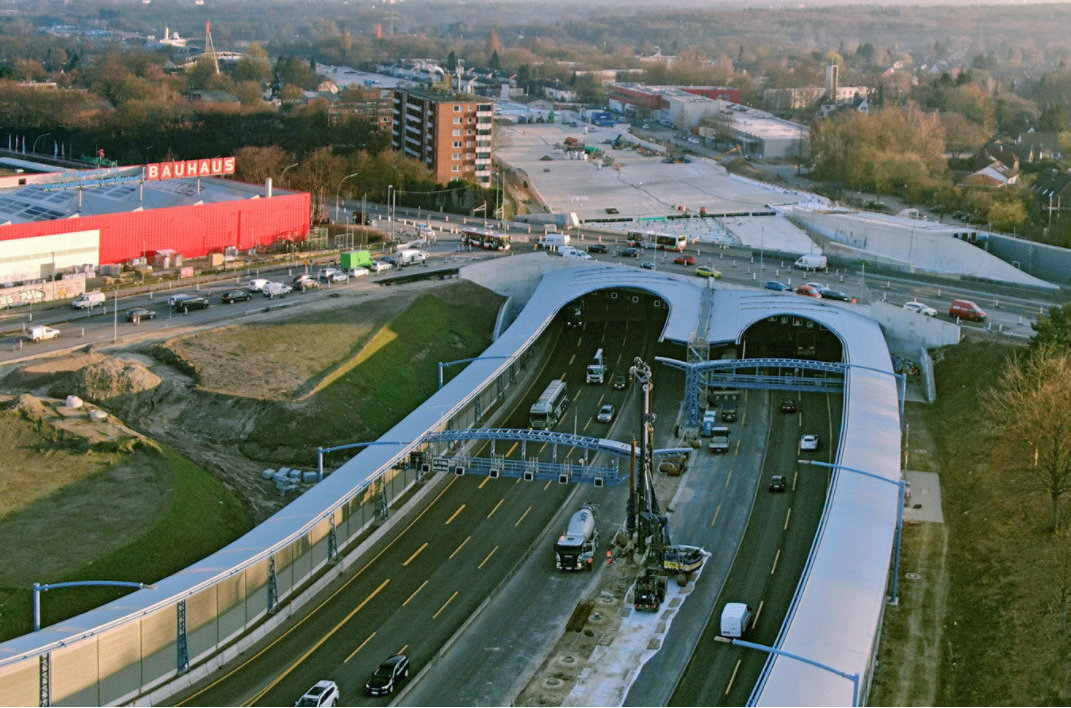 The old steel bridge Kieler Straße (Kieler Street) in Hamburg-Stellingen had to be fire-protected due to the expansion of the A7 motorway. With our 2-K epoxy intumescent, it is now protected against fire and corrosion.
Long term corrosion protection
For corrosion protection, longer and longer protection periods are becoming required, e.g. in the current DIN EN ISO 12944 standard, this is more than 25 years for steel structures. For steel bridges, there are even higher requirements in Germany, as a service life of 100 years is calculated to be twice as long as for steel buildings. In addition, de-icing salt is used on bridges in winter. Therefore, the new ZTV-ING Part 4, Section 3 from March 2021 provides for a calculated protection period for coating systems of 50 years. This is possible because the manufacturers of coating systems are continually working on the further development of their products and systems.
The corrosion protection coating of a steel bridge according to DIN EN ISO 12944 must be partially or fully renewed three times within this life cycle, given an imputed service life of organic coatings of 25 years and a service life of the structure of 100 years. The imputed service life of the coating according to Sheet 87 of ZTV-ING Part 4, Section 3 is 33 years, so that partial, or full renewal, only has to take place twice during the service life.
Modern high performance coating technologies
For more than 50 years, steel structures have been effectively protected by 1-component intumescent coatings to maintain their stability for longer in case of fire. The intumescent coatings react under the influence of heat to form a foam layer centimetres thick. This barrier prevents heat from being transferred to the steel. The advantages of 1-component intumescent coatings are low layer thicknesses, easy application and almost unlimited processing times at low cost. However, their use on the construction site is considerably limited, as they have to be applied in several layers, which prolongs the through-drying time accordingly. In addition, 1-component intumescent coatings have low mechanical strength and their useful life of 25 years is limited to interior applications. Unfavourable environmental conditions on site can additionally limit their use considerably. As a result, the coating work cannot keep up with the pace of other construction measures and thus delays the overall project progress.  
Due to this, the factory application of intumescent coatings has been further improved in recent years. However, there are now also numerous fast-drying 1-component products on the market. Nevertheless, through-drying and the risk of damage during transport and installation on the construction site continue to cause problems. Necessary rework on site is time-consuming and largely negates the advantage of the time saved in the factory. 
Fast-drying, solvent-free, epoxy resin-based formulated 2-K fire protection coatings are usually applied directly in the factory because they are more robust than 1-K products. However, they can also be applied under controlled climatic conditions on the construction site. Currently there is a range of 2-K epoxy coatings available offering different properties. FIRETEX® Platinum technology, in contrast to other 2-K coating systems, is very resistant and can thus withstand extreme weather conditions and de-icing salt. The additional decisive advantage of this new generation of intumescent coatings is that in addition to fire protection of the structure, they also provide corrosion protection, according to DIN EN ISO 12944-5 up to C5 very high, as well as meeting the requirements of ZTV-ING Part 4, Section 3. 
The future of steel bridge coatings
In steel bridge construction, there are more than 45 years of experience with epoxy and polyurethane resin-based reactive systems. Innovative coating systems in accordance with the new Sheet 100 of ZTV-ING Part 4, Section 3 enable a protection period against corrosion of at least 50 years with a total coating thickness of 400µm. In the future, a steel bridge will only have to be repaired once during its service life of 100 years. The first projects based on this principle are already in production or planning. For example, a tram bridge over a recycling centre with tyre storage, will be coated with a system that not only guarantees extremely high corrosion protection but also fire protection up to fire resistance class R120.
Explore our industry solutions and technology to help protect your assets.
LEARN MORE
Find out more about our innovative coatings for a variety of industries.
FIND A PRODUCT