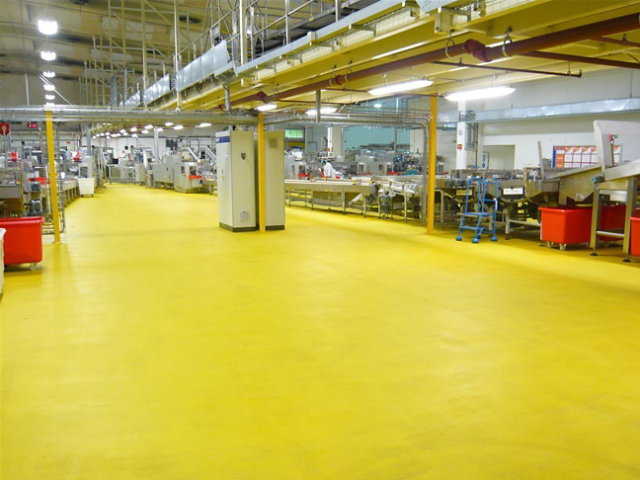 Sherwin- Williams Delivers Flooring Solutions Compliant with Strict Industry Guidelines
In the food and drink sector companies need to be confident that floor and wall finishes deliver the necessary compliance in hygiene and production efficiency, which is where resin systems score highly.
Benefits of Resin Flooring
Resin systems are also ideal for dry or wet food production and preparation environments, whether in a large manufacturing site or a high street restaurant, because they provide a seamless surface that is also hard wearing. These systems also have good slip resistance ratings and are easy to decontaminate and maintain.
With health and hygiene top of the agenda, opting for a resin system means food and drinks businesses can comply with strict industry guidelines on cleanliness and best practice. There are resin systems that also meet non-taint requirements and have been independently certified by Campden BRI the food and drink research and advisory service.
Anti-slip solutions 
Our FasTop range is the leading flooring system in the food and drink sector, but we're always trying to improve our products. We collaborate with clients on product development, often testing materials "at the coalface", which works well and certainly makes exploring new ideas quicker and more efficient.
The range is kind to the environment, with low VOC content, while still packing a punch in performance terms. Nowadays you can have an eco-friendly screed, which still provides excellent heavy duty usage.
There's a lot of interest in fast-drying products at the moment which means less downtime for busy production lines and fast-paced commercial kitchens as systems are installed. Today's resin systems are also designed to look good - they have to fit in with the aesthetics of a kitchen in a Michelin-starred restaurant, for example.
FasTop is already one of the best polyurethane screed systems available, and with its environmental credentials, reliability and durability, remains the clear choice for the food and drink sector.
Find out more about our innovative coatings for a variety of industries.
FIND A SYSTEM