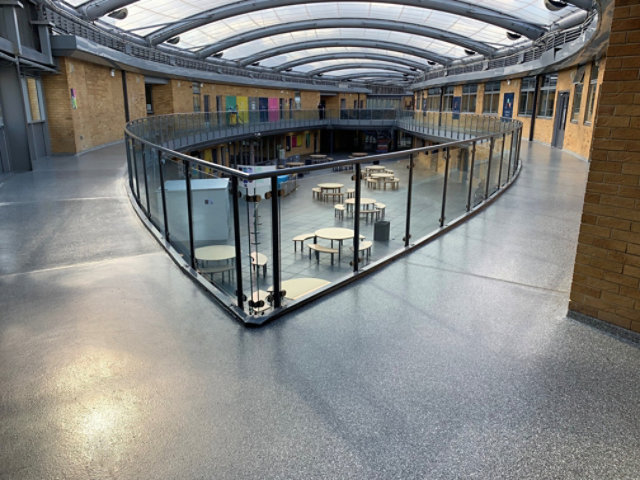 Deco Flake Proves a Great Looking Flooring Solution for High Profile School Balconies, Corridors and Stairs
Specialists from Sherwin-Williams worked with the flooring contractor, Monarch Resin Floors, to select a decorative hard wearing, cleanable, safe finish, which also had a low odour during application, as this was a school environment.
Challenge
A new floor finish was required for balcony areas, stairs, and landings in Failsworth School, Greater Manchester, which are subjected to busy footfall traffic throughout every school day. Because the atrium area of this school is flooded with so much light through a Perspex roof, it meant whatever was chosen had to be UV stable and durable.
Whilst the priorities were for a safe anti-slip, seamless solution first and foremost, having so much light provided an opportunity to have a highly decorative finish with a sparkle that would fit in with the modern building design. Details on the project included having skirtings with the resin flooring to enhance ease of cleaning. The decorative finish also needed to be suitable for steps and compatible with expansion joints to accommodate any movement in the building. 
Solution

Specialists from Sherwin-Williams worked with the flooring contractor, Monarch Resin Floors, to select a decorative hard-wearing, cleanable, safe finish, which also had a low odour during application, as this was a school environment.
As the new coating was to be applied to a concrete substrate with a previous resin flooring, the finish chosen was a multi-coat resin system incorporating decorative multi-coloured Deco Flake with sparkling glitter.
The flooring system proposed involved Resuprime ST epoxy primer, Resuflor HB -   epoxy high build base coat, Deco Flake decorative UPV flake scatter with glitter, Elladur clear polyaspartic high build UV stable, clear coating, and finished with Resupen WB clear matt polyurethane water-based UV stable sealer.
After surface preparation, the primer base coat was applied, followed by the decorative flake distribution and glitter distribution. This surface than needed careful preparation to create the right profile to receive the seal coats. As polyaspartic-based products have a short pot life, they must be installed quickly and very consistently across the floor with no ponding of the resin. Finally, the application of the Resupen WB water-based polyurethane matt seal coat required a skilled cross-rolling technique to achieve a perfect, even consistent finish without any roller marks.
This complex multi-layer resin flooring system required highly experienced and skilled applicators who understood what was needed for the coat.
Also, on this project floor joints and skirting were involved as part of the floor finish. It was essential that these areas were installed to a high standard for the overall appearance of the floor. The whole floor system installed was solvent free and included the use of water-based materials. Because the floor is designed to become part of the building as a permanent fixture, it should never require removal to create possible landfill waste.
Outcome
This project delivered a great looking resin flooring with a decorative sparkle suitable for heavy footfall use in a high-profile area. The resin design now complements adjacent flagstone areas in the school atrium and provides a continuous flooring system that is safe, easily cleaned and hard-wearing for the long term.
With the finished floor having to meet several requirements, the specialist resin applicator Monarch Resin Floors did a great job meeting all the demands of this situation. The floor needed to be safe, decorative, UV stable, durable, and high-performance. The floor provides a safe anti-slip finish, which was confirmed by TRRL Pendulum anti-slip testing done to the BS 7976-2:2002+A1:2013 standard and achieved a low slip potential in wet and dry conditions, but is also easy to clean. Where scuff marks appear from the shoes, the school can remove these every week. The school's maintenance manager commented, ''The floor meets all our requirements and we can get it very clean each week with our normal cleaning process to make the whole area look really good''.
Featured Products:

Resuprime ST
Resuflor HB
Deco-Flake
Elludor Clear
Resupen WB Clear Matt
The SHERWIN-WILLIAMS DIFFERENCE
Sherwin-Williams Protective & Marine delivers world-class industry subject matter expertise, unparalleled technical and specification service, and unmatched regional commercial team support to our customers around the globe. Our broad portfolio of high-performance coatings and systems that excel at combating corrosion helps customers achieve smarter, time-tested asset protection.
We serve a wide array of markets across our rapidly growing international distribution footprint, including oil and gas, water and wastewater, bridge and highway, steel fabrication, resin flooring, food and beverage, rail and power, marine and passive fire protection.
Skip carousel content
Photo Gallery
Elladur and Deco Flake Installion at Failsworth School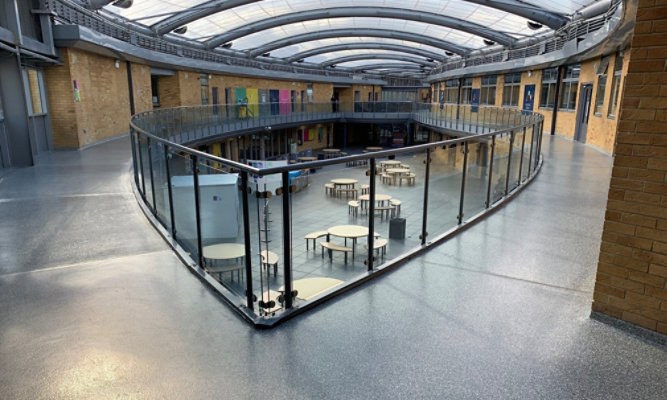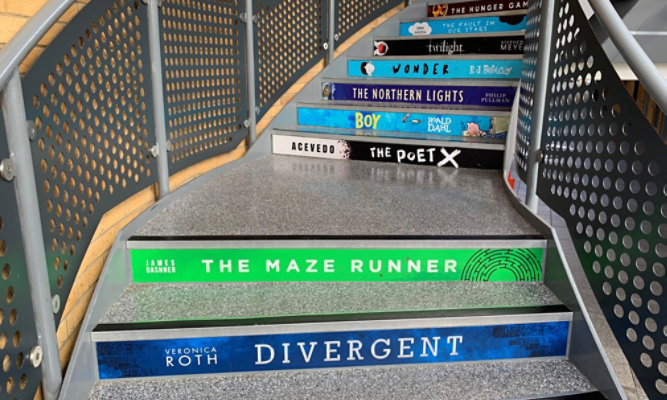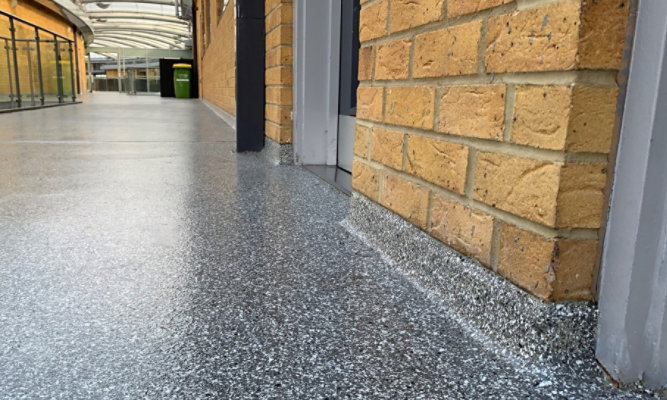 Explore system documentation, webinars, and answers to application challenges.
LEARN MORE
Find out more about our innovative coatings for a variety of industries.
FIND A SYSTEM