How Replacing Aircraft Maintenance Flooring Helped Elevate Performance and Aesthetics for an Aircraft Service Company
Sleek, shiny and sophisticated is what you expect when entering the world of private airline transportation. The jets and planes are typically designed with smooth lines, are well cared for and eye catching. However, expectations are not quite that high for the floor of a private hangar dedicated to aircraft maintenance. Or are they?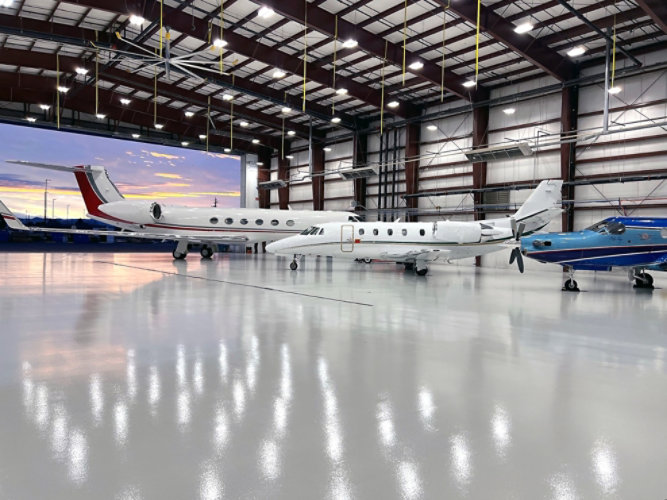 REGIONAL DEMAND FUELS AVIATION CENTER GROWTH AND PUTS PRESSURE ON SERVICE HANGARS
Western Aircraft, Inc. didn't start out big. Over 60 years ago, it began as the corporate flight department of Morrison Knudsen Corporation, a civil engineering firm with headquarters in Boise, Idaho. Fueled by the overwhelming need for aircraft repair services in the region, growth became part of the flight department's plan. In 1957 it applied and received its first FAA Certified Repair Station Certificate at the Boise Airport – a joint civil-military airport located three miles from downtown Boise – setting up a trajectory of expansion for the next several decades.
During the 1980s and 1990s, the department added two additional hangars, changed ownership, renamed itself as Western Aircraft and became the world's largest PC-12 dealer and an Authorized Falcon Service Center. In July 2007, Greenwich AeroGroup purchased Western Aircraft and continued to make investments in people, technology and facilities. Among those investments are 20,000-square-foot and 53,000-square-foot aircraft storage hangars built in 2012 and 2021, respectively.

Each of the company's hangars has been humming since its inception. And with over two decades of service gradually wearing down the original flooring in the 18,000-square-foot aircraft maintenance hangar built in the 1990s, Western Aircraft wanted to restore the surface to better reflect the company's distinguished corporate image.
"Maintaining a clean, professional image from our jets to our personnel to even our aircraft maintenance hangars is critical to supporting Western Aircraft's sophisticated reputation," said Austin Shontz, General Manager, Western Aircraft. "It was time to restore that image at our Boise maintenance hangar and find a better solution that would help us better maintain aesthetics over the long term."
REPLACING AIRCRAFT MAINTENANCE HANGAR FLOORING: AVIATION EXPERIENCE A MUST 
Deep roots in engineering along with the exacting nature of aircraft maintenance have set a high bar for every aspect of Western Aircraft's dependable, upscale business. Choosing replacement flooring for the company's 18,000-square-foot Boise Airport maintenance hangar was no exception, as longevity and aesthetics were key.
Performance, precision and practicality were required characteristics of both the contractor and product supplier on this flooring project.
The hangar's original floor was approximately 10 mils dry film thickness (DFT) in total – relatively thin for an aviation maintenance environment. Sure enough, abrasions and gouging from wheeled traffic, dropped tools and dragged equipment were significantly accelerating the decline in appearance and functionality of the thin-mil coating system. Aesthetics and performance needed to be addressed, which would mean removing the existing floor and installing a thicker, more durable system better suited to the medium to heavy aircraft maintenance activities taking place inside the hangar. In addition, careful planning was needed to ensure the facility was not out of service for more than 10 days during the renovation. Timing was critical.
Western Aircraft called on Consurco® Concrete Surface Technologies, a specialty contractor with deep aviation experience and a history of successful installations for Western Aircraft.
Consurco's Tim Ling, Regional Manager, commented on the challenges of the project, stating, "The original hangar floor was highly worn, gouged and stained. It wasn't providing the aesthetics and performance necessary for such a high-profile facility, so we needed to find a flooring solution that could withstand more abuse. In addition, we had a 10-day timeline from start to finish, including completely removing the original flooring system, installing the new one and allowing sufficient cure time for maximum durability of the floor over time."
CONSIDERATIONS FOR CHOOSING NEW AIRCRAFT MAINTENANCE HANGAR FLOORING 
When specifying materials for aviation flooring some fundamental needs are critical for the surface's durability and functionality, including:
Bond and tensile strength: Heavy aircraft require hangar flooring to be tenaciously bonded to the concrete substrate, while still offering the right amount of flexibility and internal coating strength to withstand the extreme service conditions inside hangars.
Chemical and abrasion resistance: Aviation fuels, lubricants, hot tires and hydraulic fluids – like Skydrol® – are the norm in aircraft hangars. Flooring must have outstanding chemical resistance properties against these substances, as well as resistance against scratches, scrapes, dropped nuts and bolts, and dragged tools and equipment.
Light Reflectivity – Beyond giving planes a sophisticated and beautiful backdrop, the light reflectivity of flooring can improve illumination above and beneath aircraft. This helps to improve overall visibility for technicians as they work underneath fuselages and wings. Foreign objects and debris can also be easily spotted on the reflective surface and removed.
"Generally, a thicker coating system is better for long-term floor durability and performance," said Ling. "For this project, our assignment was to provide a flooring solution that would provide higher performance via an increased surface profile and a higher film build than the original floor. We also needed to be sensitive to budget and product availability requirements."
Learn more about hangar flooring requirements and solutions >>
THE APPROACH – NARROWING DOWN THE BEST AIRCRAFT MAINTENANCE FLOORING SOLUTION 
A pilot approaching a landing expects the runway, its staff and air traffic control to be waiting on his/her approach. The same goes for team members and products that are needed for a time sensitive project like this one. In 2021, supply chain issues were making headlines in almost every industry. This was top of mind when Consurco was asked for a flooring system upgrade recommendation, estimate and timeline.
"Western Aircraft asked for recommendations with a general budget in place. We were able to offer them a variety of options for a better-quality floor with varied enhanced performance and aesthetic characteristics depending on the system," said Ling. "We turned to Sherwin-Williams High Performance Flooring as a product supplier because of their expertise in durable coatings and their assurance that the specified products would be at the job site when we needed them."
Ultimately Western Aircraft selected a 45- to 50-mil DFT coating system from Sherwin-Williams High Performance Flooring that would be much more durable than the original 10-mil DFT floor. This thicker Resuflor™ Topcoat AC system would offer a light-reflective and chemical- and stain-resistant finish with outstanding resistance to scratches, impact and gouges, as well as excellent gloss retention and UV color stability. The layers included Resuflor 3569 Multi-Purpose Epoxy as the primer, Resuflor 3561 Epoxy Resin Glaze as the basecoat and Resutile™ 4638 HS Polyurethane Floor Enamel with a 220 white mesh aluminum oxide additive as the topcoat. Material supply logistics to deliver the approximately 400 gallons of material to the job site, including phased product delivery and on-site technical support, were key to choosing these products.
EXPERIENCED HANGAR FLOOR INSTALLATION MAKES FOR A SMOOTH LANDING 
Timelines for coating applications can be fraught with "what-ifs." Considerations include weather conditions, the size of the crew necessary for each phase of application and what the removal of the original flooring could reveal that might require extra attention before installing the new flooring.
For the hangar project in October 2021, the installation team had 10 days from beginning to end, with steps choreographed by Consurco and on-site technical assistance provided by Sherwin-Williams. Installers finished the project in eight days, on a Friday, which allowed the new floor additional curing time of two days prior to the hangar's Monday morning return to service. Those extra days enabled the floor to be that much harder and more durable before any heavy traffic touched it.
Step 1 – Flooring Removal and Surface Prep
Surface preparation included complete removal of the existing coating system using planetary diamond grinders to tear and remove the original 10-mil flooring from the concrete substrate. Installers then shot-blasted the substrate, leaving behind a minimum concrete surface profile (CSP) of 4 to 5. These steps took approximately four days to complete.
The challenge then was to create a flooring system with enough thickness to overcome the lumpy profile of the prepared concrete so that lines and divots were filled to create a smooth floor surface.
Step 2 – Concrete Repairs
"Refinishing is only as good as prep and patching," said Consurco's Ling. "We had to do an average amount of crack filling and patching of bugholes after removing the existing coating, which was not surprising given the necessary steps to remove the original floor."
Installers used 100% solids epoxy crack filler for these repairs. They first routed any cracks to create a bondable surface and then filled them with the material, which essentially made these areas the strongest parts of the concrete substrate. Because the substrate was in very solid condition, installers were able to avoid using a flexible crack bridging material, which is not desirable to use when installing a hard, durable flooring system. Placing such a hard material over a flexible substrate could eventually affect the appearance of the floor's surface.
Step 3 – Primer Application 
Next, installers applied Resuflor HB Multi-Purpose Epoxy, a 100% solids epoxy base coat, at 8 mils DFT. This required mixing the resin and a hardener, pouring the material and using squeegees and rollers to spread and back roll the application.
Project specifiers selected Resuflor HB as the primer for its two main characteristics:
Adhesion: The coating wets out and penetrates the concrete substrate, promoting optimal chemical and mechanical adhesion. Better adhesion contributes to the good chemical and abrasion resistance of the entire flooring system.
Low Viscosity: The coating also flows easily, helping applicators to ensure thorough surface penetration. By filling the open pores of the concrete, this primer helps minimize "outgassing," the natural phenomenon by which air within a concrete slab migrates upward to affect subsequent coating layers.
Step 4 – Intermediate Coat 
Installers then applied the intermediate coat of Sherwin-Williams Resuflor HB Epoxy Resin Clear at 35 mils DFT. The thickness of this application required using a V-notch squeegee for spreading the coating poured on the floor and a loop roller for back rolling it. While the coating material is self-leveling, using a loop roller was important to ensuring aesthetics when installers had to make batch-to-batch tie ins. The loop roller adds energy to the coating material, without lifting it up, to promote leveling.
The project team chose the Resuflor HB product for its high compressive and tensile strength, which adds durability, especially when building the material to a 35-mil DFT. The high-solids epoxy binder resin also has good resistance to chemicals and abrasion, helping to ensure a long-term aesthetic finish for the floor.
Step 5 – Topcoat Application
Finally, the installation team installed the Resutile ST HS Polyurethane Floor Enamel topcoat at 5 mils DFT. Prior to application, installers mixed the material with a white 220 mesh aluminum oxide additive. This mesh additive increases the durability of the floor, as well as its wear and abrasion resistance.
The small size of the 220 mesh additive mattered, as it needed to be smaller than the thickness of the cured topcoat. Otherwise, the aggregate would protrude above the flooring's surface and could eventually even pop out of the coating system with time.
Installers applied the topcoat by dipping and rolling the mixed resin and additive solution. Using a squeegee instead of a roller would have risked burying the additive within the coating layer, minimizing its effectiveness in enhancing the floor's durability.
With the dip and roll application, installers applied the flooring in one direction and then cross hatched in a perpendicular direction to get the most even finish possible. This method also ensures consistency of the high wear additive within the coating layer.
The Resutile ST polyurethane product was selected for its outstanding resistance to a wide range of chemical, environmental and mechanical conditions, as well as its high gloss retention and abrasion resistance.
HIGH-PERFORMING FLOORS: A HIT WITH SERVICE CREW AND BRAND IMAGE 
Western Aircraft customers describe their service experience as "extraordinary," "the best there is," "excellent" and "seamless," with the maintenance crew having "pride in their work, their workplace and their technical knowledge." That pride is immediately evident to anyone stepping inside the beautifully finished Boise Airport maintenance hangar with its shiny new floor that's designed with longevity in mind. The scuffs, stains and chips from the original thin-mil floor are long gone and not expected to return anytime soon thanks to the thicker Resuflor Topcoat AC system's durable, chemical- and stain-resistant finish. Western Aircraft also opted for the same system in its new 53,000-square-foot hangar to ensure long-term aesthetics.
"We're thrilled with the results of the maintenance hangar floor replacement, as well as the new hangar floor" said Western Aircraft's Shontz. "Our skilled maintenance crew is enjoying the benefits of the floors' reflectivity as well as the ease of clean up and maintenance. We expect these floors to perform well and help maintain our sophisticated corporate image for many years to come."
Skip carousel content
Photo Gallery
Resutile™ 4638 HS Was the Ideal Topcoat for this Busy Hangar Floor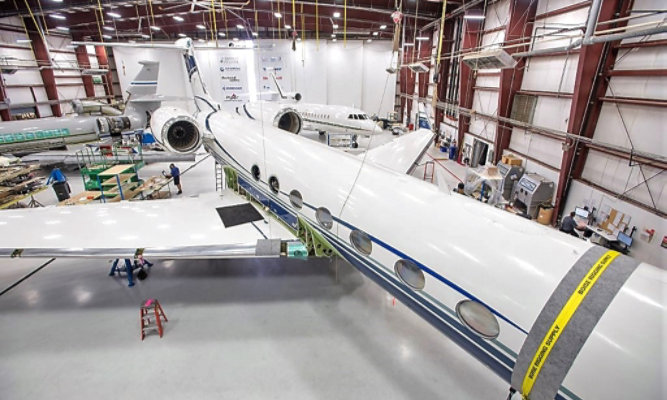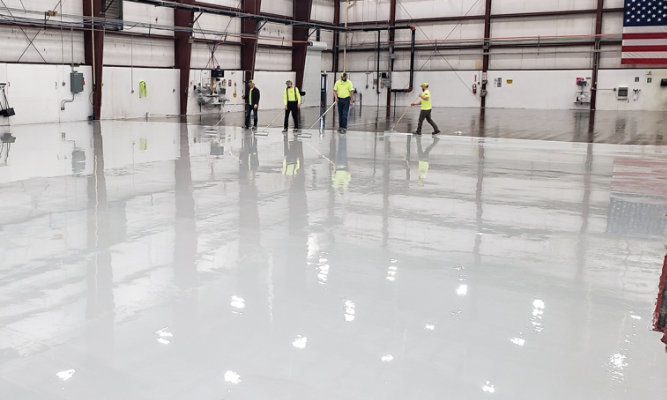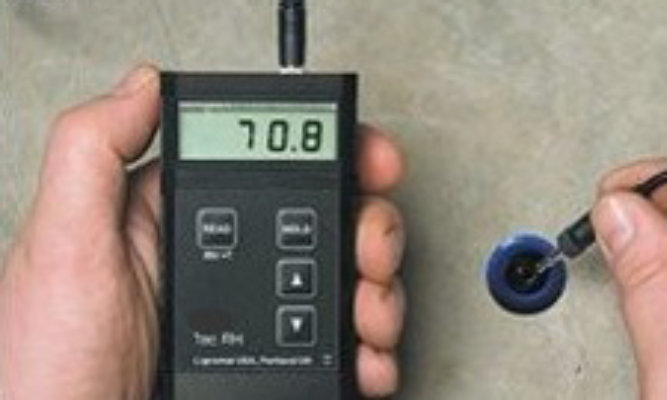 Find out more about our innovative coatings for a variety of industries.
FIND A SYSTEM