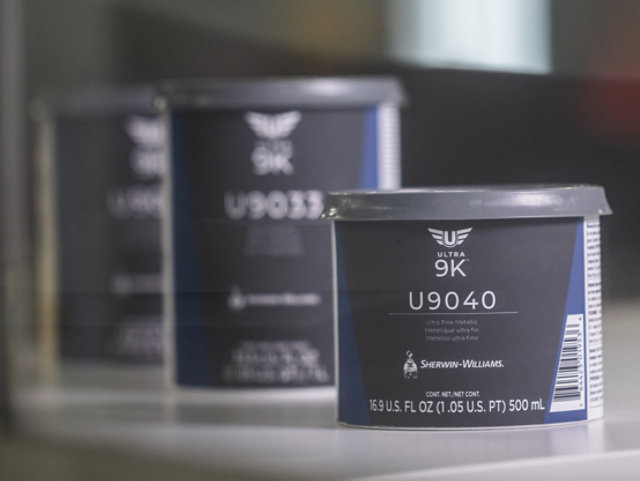 Ultra 9K™
With the Ultra 9K™, we are connecting color performance with labor optimization and delivering increased process speeds. This waterborne refinish system is the complete package and switching is easy with our planned conversion process supported by everyone in our organization—from sales, to technical and training, to color marketing and business services.
We Redefined the Waterborne Category
Ultra 9K delivers on color accuracy (and speed) for first-time repairs – especially today's complex finishes – with an innovative and compact bank including 62 toners rich in pigments, intensity and effect. This streamlined bank is combined with our premium portfolio of Ultra System™ undercoats and clears to meet critical production-specific needs.
Features and Benefits
OEM Certification

Color consistency
Speed to color
Long-lasting finish

Complete the below form to request more information.
| Part Number | Name | Description |
| --- | --- | --- |
| U9001 | Lampblack | Moves colors darker and dirtier on the face and flop. Has a blue chalky undertone. |
| U9002 | Special Black | Moves colors darker and dirtier on the face and flop. |
| U9003 | Black | High strength black for use in solid blacks and to tint other colors. Readily darkens flop of metallic colors. |
| U9004 | Deep Black | High jetness carbon black for use in solid blacks. |
| U9010 | Trans White | Used in addition to metallic or pearl producing a unique frosted glaze appearance with a yellow glow on the face and a blue flop. |
| U9011 | White | Bright white used to match solid colors and small amounts in effect colors. |
| U9012 | Extra White | High strength bright white used to create white and near white solid colors. |
| U9020 | Base Additive | Basecoat additive. Also used in 3-Stage mid-coat colors. |
| U9021 | Effect Additive | 15% or less can be used to lighten the flop of a metallic basecoat color and create the appearance of a larger metallic sparkle while having little effect on the face of the color. These effects are more subtle than using white or white pearl. |
| U9030 | Gold Metallic | Medium size gold flake metallic. Used in addition to or substitute for silver metallic or pearl. Gives a gold sparkle with a yellow flop. |
| U9031 | Orange Metallic | Medium size orange flake metallic. Used in addition to or substitute for silver metallic or mica. Gives an orange sparkle. |
| U9032 | Red Metallic | Medium size red flake metallic. Used in  addition to or substitute for silver metallic or  mica. Gives a red sparkle. |
| U9033 | Blue Metallic | Blue colored aluminum used in addition to or  substitute for silver metallic or pearl. Gives a  clean blue sparkle face and flop. |
| U9034 | Bright Red Metallic | Medium size red flake metallic. Used in  addition to or substitute for silver metallic or  mica. Gives a red sparkle. |
| U9040 | Ultra Fine Metallic | Very fine flake. Do not use unless already in the formula. |
| U9041 | Small Metallic | Small flake size. Light on the flop. |
| U9042 | Bright Small Metallic | Small flake size. Bright on the face and slightly darker on the flop than U9041. |
| U9043 | Coarse Metallic | Large shape flake. Bright face and dark flop. |
| U9044 | Very Coarse Metallic | Very large metallic. Bright face and dark flop. |
| U9050 | Fine White Pearl | Used in addition to or substitute for  metallic. Our smallest white mica with a lighter flop than U9051 Small White  Pearl. Will lighten a dark flop without  drastically changing the face |
| U9051 | Small White Pearl | Used in addition to or substitute for metallic. Smaller particle size and lighter flop than U9052 White Pearl. Will lighten a dark flop without drastically changing the face. |
| U9052 | White Pearl | White pearl used to match pearlescent and pearl midcoat colors. |
| U9053 | Crystal Silver Pearl | Synthetic pearlescent crystal. Smaller particle size than traditional pearl with much larger sparkle. Cleaner / less yellow flop than traditional pearl. |
| U9060 | Gold Pearl | Used in addition to or substitute for metallic. Gives a gold-yellow face, with little effect on the flop.  |
| U9061 | Sunbeam Gold Pearl | Synthetic pearlescent crystal. Smaller particle size than traditional pearl with much larger sparkle. Cleaner / less yellow flop than traditional pearl. |
| U9070 | Copper Pearl | Used in addition to or substitute for metallic. Gives a copper (red brown) face and flop. |
| U9080 | Small Red Pearl | Used in addition to or substitute for metallic. Red yellow face and flop. Smaller particle size than U9081 Red Pearl. |
| U9081 | Red Pearl | Used in addition to or substitute for metallic. Red yellow face and flop. |
| U9082 | Bright Red Pearl | Used in addition to or substitute for metallic. Clean red blue face with little or no effect on the flop. |
| U9083 | Radiant Red Pearl | Synthetic pearlescent crystal. Smaller particle size than traditional pearl with much larger sparkle. Cleaner / less yellow flop than traditional pearl. |
| U9090 | Purple Pearl | Used in addition to or substitute for metallic. Gives a red face to blue colors with little effect on the flop. |
| U9100 | Fine Blue Pearl | Used in addition to or substitute for metallic. Gives a blue face and flop. Smaller particle size than U9101. |
| U9101 | Blue Pearl | Used in addition to or substitute for metallic. Gives a blue face and flop. |
| U9102 | Galaxy Blue Pearl | Synthetic pearlescent crystal. Smaller particle size than traditional pearl with much larger sparkle. Cleaner / less yellow flop than traditional pearl. |
| U9110 | Green Pearl | Used in addition to or substitute for metallic. Gives a blue green face and yellow green flop. |
| U9111 | Blue Green Pearl | Used in addition to or substitute for metallic. Medium particle size with a blue green face and a yellow green flop. |
| U9112 | Stellar Green Pearl | Synthetic pearlescent crystal. Smaller particle size than traditional pearl with much larger sparkle. Cleaner / less yellow flop than traditional pearl. |
| U9120 | Bright Red | Clean opaque red for use in solid red, yellow and orange colors. Do not use in white or metallics. |
| U9121 | Scarlet Red | Very transparent bright yellow shade red. Use for metallic and pearl colors. |
| U9122 | Magenta | Clean blue cast in solid and metallic colors. |
| U9123 | Trans Red | Blue shade red on the face and flop. Used in solid reds and red metallics. |
| U9124 | Red Oxide | Very opaque dirty yellow shade red. Excellent to tint solid white. Use only small amounts when tinting metallic colors. |
| U9125 | Red Transoxide | Dirty transparent red shade gold. Gives a red brown cast on the face and flop. |
| U9126 | Translucent Maroon | Highly transparent red with high chroma. Do not add unless already in the formula. |
| U9130 | HS Violet | Blue cast in solid and metallic colors on the face and flop. |
| U9131 | HS Purple | Very red shade blue on the face and flop. Do not use unless already in the formula. |
| U9140 | Medium Blue | Blue with a green face and slightly red flop. |
| U9141 | Blue | Red face and red flop blue. Used to tint solid, metallic, and pearl colors. |
| U9150 | HS Yellow Shade Green | Green with a yellow cast on the face and flop. |
| U9151 | HS Blue Shade Green | Green with a blue cast on the face and flop. |
| U9154 | Bright Green Blue | Blue with a green face and green flop.  |
| U9160 | HS Maroon | Gives a blue face with a yellow flop. Used in maroons and dark red metallics. |
| U9161 | Copper Brown | Red shade brown with a slightly yellow face and red flop. |
| U9170 | Bright Yellow | Bright yellow with a slightly green cast. Our cleanest yellow. |
| U9171 | Trans Red Shade Yellow | Red shade yellow on the face with a light red flop. |
| U9172 | Red Shade Yellow | Red shade yellow on the face with a light red flop. |
| U9173 | Pale Yellow | Green shade very opaque yellow. Lacks color intensity. Weak tinting effect. |
| U9174 | Yellow Oxide | Very opaque dirty yellow. Gives a dirty yellow cast to solid colors. |
| U9175 | Yellow Transoxide | Transparent green shade yellow. Used in gold and silver metallic colors. |