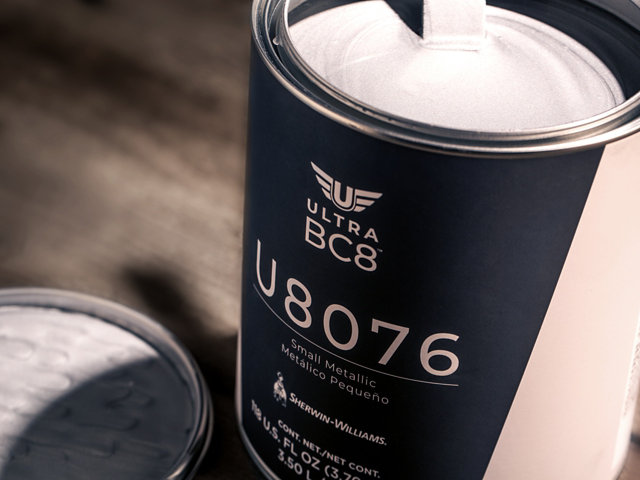 Ultra BC8™
A premium solventborne system that champions color performance and delivers repeat results. The Ultra BC8™ color system is outcome-driven and supported by a host of color tools including color retrieval software, 5-angle spectrophotometer, color box and information maps (books). Paired with our powerhouse assortment of Ultra System™ undercoats and clears, this system delivers on our promise.
Paint More. Mix Less.

This European-inspired solvent system is designed for premium performance, color precision and superior finish with 65 toners.
Features and Benefits
Color precision
Metallic control and coverage
Simplicity and accuracy
Complete the below form to request more information.
| Part Number | Name | Description |
| --- | --- | --- |
| U8001 | Deep Black | High jetness carbon black for use in solid blacks. |
| U8002 | Trans White | Used in addition to metallic or pearl producing a unique frosted glaze appearance with a yellow glow on the face and a blue flop. |
| U8003 | Effect Additive | 15% or less can be used to lighten the flop of a metallic basecoat color and create the appearance of a larger metallic sparkle while having little effect on the face of the color. These effects are more subtle than using white or white pearl. |
| U8004 | Gold Metallic | Medium size gold flake metallic. Used in addition to or substitute for silver metallic or pearl. Gives a gold sparkle with a yellow flop. |
| U8005 | Orange Metallic | Medium size orange flake metallic. Used in addition to or substitute for silver metallic or mica. Gives an orange sparkle. |
| U8006 | Bright Red Metallic | Medium size red flake metallic. Used in addition to or substitute for silver metallic or mica. Gives a red sparkle. |
| U8007 | Fine Metallic | Small flake size. Light on the flop. |
| U8008 | Ultra Fine Metallic | Very fine flake. Do not use unless already in the formula. |
| U8009 | Bright Small Metallic | Small flake size. Bright on the face and slightly darker on the flop than U8076. |
| U8010 | Very Coarse Metallic | Very large metallic. Bright face and dark flop. |
| U8011 | Medium Metallic | Small flake size. Bright on the face and slightly darker on the flop than U8007. |
| U8012 | Graphite Black | Basecoat colors only. Used in addition to metallic or mica producing a unique frosted glaze appearance with a yellow glow on the face and a blue flop. |
| U8013 | Fine White Pearl | Used in addition to or substitute for metallic. Our smallest white mica with a lighter flop than U8014. Will lighten a dark flop without drastically changing the face. |
| U8014 | Small White Pearl | Used in addition to or substitute for metallic. Smaller particle size and lighter flop than U8015. Will lighten a dark flop without drastically changing the face.  |
| U8015 | White Pearl | White pearl used to match pearlescent and pearl midcoat colors. |
| U8016 | Crystal Silver Pearl | Synthetic pearlescent crystal. Smaller particle size than traditional pearl with much larger sparkle. Cleaner / less yellow flop than traditional pearl. |
| U8017 | Gold Pearl | Used in addition to or substitute for metallic. Gives a gold-yellow face, with little effect on the flop. |
| U8018 | Sunbeam Gold Pearl | Synthetic pearlescent crystal. Smaller particle size than traditional pearl with much larger sparkle. Cleaner / less yellow flop than traditional pearl. |
| U8019 | Copper Pearl | Used in addition to or substitute for metallic. Gives a copper (red brown) face and flop. |
| U8020 | Small Red Pearl | Used in addition to or substitute for metallic. Red yellow face and flop. Smaller particle size than U8021. |
| U8021 | Red Pearl | Used in addition to or substitute for metallic. Red yellow face and flop. |
| U8022 | Bright Red Pearl | Used in addition to or substitute for metallic. Clean red blue face with little or no effect on the flop. |
| U8023 | Radiant Red Pearl | Synthetic pearlescent crystal. Smaller particle size than traditional pearl with much larger sparkle. Cleaner / less yellow flop than traditional pearl. |
| U8024 | Purple Pearl | Used in addition to or substitute for metallic. Gives a red face to blue colors with little effect on the flop. |
| U8025 | Fine Blue Pearl | Used in addition to or substitute for metallic. Gives a blue face and flop. Smaller particle size than U8026. |
| U8026 | Blue Pearl | Used in addition to or substitute for metallic. Gives a blue face and flop. |
| U8027 | Galaxy Blue Pearl | Synthetic pearlescent crystal. Smaller particle size than traditional pearl with much larger sparkle. Cleaner / less yellow flop than traditional pearl. |
| U8028 | Green Pearl | Used in addition to or substitute for metallic. Gives a blue green face and yellow green flop. |
| U8029 | Blue Green Pearl | Used in addition to or substitute for metallic. Medium particle size with a blue green face and a yellow green flop. |
| U8030 | Stellar Green Pearl | Synthetic pearlescent crystal. Smaller particle size than traditional pearl with much larger sparkle. Cleaner / less yellow flop than traditional pearl. |
| U8031 | Bright Red | Clean opaque red for use in solid red, yellow and orange colors. Do not use in white or metallics. |
| U8032 | Scarlet Red | Very transparent bright yellow shade red. Use for metallic and pearl colors. |
| U8033 | Magenta | Clean blue cast in solid and metallic colors. |
| U8034 | Bright Trans Red | Blue shade red on the face and flop. Used in solid reds and red metallics. |
| U8035 | Red Oxide | Very opaque dirty yellow shade red. Excellent to tint solid white. Use only small amounts when tinting metallic colors. |
| U8036 | Red Transoxide | Dirty transparent red shade gold. Gives a red brown cast on the face and flop. |
| U8037 | Purple | Very red shade blue on the face and flop. Do not use unless already in the formula. |
| U8038 | Blue | Red face and red flop blue. Used to tint solid, metallic, and pearl colors. |
| U8039 | Blue Shade Green | Green with a blue cast on the face and flop. |
| U8040 | Trans Red | Gives a blue face with a yellow flop. Used in maroons and dark red metallics.  |
| U8041 | Maroon | Gives a blue face with a yellow flop. Used in maroons and dark red metallics. |
| U8042 | Copper Brown | Red shade brown with a slightly yellow face and red flop. |
| U8043 | Orange | Dirty opaque orange for use in solid red, yellow, and orange colors. |
| U8044 | Bright Yellow | Bright yellow with a slightly green cast. Our cleanest yellow. |
| U8045 | Trans Red Shade Yellow | Red shade yellow on the face with a light red flop. |
| U8046 | Red Shade Yellow | Red shade yellow on the face with a light red flop. |
| U8047 | Pale Yellow | Green shade very opaque yellow. Lacks color intensity. Weak tinting effect. |
| U8048 | Yellow Oxide | Very opaque dirty yellow. Gives a dirty yellow cast to solid colors. |
| U8049 | Yellow Transoxide | Transparent green shade yellow. Used in gold and silver metallic colors. |
| U8070 | Lampblack | Moves colors darker and dirtier on the face and flop. Has a blue chalky undertone. |
| U8071 | Special Black | Moves colors darker and dirtier on the face and flop. |
| U8072 | White | Bright white used to match solid colors and small amounts in effect colors. |
| U8073 | Extra White | High strength bright white used to create white and near white solid colors. |
| U8074 | Base Additive | Basecoat additive. Also used in 3-Stage mid-coat colors. |
| U8075 | Base Additive | Basecoat additive. Used to enhance adhesion for colors with a high metallic concentration.  |
| U8076 | Small Metallic | Small flake size. Light on the flop. |
| U8077 | Coarse Metallic | Large shape flake. Bright face and dark flop. |
| U8078 | Violet | Blue cast in solid and metallic colors on the face and flop. |
| U8079 | Medium Blue | Blue with a green face and slightly red flop. |
| U8080 | Yellow Shade Green | Green with a yellow cast on the face and flop. |
| U8081 | Green Shade Blue | Blue with a green face and green flop. |