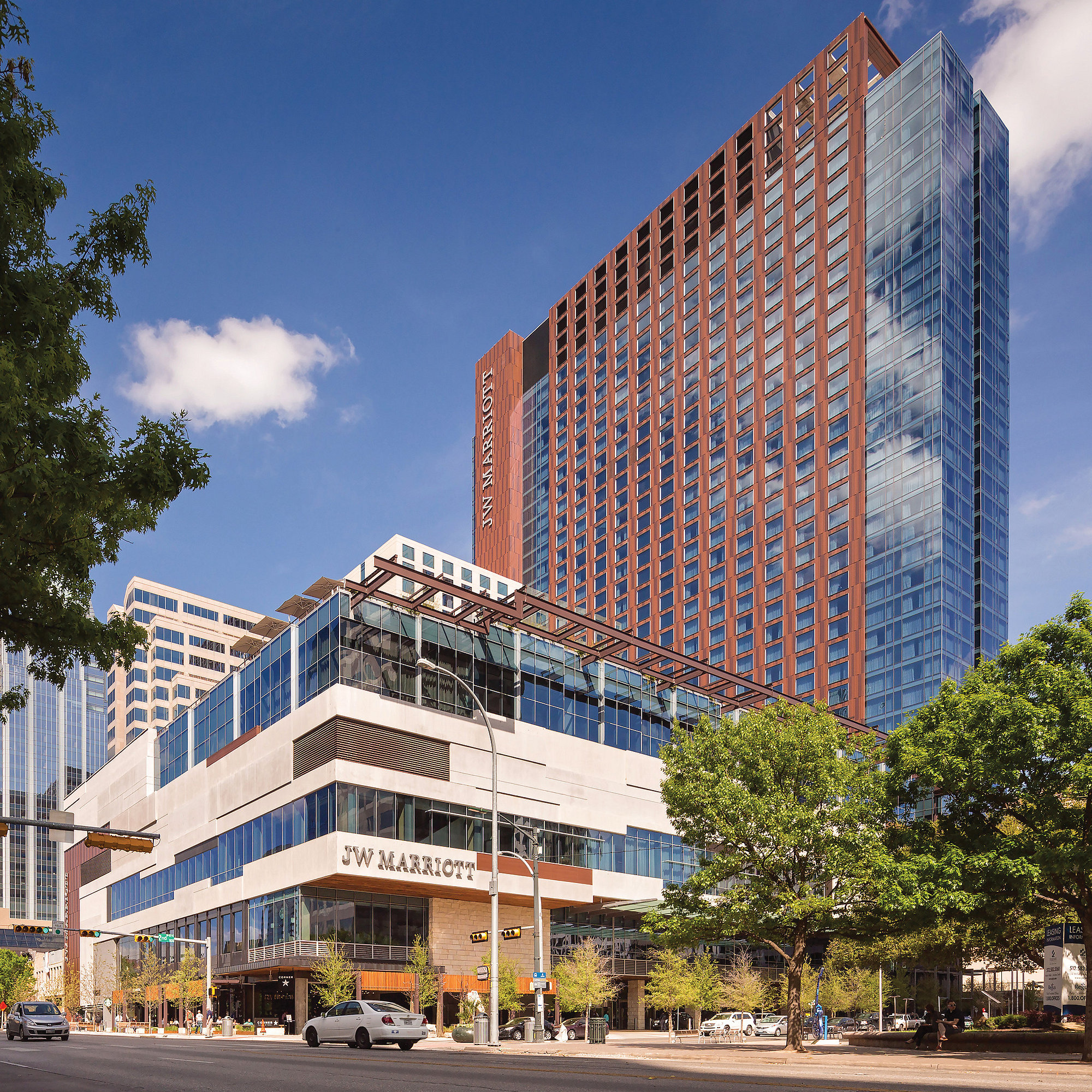 Click to view larger image
Fluropon Coil Family
Fluropon 70% PVDF Coil Coatings from Sherwin-Williams offer best-in-class performance for metal wall panel systems and metal roofing. Fluropon coatings are available in unlimited colors and effects and are extremely durable to keep your design looking new for decades.
Its excellent performance is a direct result of Sherwin-Williams innovative technology - a fluoropolymer resin that continually meets or exceeds the rigorous American Society of Testing and Materials (ASTM) performance criteria while maintaining its color and durability. Fluropon coil coating systems are field-tested and time-proven to deliver enduring beauty. Each metal paints product in the family provides superior flexibility, formability and color consistency during the manufacturing process, in a wide variety of colors and effects to meet any aesthetic or performance need.
Benefits
Superior resistance to ultraviolet rays


Outstanding color retention and consistency


Excellent overall adhesion


Great flexibility and formability


High film integrity
End Use
Metal Roof Panels
Metal Wall Panels
Industry
Architectural
Building Products
Substrate
Aluminum
Galvalume®
Hot-Dipped Galvanized Steel
Approvals/Certifications
AAMA 621
Finish Description
Fluropon family systems are available in a wide range of colors, sheens, gloss levels and special effects to achieve nearly any look that can be imagined. Solar reflective (SR) formulations available to meet ENERGY STAR and LEED certifications.
Product Technical Data

| | |
| --- | --- |
| Number of Coats Recommended | 2, 3 |
| Finish | Low Sheen, Mica/Metallic, Nova, High Gloss, Kameleon, Low Gloss, Print, Standard Finish, Texture, High Sparkle |
| Application Method | Coil |
| Resin Type | 70% PVDF |
Product data is a representative set of attributes and characteristics for this system or product line. Data for individual products may vary and is subject to change. Please reference the individual product datasheet for exact specifications on the Datasheets tab above or through Search.
Fluropon Effects Print

A distinctive multi-layered effect. Creates unique color combinations by using a solid base coat and layers of ink that complement the building materials-slate, Corten Steel, wood grain and so much more. Opens up unlimited possibilities.

Fluropon Effects Nova

Fluropon Effects Nova is a proprietary system that offers richer, deeper hues with an intense sparkle aesthetic that has never before been achieved in 70% PVDF architectural coatings. Bring a new dimension to a classic color: Fluropon Effects Nova can be matched to nearly ANY color - neutrals, brights, pastels, whites, and even black - using gold or silver sparkle as a finish. Achieve brilliant colors that deliver the same outstanding performance as our trusted line of Fluropon 70% PVDF coatings.

Fluropon Low-Sheen

A low-sheen coating gives you a flat or "satin" finish. This two-coat system will make your project stand out.

Fluropon Low-Gloss

A low-gloss finish is a unique exterior finish that gives your building a distinctively matte appearance.

Fluropon SR

Fluropon SR (Solar Reflective) contains solar-reflective pigments, offering durability that resists heat absorption and aids in structure cooling, without sacrificing performance or color. We have thousands of SR energy efficiency coatings that meet ENERGY STAR®, LEED®, and CRRC performance requirements.

Fluropon Pure

Fluropon Pure coil coatings are formulated to be eco-friendly with reduced hazardous materials. Sherwin-Williams supports our customers participating in LEED v4 and Living Building Challenge's Declare programs. Fluropon Pure can be included in your plans to participate in these programs.

Fluropon Premiere

When you want to make a statement with bold and bright colors, this three-coat system brings out the depth and beauty of bright pigments while offering a clear coat for added protection.

Fluropon Extreme

The name Extreme says it all. Fluropon Extreme offers enhanced damage resistance to the kinds of abrasions that can occur before it's installed - inevitable wear and tear of forming, transportation and installation. This long-wearing, mar-stopping solution combines tough-as-nails performance with excellent UV resistance and color retention. While Fluropon Extreme is a good choice for a wide variety of uses, it's especially well suited to tough installation processes such as metal roofing. Same great colors, in a low-gloss (8-15) smooth finish that minimizes imperfections like substrate defects, oil-canning and edge wave.

Fluropon Effects Rustica

Fluropon is Sherwin-Williams flagship family of metal coating products for architects and more. Each contains 70% polyvinylidene fluoride (PVDF) resins, and each meets or exceeds the rigorous American Society for Testing and Materials (ASTM) performance criteria.

Fluropon Effects Kameleon

When you want unique, mesmerizing effects, look to Fluropon® Effects Kameleon™ Coating. The innovative Kameleon system uses mica flakes to create a consistent iridescent, gradient look. A blend of ceramic and inorganic pigments creates an original, brilliantly subtle look that will turn heads for years to come. It's ideal for monumental high rises, commercial and residential buildings.

Fluropon Classic II

For projects that require a pearlescent finish, Fluropon Classic II is the ideal choice. This two-coat system offers a directional appearance with added dimension.

Fluropon Classic

Fluropon Classic's high-performance, three-coat system features special metallic-effect vibrant colors plus a clear coat for tremendous shine and protection.

Fluropon

Our flagship coating. Its excellent performance is a direct result of Sherwin-Williams' innovative technology - a two-coat fluoropolymer formulation that continually exceeds performance needs while maintaining its color and durability long into the future.
Available Colors
Expand for additional information and to order samples.
Search
No results found. Please check your spelling/number, or broaden your search.
Selected color:
Order sample
You have reached the order maximum of 10 samples.