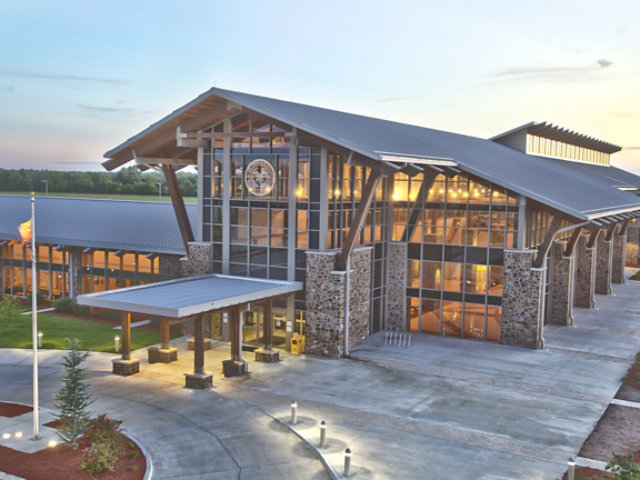 You Can Follow Trends. Or Lead Them.
Trends today are driven by changing demographics, social norms, new technology and even the economy. At Sherwin-Williams Coil Coatings, we're constantly identifying the latest lifestyle trends and understanding how they affect color choice in each market. You could say we're obsessed.
Building Products Color Lookbook
Whether designing an apartment complex, elementary school, office park or farmhouse, the principles of good architecture hold true beyond trends of the day. The ability to work with metal building materials in a way that artfully leverages an environment's natural light, textures, climate and silhouettes is part and parcel of good design.

Architectural styles often invite their own traditional color palettes based on practicality. In contrast, the capabilities and effects of today's modern coatings mean nothing is off-limits. Take the agricultural sector for example. Default colors are historically lighter because they are naturally energy-efficient and easier to clean. Today's metal coatings have solar reflective technology and other functional properties built right in, helping to repel dirt and make even dark colors energy efficient.
Building Product Color Trends
Color Us Obsessed

Every color has its story. At Sherwin-Williams, we help you tell that story. Every color has its story. At Sherwin-Williams, we help you tell that story.

Watch Video
CONTRASTING COMFORTS OF HOME
Every home's design reveals its character, while its exterior colors make a statement about the inhabitants inside. A bright orange deck anchoring a modern home with charcoal grey siding says the family inside has elevated tastes. Some call it curb appeal, but it's more than that.
Siding and roofing materials, and the colors we give them, set the tone for life inside, providing stability in an unpredictable and fast-moving world. Modern palettes along with the trend of using mixed materials defines every home to the individual. At Sherwin-Williams Coil Coatings, we go to great lengths to ensure our metal coatings complement this aesthetic, engineering them to resist the elements, protect your investment and let your vision shine bright for generations to come.
RESIDENTIAL: Trending colors in the residential market are shades derived from earth minerals. These palettes, along with the popular use of contrasting textures, finishes and raw materials, create intrigue and interest to go with the unique character of your design.
WORKING WITH PLAYFUL DESIGNS
Color is a key element used to establish and maintain a corporation's image, as brands leverage color to differentiate and position themselves in the market. A coffee shop might select pre-coated metal siding with shades of brown, for example, to mirror the activities inside. A children's hospital might use bright and bold colored coatings to transform a cold metal exterior into a warm and inviting space that conveys a sense of playfulness.
One of the main commercial trends is blurring of lines between work and play. New technology has created a generation of digital nomads who can work where and when they want. As a result of this more flexible lifestyle, colors typically reserved for the home have found their way into the workplace, as well as hotels, restaurants and other retailers. Modern consumers have begun to expect the comforts of home anywhere they go. Even work.
COMMERCIAL: The most popular commercial exteriors remain whites and neutrals, but accented by strategic use of more daring shades often seen in residential design. This refreshing mix inspires a new understanding of modern work space and function.
CULTIVATING THE NEXT GENERATION
Traditionally in agriculture, color has been guided by functionality and durability. Whites and silvers absorb less energy, keeping the building's interior more energy efficient. Lighter colors also don't show dirt as easily, so there's less cleaning. As generations of tech-savvy innovators step up to take over the family farm, the very notion of "farm" is changing, becoming versatile, creative and future-forward, even forming relationships across industries and reclaiming abandoned or vacant urban spaces.

Options like Solar Reflective metal coatings are UV-resistant and deliver an eco-friendly way to resist heat absorption from the sun. They also open up the agriculture sector to new color palettes, like yellow-based greens and other harvest colors. The smart Sherwin-Williams Coil Coatings agricultural palette is carefully considered to coordinate with adjacent structures, sowing pride and confidence in every farm, harvest after harvest. 
AGRICULTURAL: New technologies are driving the future farm. Pre-engineered structures made of renewable materials set up quickly and are less expensive than custom builds. Aerial imaging and smartphone apps are further evidence of the generational shift that is reinvigorating the agricultural sector.
OUR WORLD IS COLOR
At Sherwin-Williams Coil Coatings, we believe color has the power to inspire, to connect and to bring every architectural vision brilliantly to life.
Our color catalogue expands every year with ambitious ideas, constant innovation and relentless research. We achieve lasting durability and beauty through science. Most importantly, we commit to being a reliable and collaborative partner, so together we can inspire the world around us.