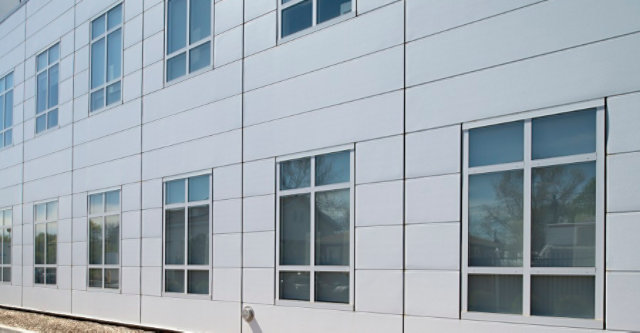 Sherwin-Williams Approved Extrusion Applicators
Sherwin-Williams is here to make sure that you find the right extrusion coating applicator for your architectural, manufacturing and building product applications and projects.
Become a Sherwin-Williams Approved Applicator
Contact us to learn more about this program
Elite Applicators
Our Elite Applicator Program is focused on quality, safety and service. As part of a continuing education system, Sherwin-Williams provides applicators with knowledgeable solutions they can use in the building products industry.
This literally isn't just paint. Our stunning, long-lasting metal coating systems include complex resins, pigments and solvents that must be applied within state-of-the-art facilities by one of two processes: continuous coil and extrusion.
Coil coatings are applied to coil-formed metal sheets. The metal is unwound, cleaned, treated, primed, painted and baked before being coiled again and shipped for product forming. Extrusion coatings are applied during manufacturing. Aluminum preformed extrusions are cleaned and pretreated before going through a spray process, then they are thermally cured so the metal coating system can set.

Each one of the applicators listed below has been officially approved to apply Sherwin-Williams (formerly Valspar) coatings such as aluminum extrusions, metal roofs, appliances, wall panels and curtain walls, window trim and exterior doors, soffits and facias, and much more.
Canada
PROVINCE

COMPANY
ADDRESS
PHONE

ALBERTA

APEL EXTRUSION LTD.

7929 30TH STREET SE    

CALGARY, ALBERTA T2C 1H7  

403-279-3321 

ALBERTA

KAWNEER COMPANY CANADA, LTD.

4000-18TH AVENUE NORTH

LETHBRIDGE, ALBERTA T1H 5S8

403-320-7755  

BRITISH COLUMBIA

ALTECH CUSTOM COATERS, LTD.  

 

5800 BERESFORD STREET            

BURNABY, BRITISH COLUMBIA V5J 1J1  

604-437-7346

BRITISH COLUMBIA

APEX ALUMINUM EXTRUSIONS LTD

9767,201 STREET

LANGLEY,BC,CANADA

V1M 3E7

604-882-3542

BRITISH COLUMBIA

ORCA FINISHING'S AND ALUMINUM

#305 19100 AIRPORT WAY 

PITT MEADOWS, B.C.  V3Y 0E2

604-457-2777

BRITISH COLUMBIA

U.S. ALUMINUM OF CANADA, LTD.

5377 - 272ND STREET            

LANDLEY, BRITISH COLUMBIA V4W 1P1    

604-857-7766    

ONTARIO

CONSTRUCTION SPECIALTIES, LTD.

895 LAKEFRONT PROMANADE            

MISSISSAUGA, ONTARIO L5E 2C2 

905-274-3611

ONTARIO

DURAPAINT INDUSTRIES, LTD.

247 FINCHDENE SQUARE      

UNIT 1 & 2      

SCARBOROUGH, ONTARIO M1X 1B9    

416-754-3664

ONTARIO

TILTON INDUSTRIES, INC.

120 SUMMERLEA ROAD            

BRAMPTON, ONTARIO L6T 4X3      

PH: 905-458-4555

FAX: 905-458-9277 

ONTARIO

VALLEY METAL FINISHING, LTD.

211 SNIDERCROFT ROAD            

CONCORD, ONTARIO L4K 2J8      

PH: 905-669-5200

FAX: 905-660-4416 

QUEBEC

ANACOLOR 

195 RUE DAMASE BRETON

SAINT-LAMBERT-DE-LAUZON, QUEBEC G0S 2W0

418-651-8233

QUEBEC

ANNACOLOR LTEE

4290 RUE ST FELIX            

CAP ROUGE, QUEBEC G1Y 1X5      

PH: 418-651-8233

QUEBEC

SIGNATURE ALUMINUM CANADA INC.

305 BOULEVARD LABELLE            

STE-THERESE, QUEBEC J7E 2X8 

PH: 1 800 667-9399

FAX: 1 888 888-0088
Asia
COUNTRY
COMPANY
ADDRESS
PHONE

CHINA

ABBA ALUMINUM CO., LTD.

NO.6, PUDING RD, XINWU DIST,


TAOYUAN CITY 327, TAIWAN, R.O.C.

PH: 886-3-4970808

FAX:886-3-4970938

CHINA

DONGGUAN KAM PIN INDUSTRIAL LTD.

SHI XIA INDUSTRIAL DISTRICT,

DA LONG TOWN

DONGGUAN, GUANGDONG, PRC.

PH:(0769)8318-2828
FAX:(0769)8331-8195

CHINA

FOSHAN JIANMEI ALUMINUM CO., LTD

NON-FERROUS METAL INDUSTRIAL PARK


XIAOTANG TOWN, NANHAI DISTRICT,

FOSHAN CITY, GUANGDONG, CHINA 

PH:86-757-85558828

FAX:86-757-85550238

CHINA

GUANGDONG XINGFA ALUMINUM CO., LTD.

NON-FERROUS METAL INDUSTRIAL PARK,


XIAOTANG TOWN, NANHAI DISTRICT,

FOSHAN CITY, GUANGDONG, CHINA 

604-437-7346

CHINA

GUANGDONG HAOMEI ALUMINUM CO., LTD.

#305 19100 AIRPORT WAY 

PITT MEADOWS, B.C.  V3Y 0E2

PH:86-757-85332727

FAX:86-757-85550238

CHINA

GUANGDONG ZHONGYA ALUMINUM CO., LTD.

DEVELOPMENT ZONE


ASIA ALUMINUM INDUSTRIAL CITY SIDE

ZHAOQING CITY, GUANGDONG PROVINCE, CHINA

 

CHINA

JIANGYIN YUHUA ALUMINUM CO., LTD.


NO.85 WEST XIANGSHAN ROAD

GUSHAN TOWN, JIANGYIN CITY

JIANGSU PROVINCE, CHINA

PH: 86-510-86321087

FAX: 86-510-86321986

CHINA

JIANGYIN LITAI ORNAMENTAL MATERIALS CO.,LTD.


8 HUANNAN ROAD

HUASHI, JIANGYIN CITY

JIANGSU PROVINCE. CHINA

PH: 86-510-86213730

FAX: 86-510-86206731

CHINA

KAM PIN INDUSTRIAL (HK) LTD.

5/F. UNION INDUSTRIAL BUILDING,

116 WAI YIP ST, KWUN TONG,KOWLOON, HONG KONG

PH:(852)2342-7988
FAX:(852)2341-6082

CHINA

TILTON INDUSTRIES, INC.

120 SUMMERLEA ROAD            

BRAMPTON, ONTARIO L6T 4X3      

PH: 905-458-4555

FAX: 905-458-9277 

THAILAND

SCHIMMER METAL STANDARD CO., LTD

1/4, MOO 7, T.BANTHEAW,

A.SENA, AYUTTHAYA 13110

THAILAND

TEL: 035-375-994


FAX: 035-375-991

CHINA

YARET INDUSTRIAL GROUP CO., LTD.


NO. 601,MIN XIANG ROAD,

SONGJIANG INDUSTRIAL ZONE 

SHANGHAI ,CHINA

PH: 86-21-57776888

FAX: 86-21-57775992

CHINA

ZHAOQING ASIA ALUMINUM FACTORY CO, LTD.


DEVELOPMENT ZONE

ASIA ALUMINUM INDUSTRIAL CITY SIDE 

ZHAOQING CITY,GUANGDONG PROVINCE, CHINA

 

PH: 86-758-3631299

FAX: 86-758-3631299

 

MALAYSIA

SEIKOTECH ARCHITECTURAL COMPONENTS SDN BHD

PT 17941, TUANKU JAAFAR INDUSTRIAL PARK,
SUNGAI GADUT, 71450 SEREMBAN, NEGERI SEMBILAN, MALAYSIA.

PH:+606-678 2288
FAX:+606-677 8886
EMAIL: purchasing@seikotech.com.my
Middle East
COUNTRY
COMPANY
ADDRESS
PHONE
EMAIL

QATAR

STREET 31, GATE 149

SALWA INDUSTRIAL AREA 40625

AL RAYYAN, QATAR 

+97455483139

UNITED ARAB EMIRATES

AL ABBAR ALUMINUM

 JABEL AIL INDUSTRIAL AREA 1

DUBAI, UNITED ARAB EMIRATES

+9714 8802552 EXT 541

PETERC@ALABBARGROUP.COM

 

UNITED ARAB EMIRATES

ARABIAN ALUMINUM PRODUCTS CO L.L.C.

P.O.BOX 22438

SHARJAH, UNITED ARAB EMIRATES 

+971504817433

M.HAMDAQA@ARAPCO.AE

 

UNITED ARAB EMIRATES

ELITE APPLICATOR

JEBEL ALI INDUSTRIAL AREA 1

PO BOX 80298

DUBAI, UNITED ARAB EMIRATES

+971506573934

BHATTACHARYA@JOSEPHGROUP.AE

 

UNITED ARAB EMIRATES

WHITE ALUMINUM EST ABU DHABI - UAE

INDUSTRIAL CITY OF ABU DHABI (ICAD)

#1, PO BOX 30665

ABU DHABI, UNITED ARAB EMIRATES

+971504428066

AHMED.HUSSAIN@WHITEALUMINIUM.AE

 

JORDAN

ALUMINUM TECHNOLOGY AUX IND (ALU-TEC) WILL DOHA

PO BOX 2230

AMMAN, JORDAN 

+962775499119

MIX@PETRALU.COM

 

EGYPT

ALICO EGYPT SUEZ CAIRO

105 OMR IBN EL-KHATTAB ST.

OSCAR BUILDING, HELIOPOLIS

CAIRO, EGYPT

POSTAL CODE: 11341

+2 02 2417 0044 

MAHER_LOUIS@ALICOEGYPT.COM

 

QATAR

SPECIALIZED ALUMINUM AND STEEL COMPANY WLL DOHA

NEW INDUSTRIAL AREA

SALWA ROAD

PO BOX 17750

DOHA, QATAR

+97433535075

SUNIL@SASCONET.COM

 

UNITED ARAB EMIRATES

ALUMINUM & LIGHT INDUSTRIES CO. (ALICO) LLC

SHARJAH INDUSTRIAL AREA

PO BOX 6011

SHARJAH UNITED ARAB EMIRATES

 

+971 6 5582444 (393)

LEVI.BAILEY@ALICOALUM.NET

 

UNITED ARAB EMIRATES

AL-NAWRAS METAL COATING

DUBAI INVESTMENTS PARK -1

PO BOX 282650

DUBAI, UNITED ARAB EMIRATES

04 885 0992

GM.ALNAWRAS@ANMC.AE