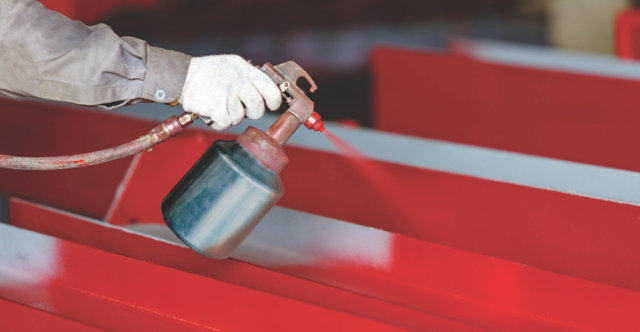 Equipment & Supplies
One complete solution for your finishing operation
In any business, it's important to gain an edge in the market.  To secure that edge, trusted advisers look out for your interests while you do what you do best. For product finishers, that trusted adviser is Sherwin-Williams.
Our expertise goes beyond coatings. Finishers benefit from our top brand spray equipment and finishing operation supplies - more than 10,000 offerings - to enhance and improve their finishing line with a complete solution. Feel confident knowing only one purchase order and one invoice is needed.
With 75 blending facilities across North America, we are at your service and ready to provide solutions for all of your coating needs.
Adhesives, Fillers & Putties

From cosmetic and structural repairs to superior bonding, Sherwin-Williams carries a selection of glues, adhesives, fillers, and putties that are specially formulated for industrial applications.

Caulk & Sealants

Sherwin-Williams offers a complete line of caulks, sealants, and caulking tools for bonding materials or sealing unwanted gaps in a variety of different substrates.

Cleaning & Surface Prep

At Sherwin-Williams we understand the importance of properly cleaning and preparing a surface before applying coatings. We provide the tools needed to clean and prepare for application, ensuring the best bond between the coating and the surface.

Equipment

With coatings at the forefront of our business, we understand the importance of the application equipment used during the finishing process. We offer a full range of coating systems to help you bring your perfect finish to life.

Protective Coatings

All of your coatings should withstand the test of time. Providing trusted products for undercoating and anti-slip coatings allows you to ensure that your finished product lasts. Sherwin-Williams carries protective undercoating and anti-slip coatings for a variety of uses.

Sandpaper & Abrasives

We distribute abrasives from several industry-leading manufacturers for metal finshers, powder coaters, and heavy equipment manufacturers.

Tape, Masking & Protective Coverings

Sherwin-Williams provides tape products such as masking, high heat, attachment, specialty and trim tapes for various applications throughout the finishing process. We also carry masking papers and plastics to aid in the industrial finishing applications.

Tools & Mixing Supplies

We offer a variety of mixing cups and other mixing supplies to accurately measure paint components for an ideal finish.