Sherwin-Williams Invests in Manufacturing Industry Learning Lab (MiLL)
Announces $300,000 commitment in new national training center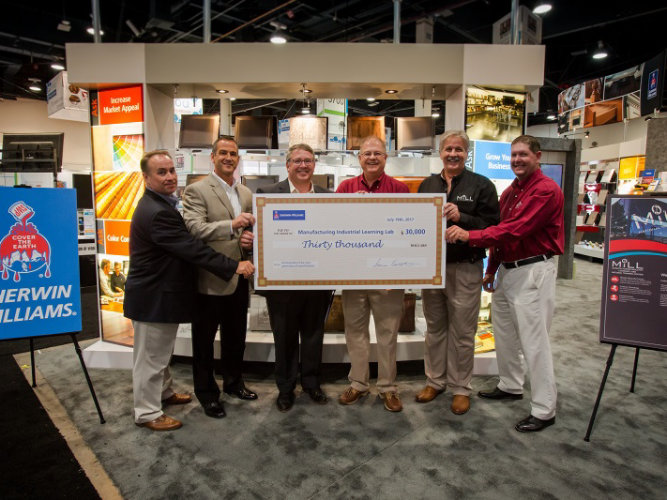 Sherwin-Williams, through its Industrial Wood Coatings Division, has formalized a $300,000 investment in the Manufacturing Industry Learning Lab (MiLL), a new national training center teaching the next generation of wood manufacturing tradesmen and women.

The investment was formalized during a ceremony in the Sherwin-Williams booth (#5815) at the AWFS® Fair on July 19, attended by Dennis Karnstein, President and General Manager, Sherwin-Williams Industrial Wood Coatings Division; Dean Mattson, Director, Peyton Woods Manufacturing, and founder of the MiLL; Tim Kistler, Superintendent, Peyton School District; and Scott Campbell, Superintendent, Widefield School District. The presentation included a $30,000 commitment for 2017 activities.

Opening in Colorado Springs, Colorado in August 2017, the 46,000-square-foot MiLL will offer classes to primary and post-secondary students in the Peyton and Widefield School Districts, industry personnel and members of the military. Its curriculum will center around hands-on education that uses machines and technologies the students will encounter on the job.

The MiLL provides a fantastic opportunity for students to master the skills that will launch their trade careers with unparalleled access to industry-leading educators and equipment. There is no greater way to support our mission to grow the success of the wood industry than to ensure our future leaders have the best tools and knowledge.

Editor Contact:
Jenna Simenic, Marketing Specialist - jenna.m.simenic@sherwin.com