Sherwin-Williams Hosts Under Secretary of the Navy During Cleveland Navy Week
The Honorable Thomas Modly Visits R&D Lab, Highlights Commitment to Protecting the Nation's Naval Fleet
CLEVELAND, OHIO (September 4, 2018) – The Sherwin-Williams Company hosted The Honorable Thomas Modly, Under Secretary of the Navy, on Thursday, August 30 at the company's Warrensville, Ohio, lab to demonstrate its innovative protective coatings solutions for combating corrosion in harsh marine environments. Members of Sherwin-Williams Protective & Marine Coatings and the company's research and development (R&D) leadership teams met with Naval officials to discuss the role protective coatings play in helping to ensure the readiness of the Navy's fleet around the globe. Modly's team participated in the visit as part of their involvement in Cleveland Navy Week, held August 27 to September 3.

From developing and delivering high-performance coatings systems to managing an integrated coatings supply chain that ensures on-time, local availability, we are committed to helping the U.S. Navy protect the ships that help defend our nation.
Under Secretary Modly, accompanied by his wife, Robyn, and U.S. Navy officers and staff, toured the Warrensville R&D facility and met with Sherwin-Williams employees to discuss current projects, product innovation, research and development initiatives, and the role the U.S. Navy serves in protecting the United States and its allies.

"We are gratified by The Honorable Under Secretary Modly's visit to our R&D lab in what underscores the strength of the long-standing relationship between the U.S. Navy and Sherwin-Williams," said Ron Shuck, Senior Vice President of R&D at Sherwin-Williams. "Our R&D team continuously strives to deliver optimally performing coating solutions to protect assets in the marine industry. Our long history of serving the U.S. Navy speaks to the focus and dedication of our team to ensure durability, aesthetics and sustainability in every solution we deliver."

From stem to stern, the Sherwin-Williams marine group offers a complete line of high-performance coatings that protect marine assets from corrosion and wear. These solutions include everything from fast-drying, general maintenance coatings for quick return to service to high-solids coatings designed for long-term asset protection. The company has worked closely with the Navy to develop various coatings solutions, including Fast Clad® ER. This ultra-high-solids, rapid cure, single-coat epoxy replaced the Navy's traditional three-step coating practice to enable faster maintenance and a 24-hour return to service for ballast and fuel storage tanks and other vessel assets.

Sherwin-Williams is a significant marine coatings supplier to the U.S. Navy, and delivers solutions to protect its assets from the corrosive ravages of the high seas. Sherwin-Williams is the primary paint supplier for the new USS Gerald R. Ford (CVN-78) aircraft carrier and for restorations being performed on the USS George Washington (CVN-73) aircraft carrier. The Navy is currently using the company's SeaVoyage® Copper Free antifoulant coating on the USS Nimitz (CVN-68) to deter fouling of its underwater hull. In addition, Sherwin-Williams has a five-year just-in-time (JIT) coatings contract with four public naval shipyards in Norfolk, Portsmouth, Puget Sound and Pearl Harbor. The JIT contract enables Sherwin-Williams to manage the shipyards' coatings inventory and deliver supplies as they are needed to not only ensure a steady delivery of coatings from local inventory but also reduce onsite storage challenges for the shipyards.

"From developing and delivering high-performance coatings systems to managing an integrated coatings supply chain that ensures on-time, local availability, we are committed to helping the U.S. Navy protect the ships that help defend our nation," said Joe Laehu, Vice President of Marketing with Sherwin-Williams Protective & Marine Coatings. "We have enjoyed a long-term relationship that has stood the test of time from protecting World War II's naval vessels and Corsair fighter fleet to today's ultramodern supercarriers."

A Cleveland-area native and son of immigrants, Under Secretary Modly is an avid Indians and Cavaliers fan. His visit coincided with Cleveland Navy Week, a weeklong series of engagements with key influencers and organizations representing the city, as well as the public, designed to bring the Navy closer to the people it protects. Throughout the week, sailors and officials participated in dozens of outreach events, including performances by the Navy Band, hosting Navy Night at Progressive Field, and volunteering with charitable organizations.
Sherwin-Williams Protective & Marine Coatings delivers smart asset protection and unmatched commercial, technical and specification service to customers in a wide array of markets, including Oil & Gas, Water & Wastewater, Bridge & Highway, Steel Fabrication, Flooring, Food & Beverage, Mining, Rail, Marine, Power Generation and Fire Protection. From alkyds to zincs, Sherwin-Williams offers a complete line of time-tested, high-performance coatings and systems to combat corrosion, supported by the largest group of NACE-certified professionals in the industry. Our world-class product portfolio is backed by premier technology and innovation platforms, and includes a growing line of Global Core products available at the same quality and performance standard anywhere in the world, and delivered from over 5,000 company-owned North America locations and across our rapidly growing international distribution footprint. The Protective & Marine Division is part of the Sherwin-Williams Performance Coatings Group, which supplies a broad range of highly-engineered solutions for construction, industrial, packaging and transportation markets in more than 120 countries in the world. Founded in 1866, The Sherwin-Williams Company is a global leader in the manufacture, development, distribution and sale of paints, coatings and related products to professional, industrial, commercial and retail customers.
Skip carousel content
Photo Gallery
Sherwin-Williams Hosts The Honorable Thomas Modly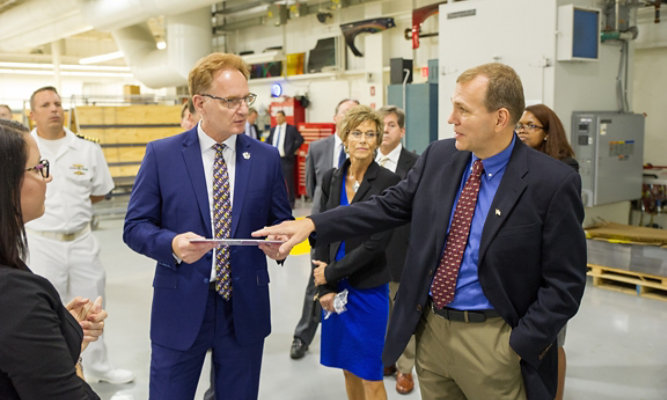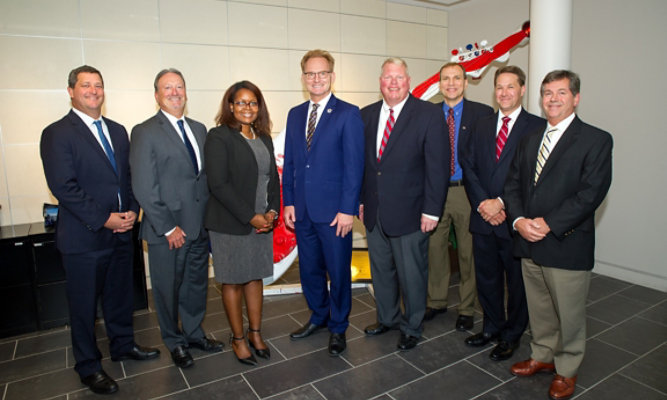 Explore our industry solutions and technology to help protect your assets.
LEARN MORE
Find out more about our innovative coatings for a variety of industries.
FIND A PRODUCT