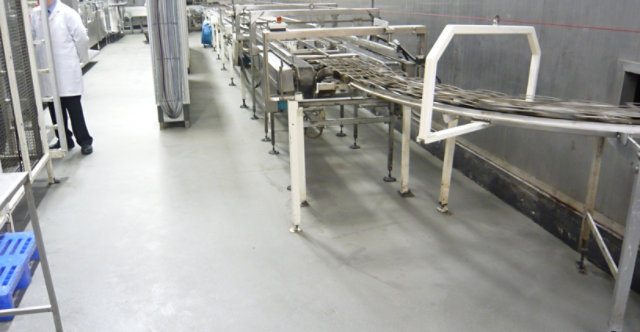 Low Odor Flooring and Coatings
Many high performance resins and industrial concrete floor systems generate odor during the chemical curing process—even solvent-free, zero-VOC, LEED-contributing formulas. This is simply the nature of many of their chemical components and while proper airflow management during installation is typically a sufficient solution, that isn't always an option. For those times, Sherwin-Williams offers special low odor flooring and coatings.
Learn More or Get a Free Flooring Evaluation
Types of Low Odor Concrete Floor Systems
The majority of our industrial concrete floor systems can be installed using low odor resin flooring technology. The multiple resin chemistries that make up our product line allow us to offer this uncommon benefit, giving you more options and making the installation process easier than ever. With our wide array of low odor flooring solutions, you get the look you want, the durability you need, and the convenient installation that makes Sherwin-Williams a top choice in the industry.
Our low odor flooring & coatings are available in a wide variety of systems and styles, including:
Colored quartz blend floors
Colored chip blend floors
Monolithic solid colored, slip-resistant floors
Concrete flooring with custom colors, patterns, blends and company logos
Flooring that meets USDA requirements
Moisture vapor mitigating low odor flooring
Why Choose Low Odor Flooring and Coatings
The professional installation of any industrial concrete floor systems should include some level of airflow management that prevents odors from disturbing facility occupants. In some cases, however, that simply isn't possible—a room may have poor ventilation or be lacking in windows, access or provision for rerouting airflow during installation. Without a low odor flooring solution, you might be forced to schedule costly, inefficient downtime.
The low odor flooring and coatings from Sherwin-Williams, however, allow to continue business as usual, with no shut-downs due to odor management. Whether you prefer commercial flooring with a utilitarian finish or a highly decorative custom design, we can utilize a convenient, low odor formula that suits your aesthetic needs.
Skip carousel content
Discover More
Industry Expertise and Innovation
See how we help customers find customized solutions for their project and application challenges.
Find out more about our innovative floor systems for a variety of industries.
FIND A SYSTEM