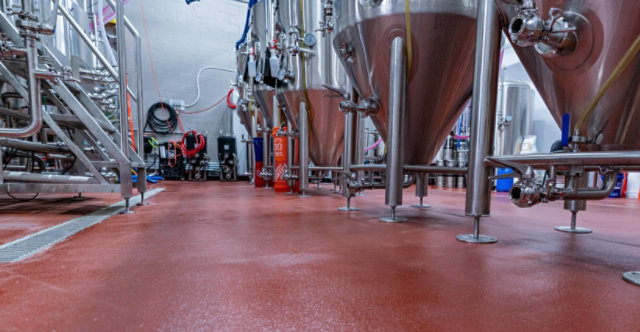 Puncture Resistant Flooring and Coatings
Protecting your floors isn't just a matter of aesthetics—cuts and punctures can lead to catastrophic deterioration over time, forcing expensive and time-consuming repairs. We've seen the serious damage that starts with something as minor as a single puncture—and we know how to give your floors the protection they need against that kind of damage.
Learn More or Get a Free Flooring Evaluation
Maintain a Hygienic Facility
In addition to the cosmetic damage that results from punctures, the longevity and hygiene of your industrial concrete floors could be compromised without the proper protection.
Microcracks and cuts in the surface of a floor are an ideal breeding ground for mold, germs and bacteria, and become ground zero for damage that increases over time. They collect water, cleaning solutions and other chemicals, which infiltrate the surface of your flooring and cause exponentially more harm, even to the point of delaminating the floor covering itself.
Our puncture resistant epoxy flooring and other resinous coatings incorporate quality materials that continue to provide easy-to-clean, hygienic finishes, even under the unforgiving points of spiked athletic shoes and stiletto heels. These industrial-strength surfaces withstand the force of dropped instruments and tools, as well.
In addition to their extreme puncture resistance, the floorings and coatings in this line also offer impressive abrasion and chemical resistance. They even meet USDA requirements.
Retaining Your Floor's Value
New flooring can be just as susceptible to punctures as old flooring, so unless you specifically choose puncture resistant epoxy flooring & coatings, you could be at risk. Some facilities are particularly vulnerable to puncture damage, which can be caused by anything from spiked athletic shoes and high heels to dropped tools and pointed instruments. Our puncture resistant flooring meets the challenges frequently faced by these and other high-risk environments.
A few of the settings that most frequently choose puncture resistant flooring and coatings include:
Hospitals, clinics and laboratories
Restaurants, hospitality and public venues
Schools and athletic clubs
Grocery and retail stores
Food and beverage processing plants
Manufacturing operations
Vehicle and aviation maintenance facilities
Skip carousel content
Discover More
Industry Expertise and Innovation
See how we help customers find customized solutions for their project and application challenges.
Find out more about our innovative floor systems for a variety of industries.
FIND A SYSTEM