Grounded in Style: Best Jets' Hangar Floor Gets Gorgeous Glow
Customized Flooring System Conceals Substrate Imperfections for Beautiful Finish
Adding a body coat to Sherwin-Williams traditional hangar system produced a stunning finish for this and another new hangar recently built by Best Jets International at Holman Field in St. Paul, Minnesota. 
High Traffic Flooring (HTF) Solutions and Sherwin-Williams Protective & Marine Coatings – along with general contractor R.J. Ryan Construction, Inc. – created shiny, elegant floors for two new hangars built by Best Jets International. Rainy conditions hampered the project's start, but the team overcame those setbacks and stayed on schedule thanks to HTF Solutions' commitment and the close proximity of the local Sherwin-Williams store, which ensured timely delivery of supplies to the job site. The final flooring system truly shines for Best Jets.
Situation 
When Best Jets relocated to Holman Field in St. Paul, Minnesota, and built two new hangars, the private aircraft charter company wanted the floors to deliver both function and fashion. They had to resist wear and chemical spills, as well as deliver aesthetic appeal – with a shiny finish that would capture the eye and brighten the entirety of the 20,000-square-foot hangars.
"By choosing Sherwin-Williams, we knew everything would go smoothly with delivery and application of the product and, if there were issues, they would be behind us," said Eric Tranberg, a co-owner of HTF Solutions.
Execution
To ensure the highest quality finish for the hangar floors, Sherwin-Williams modified its standard hangar system to include a heavy body coat that would help to fill in divots and imperfections in the concrete substrate. HTF Solutions first shot-blasted the concrete substrate to achieve a Concrete Surface Profile (CSP) 3 and then applied three high-performance Sherwin-Williams floor coatings in four coats.
To seal the slab and prevent outgassing, the installation team used Resuprime™ 3579 (formerly GP3579) Standard Primer/Binder, a high-solids, low-viscosity binder resin known for effectively penetrating concrete substrates due to its low viscosity. They applied the product at 6 to 8 mils, and also added a special thickening agent in some areas to help smooth some poorly finished concrete edges.
The crew next poured the heavy body coat of Resuflor™ 3746 (formerly GP746) High-Performance Epoxy, a two-component, recoatable epoxy and binder resin designed to handle the high traffic of an aircraft hangar. HTF Solutions applied the epoxy heavily at 20 mils to help level imperfections in the prepared concrete substrate.
The team then applied a topcoat of Resutile™ 4638 (formerly GP4638) HS Polyurethane Floor Enamel. This product provides a durable, high-gloss finish that resists wear, UV degradation and aggressive chemicals. Best Jets' desire for an elegant sheen prompted the team to apply two layers of the topcoat, each at 3 mils and cross-rolled to ensure complete coverage. Each layer helped to blend the entire floor together by leveling out any small divots remaining from the concrete shot-blasting process.
"After the first topcoat, it looked good, but still had some minor imperfections. The second coat made it look stunning," said Tranberg. "Because we were applying each coat at low mils, the second coat really helped to bring it all together. We will use two topcoats for other hangars, as it truly enhanced aesthetics and made the floor a beautiful surface."
Inclement weather conditions forced the project team to reschedule several times before pouring the floor. In addition, wind-driven rain snuck under a garage door seal inside one hangar during the installation, requiring a partial recompletion of a small area of that floor. However, the team overcame these challenges to deliver floors that exceeded Best Jets' expectations.
Outcome 
Following a year of service, the durable flooring systems have held up against the heavy traffic of planes and pushback tractors, as well as resisting stains from hydraulic fluid and oil spills, as well as hot tire pickup. During the first few months of the structures being in use, more than 50 planes were moved in and out of a single hangar. Michael Victor, Director of Maintenance at Best Jets, expected at least some show of wear on the new white floors.
"I thought we would see paint chipping or peeling, or at least some stains," said Victor. "But we haven't seen any of that so far. We're not noticing any hot tire pickup either."
For Best Jets, the new hangar floors offer a sleek, durable look fitting of its world-class charter fleet.
Skip carousel content
Photo Gallery
Hangar Floors for Best Jets International – St. Paul, Minnesota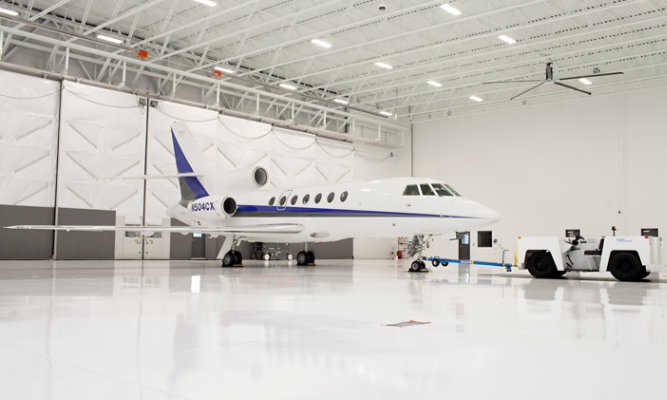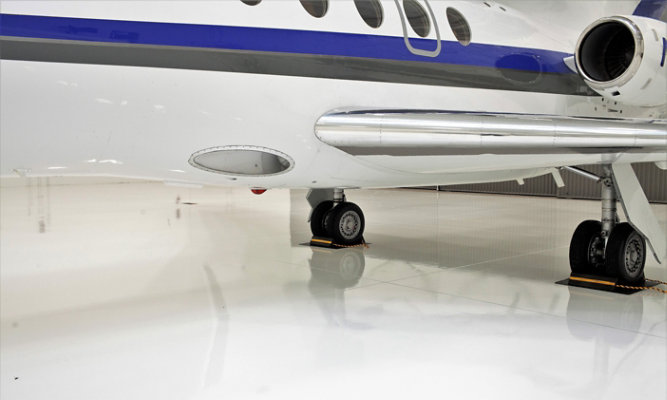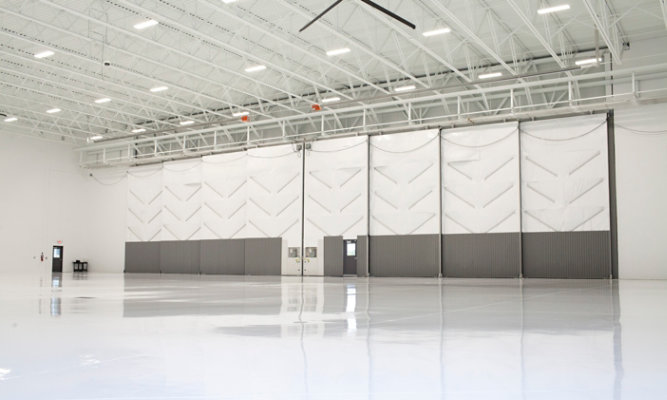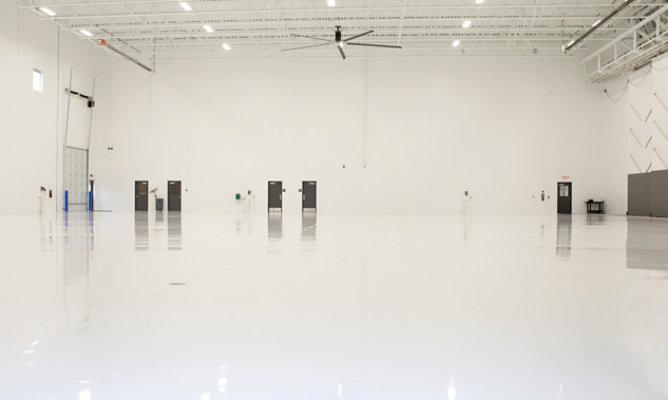 Explore system documentation, webinars, and answers to application challenges.
LEARN MORE
Find out more about our innovative floor systems for a variety of industries.
FIND A SYSTEM