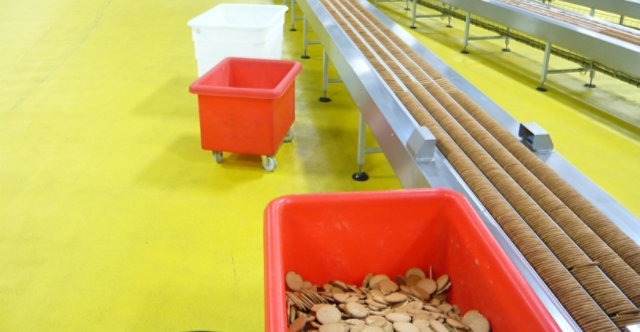 Quick Cure Epoxy Flooring and Coatings
When your operational constraints limit the downtime available for industrial concrete flooring installation and curing, Sherwin-Williams is ready. Our selection of quick cure flooring and coatings are some of the fastest available. Depending upon the system, your newly coated floor can be ready for foot traffic in as little as one hour after application. Make extended downtimes a thing of the past with our wide variety of durable, beautiful and fast-curing industrial concrete floor systems.
Learn More or Get a Free Flooring Evaluation
Durable Fast Cure Epoxy Coatings and Other Resin Flooring
Our quick cure flooring and coatings offer more than simply faster installation—they furnish the outstanding durability and performance you expect from Sherwin-Williams. With customizable slip-resistance to help avoid slip-fall incidents and the strength to stand up to abrasion, corrosive chemicals, impact and more, these quick-curing formulas offer all the high performance you've come to know with our line of industrial concrete floor systems.
Quick Curing Epoxy Flooring with Beautiful Aesthetics
Quick cure flooring should look as great as it performs, and with Sherwin-Williams, you get the whole package. Our quick-curing resin systems include a wide array of options, allowing you to select the right combination of colorful, contemporary and stylish aesthetics for your facility. But don't let their good looks fool you—Sherwin-Williams holds up under very heavy use. These floors are strong enough for the industrial sector, yet provide the design flexibility and style preferred in commercial and institutional environments like retail, healthcare, food and beverage, and science facilities. Why compromise when you can have it all?
Fast Setting, Quick Curing Epoxy and Other Coatings to Suit Your Schedule
Depending on the size and condition of your facility and the system you choose, local Sherwin-Williams installers can complete the application of your floor in as little as one day. Our network of local specialty contractors is ready to accommodate your operational schedule and organizational requirements. Simply call us or chat with us online—we'll connect you with a local Sherwin-Williams professional who can help guide you in the process of getting the optimal fast-curing flooring solution your team and facility requires.
Skip carousel content
Discover More
Industry Expertise and Innovation
See how we help customers find customized solutions for their project and application challenges.
Find out more about our innovative floor systems for a variety of industries.
FIND A SYSTEM