Sherwin-Williams Automotive Finishes Announces 2018 SEMA Show Celebrity Booth Appearances
Booth #11339 to host Count's Kustoms, Martin Bros. Customs and Nichols Paint & Fab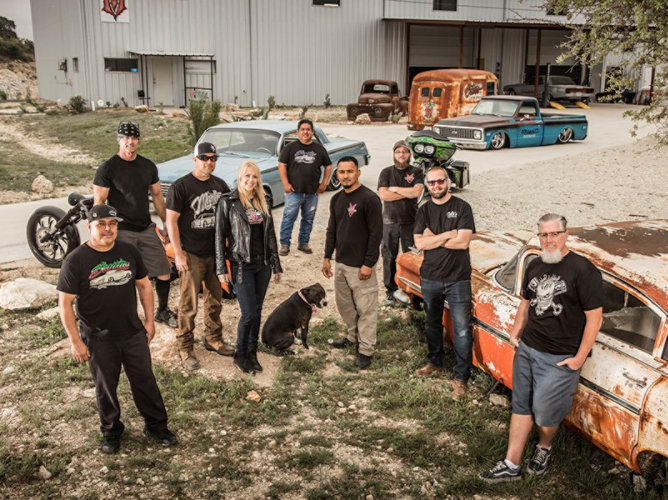 (CLEVELAND, OHIO) October 5, 2018 – Sherwin-Williams Automotive Finishes will host some of the industry's most trusted and popular automotive refinish professionals and TV personalities at SEMA this year to meet fans and sign autographs.
Fan-favorites Ryan Evans, Lonny Speer and Mike Henry of Count's Kustoms, a Las Vegas hot rod and chopper customization and restoration shop, will appear at the Sherwin-Williams booth (#11339 North Hall) on Tuesday, October 30 from 3:30 p.m. to 5 p.m PDT. Count's Kustoms has depended on Matrix Automotive Finishes® products for everything from color to clear for more than 15 years, transforming classic vehicles into one-of-a-kind works of art. 

The stars of Iron Resurrection, Joe and Amanda Martin, painter Javier "Shorty" Ponce and members of their team at Martin Bros. Customs will visit the Sherwin-Williams booth on Wednesday, October 31 from 1 p.m. to 2 p.m. PDT. Through creative, unique builds like those showcased on Iron Resurrection, the Martin Bros. team has developed a strong following; the team uses House of Kolor products to bring their builds to life on the hit show.

Matrix 2018 Maverick of Color and star of Wrench'd Justin Nichols will visit the Sherwin-Williams booth on Thursday, November 1 from 1 p.m. to 3 p.m. Nichols is the owner of Nichols Paint & Fab, where he and his team create elaborate custom builds utilizing Matrix. Nichols will unveil a custom-built motorcycle at the Sherwin-Williams booth.

"We're thrilled to host a truly impressive lineup of guests this year, each of whom embody the artistry and craftsmanship House of Kolor, Matrix and all the Sherwin-Williams brands represent," said Rob Mowson, Vice President Global Marketing, Sherwin-Williams Automotive Finishes. 

###
Sherwin-Williams Automotive Finishes manufactures and distributes a complete line of advanced technology paint and coating systems for automotive, aerospace and fleet refinishing industries. The Automotive Finishes division, includes Sherwin-Williams Automotive Finishes® and Valspar® Automotive brands—Valspar® Refinish, DeBeer Refinish®, Prospray® Finishes, Matrix Automotive Finishes®, U.S. Chemical & Plastics® and House of Kolor®. Sherwin-Williams Automotive Finishes is a part of the Sherwin-Williams Performance Coatings Group, which supplies a broad range of highly-engineered solutions in more than 120 countries around the world. Founded in 1866, The Sherwin-Williams Company is a global leader in the manufacture, development, distribution, and sale of paints, coatings and related products to professional, industrial, commercial, and retail customers. For more information about Sherwin-Williams, visit www.sherwin-williams.com.