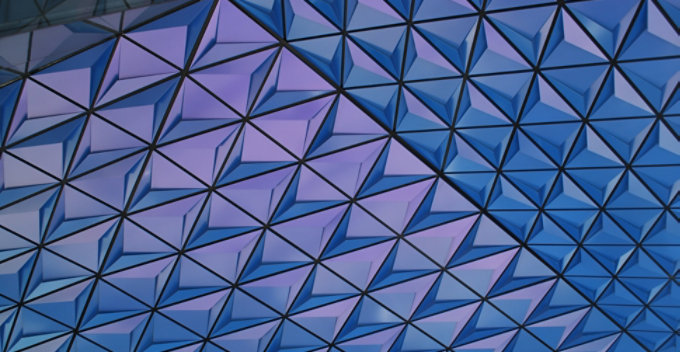 Architectural Metal Coatings
Fluropon 70% PVDF Coating Systems to Meet Any Project Need or Specification
Our comprehensive range of high-performance coil and extrusion coatings can be used on a variety of metal building products.
Choose from our wide range of color options and order free metal color samples.
Browse Color Library
Complete Portfolio of Fluropon 70% PVDF Coatings

The time-tested reliability of Fluropon 70% PVDF coating systems paired with Sherwin-Williams innovation means the only limit is what you can dream up. You bring the vision and we'll create the reality. Fluropon is factory-applied to metal building products such as:
COIL APPLICATIONS
Metal Wall Panel Systems
Metal Roofing
Soffits
Fascia
EXTRUSION APPLICATIONS
Curtain Wall
Aluminum Window and Door Frames
Post-Painted Plate Panels/Extruded Aluminum Panels

Skylights
Sunshades

Obsessed with Color
Color Innovation
Sherwin-Williams Coil Coatings leads the industry when it comes to color innovation for coil and extrusion coatings. Our advanced color-matching technology allows architects to match nearly any color imaginable. We are continually creating new color spaces that have never existed before for coil and extrusion coatings. Whether you're looking for a solid, mica/metallic, special effect or print we can formulate the perfect color for any building project need.
Earn AIA CEU Credits by taking one of our accredited courses.

Learn More

Download our Coil and Extrusion coatings specification "05 05 13 Shop-Applied Coatings for Metal"

Download

Learn more and download our Fluropon Material Library for Autodesk Revit

Learn More
TIME-TESTED RELIABILITY 
Containing 70% polyvinylidene fluoride resin (PVDF), our Fluropon coatings meet the industry's highest standards, including AAMA 2605. Data shows that they exceed performance needs while maintaining color integrity longer than competitors.
INNOVATIVE PERFORMANCE
Even under the most extreme weather circumstances, Fluropon metal coatings retain color and gloss. You'll get lasting protection against ultraviolet rays, stains, chalking, fading and chemical degradation so your vision stays as brilliant as day one.
COLOR PERFECTION
Our catalogue is 50,000 hues and counting. With our advanced color-matching technology, we can create any color you dream up. Our dedicated team will work with you every step of the way to ensure your color is exactly how you imagined it.
CONSTANT RESEARCH
We're constantly researching and forecasting trends to bring you the latest innovations. Using over 100,000 weather-testing panels, we've analyzed our coatings for over 50 years to improve durability and performance.
Partnering with Sherwin-Williams [Valspar], we work obsessively with color and visual texture to create solutions that adopt craft methods and color to modern requirements or that introduced new technology while retaining the look, scale, and feel in either contemporary or traditional design — human scale...At HKS Inc, we place tremendous value on the solid and lasting relationships we have with our trusted clients and industry partners.  Having Valspar on our next team will allow us to further leverage relationships, best practices, knowledge, and expertise to deliver award winning architecture.
Skip carousel content
Architectural Projects
Get Inspired
Sherwin-Williams has collaborated with architects and building product manufacturers around the globe to help bring monumental architecture to life in vibrant color that withstands the test of time.
View all of our projects