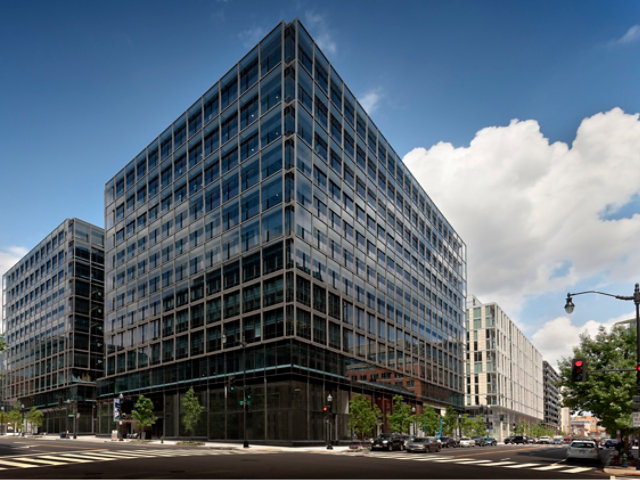 City Center DC Office Towers
Feature Sherwin-Williams Fluropon High-Performance PVDF Finishes
CityCenterDC offers a transit- and pedestrian-oriented neighborhood experience in downtown Washington, D.C. that blends 2.5 million square feet of shops, restaurants, apartments, condominiums, offices, a hotel and public spaces. One of the largest urban infill projects ever undertaken in the city, this 10-acre, mixed-use, LEED®-certified development occupies 3.5 city blocks and eight buildings. For the two office towers, Sherwin-Williams Fluropon® coating systems were selected to meet the project's aesthetic, performance and sustainability goals.
As the owner and master developer, Hines was selected by the District of Columbia in 2003 to purposefully create the massive $1 billion campus on the site of the former Washington Convention Center. The project is situated in the heart of downtown's office core, along a ceremonial stretch of New York Avenue between the new D.C. Convention Center and the U.S. Treasury and White House.

Foster + Partners, an international studio for architecture, planning and design based in London, served as the master-plan architect for the overall project and the design architect for the office and for-sale-housing components. Shalom Baranes Associates, P.C., a Washington-based architectural firm, served as the executive architect for all buildings, associate master-plan architect and the design architect for the two rental apartment buildings.
Each 11-story office tower contains 280,000 square feet with an unobstructed 360-degree view from the inside of every floor with glass pedestrian bridges linking the two office towers. High-end retail shops and restaurants are located around most of the ground level of both office towers with large aluminum and clear glass storefronts.
Defining the offices' sleek metallic and glass exterior, TSI/Exterior Wall Systems, Inc. installed the aluminum-framed curtainwall and storefront plus the aluminum panels and sun shades manufactured by Baker Metal Products. Texas Finishing Company finished the majority of these architectural building products in a Bright Pewter color using Sherwin-Williams 70 percent PVDF resin-based Fluropon Classic II coatings. A two-coat Fluropon finish in Black Buckle was selected for the ground floor storefront systems.
"We selected Sherwin-Williams [Valspar] for this project due to superior quality and customer service we receive during all phases," said Ken Martin, Texas Finishing Company's general manager. "From bid time and paint selection as well as product application to completion, Sherwin-Williams [Valspar] has always been there to assist in providing a quality product and service to our customers."
Sherwin-Williams Fluropon coatings meet or exceed the American Architectural Manufacturers Association's stringent standard, AAMA 2605 high-performance exterior specification. Fluropon demonstrates reliable performance including resistance to harmful ultraviolet rays, chemical degradation, abrasions and humidity. These attributes and proven durability may contribute to green building criteria, such as the project's LEED certification.
Intended as a model for responsible, environmentally sensitive multi-use developments, CityCenterDC's entire development was accepted into the U.S. Green Building Council's pilot program for LEED® Neighborhood Development (LEED-ND) and received Gold certification — the first in the U.S. to achieve this. The project's office buildings also earned pre-certification at the Gold level for LEED Core and Shell, and the residential buildings have received Silver certification for LEED New Construction.
Project Credits:
CityCenterDC office towers; One and Two CityCenter, 800 Tenth Street, N.W., Washington, D.C. 20001
Owner and master developer: Hines; Washington, D.C.
Master-plan architect; office tower and for-sale-housing design architect: Foster + Partners; London
Associate master-plan architect; executive architect for all buildings; residential rental design architect: Shalom Baranes Associates Architects (SBA); Washington, D.C.
General contractor – joint venture: Clark Construction Group, LLC; Bethesda, Maryland and The Smoot Construction Company; Washington, D.C.
Curtainwall, storefront, sun shades and panels – installer: TSI/Exterior Wall Systems, Inc.; Upper Marlboro, Maryland
Curtainwall, storefront, sun shades and panels – manufacturer: Baker Metal Products Inc.; Dallas
Architectural coatings applicator: Texas Finishing Company; Carrollton, Texas
Coatings provider: Sherwin-Williams Coil Coating
Photos by: Aker Imaging
"The success of our office leasing campaign validates our vision for CityCenterDC. Our office tenants will benefit from and contribute to the creation of a vibrant blend of office, shopping, dining, residential and cultural spaces and experiences."
Hines' founder and chairman Gerald Hines commented, "It is both a great privilege and a great opportunity to be able to develop a parcel this large starting with a blank slate. The master plan for CityCenterDC is designed to welcome pedestrians, to bring neighborhoods together and to be sustainable for generations."
Carrying through on this plan, the project's general contractor is comprised of a joint venture between Clark Construction Group and Smoot Construction. Built in two phases beginning in April 2011, Phase I offers 674 residential units, 515,000 square feet of office space and 295,000 square feet of retail space. Construction is anticipated to begin on Phase II in the third quarter of 2015 on the Conrad Washington, D.C., a 355-room luxury hotel with more than 32,000 square feet of additional retail space.

Throughout its development, CityCenterDC's accomplishments have been recognized. These honors include: the Associated Builders and Contractors of Metro Washington's Excellence in Construction Award for Mega Project, the Associated General Contractors of D.C.'s Washington Contractor Award for Joint Venture New Construction Project, Engineering News Record Mid-Atlantic's Best Project for office/retail/mixed-use development, the NAIOP Commercial Real Estate Association of Greater Washington's Award of Excellence for Best Mixed Use Project, ULI – District Trends Awards "Best Mixed Use Development" and the Washington Building Congress Craftsmanship Awards.

Also offering praise is CityCenterDC's office towers' anchor tenant and international law firm Covington & Burling LLP, leasing approximately 420,000 square feet. "CityCenterDC offers a modern, efficient space from which our lawyers and staff can deliver the highest possible level of service to our clients around the globe," said Timothy Hester, chair of Covington's management committee.

"It's symbolic that a firm with nearly a hundred-year-history in Washington has chosen to relocate to the city's most cutting-edge project," stated William B. Alsup III, senior managing director of Hines. "Covington's relocation to CityCenterDC embodies one of the most important design themes of the project's master plan — integrating the new with the old, 'reweaving' the fabric of the surrounding neighborhood with the state-of-the-art amenities and components of CityCenterDC."

Howard J. Riker, managing director of Hines, added, "The success of our office leasing campaign validates our vision for CityCenterDC. Our office tenants will benefit from and contribute to the creation of a vibrant blend of office, shopping, dining, residential and cultural spaces and experiences."
Editor's Note: This article was originally published on February 5, 2015. Valspar was acquired by The Sherwin-Williams Company on June 1, 2017.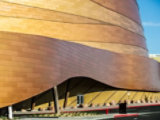 Fluropon is Sherwin-Williams flagship 70% PVDF coating system for architectural metal building products. Its superior durability and color retention keeps your building facade looking new for decades to come. Available in over 50,000 colors, Fluropon meets the industry's most rigorous standards including AAMA 2605.