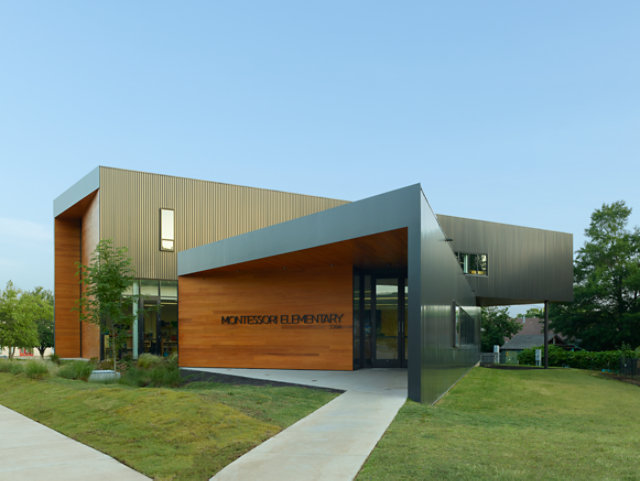 Fayetteville Montessori
A Bronze and Cypress Montessori School "Wedges" Onto a Challenging Lot
"Freedom within limits" is one of the characteristics of a Montessori education, and the design of Fayetteville Montessori Elementary School in northwest Arkansas is a perfect example. Situated near a creek, the triangular structure cuts a modern and exciting figure that few would guess is the result of extreme constraints.
Those constraints are due to the creek itself, which, while it gives students idyllic views and hands-on learning opportunities, was initially a problem for the team at Marlon Blackwell Architects. The creek's floodplain extends over much of the land parcel, so when Blackwell and his team were first drawing up plans, they quickly saw they had just a small triangle of usable building space. But once the architects embraced this form, they were able to achieve an innovative solution that stayed in boundaries while delivering everything the school needed.
Skip carousel content
Project Image Gallery
Fayetteville Montessori
Check out these great project photos.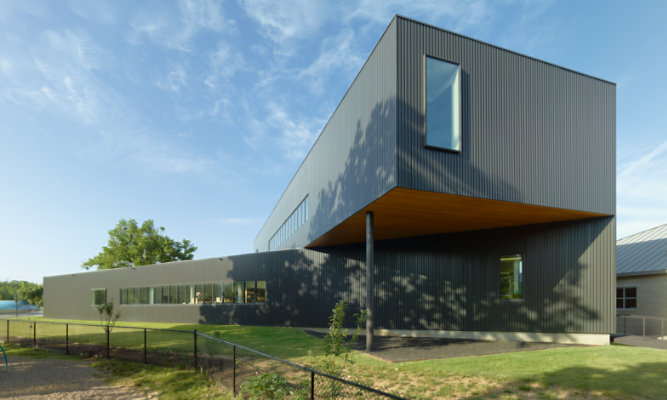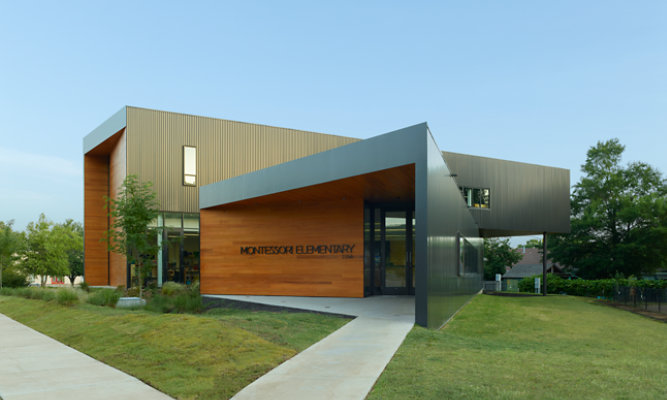 The two-story structure consists of a triangular ground floor, with a rectangular box making up the second story, extending over the floodplain and resting on a column. The nearly 8,000-square-foot building is clad partially in cypress and partially in corrugated wall panels from Metal Sales. The panels, coated with Sherwin-Williams Fluropon in Dark Bronze, complement the cypress and help create a sophisticated appearance that is unusual for an elementary school.
Fluropon coatings are composed of a premium fluoropolymer system containing 70% PVDF (Polyvinylidene Fluoride) resins. Tremendous UV protection and high film integrity combine with excellent adhesion and flexibility properties allow Fluropon to provide superior post forming performance. In the years to come, Fluropon's resistance to weathering, aging and pollution will help keep that great appearance, even as the children who progress through the school grow well into adulthood.
Fayetteville Montessori, 2358 Green Acres, Fayetteville, AR 72703
http://fayettevillemontessorischool.org/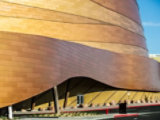 Fluropon is Sherwin-Williams flagship 70% PVDF coating system for architectural metal building products. Its superior durability and color retention keeps your building facade looking new for decades to come. Available in over 50,000 colors, Fluropon meets the industry's most rigorous standards including AAMA 2605.
Skip carousel content
Architectural Projects
Get Inspired
Sherwin-Williams has collaborated with architects and building product manufacturers around the globe to help bring monumental architecture to life in vibrant color that withstands the test of time.
View all of our projects