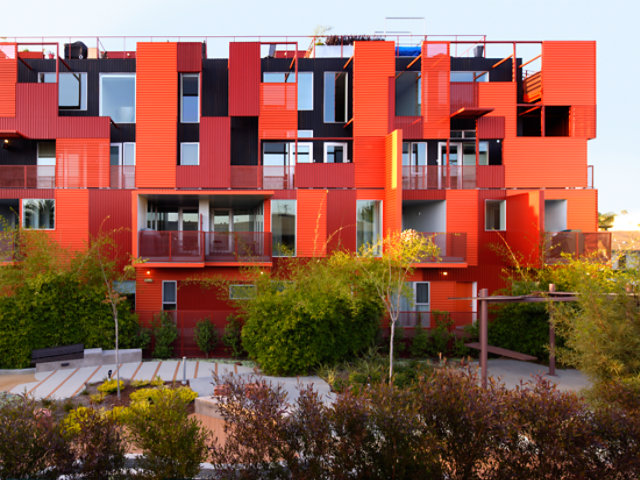 Formosa 1140 Building
A Bright Presence in West Hollywood
In his design for Formosa 1140, a West Hollywood multifamily housing unit, architect Lorcan O'Herlihy brought together two colors — green and red. The green comes in the form of a unique "pocket park" on the building's lot that adds valuable public space to the neighborhood, while the building's bright red exterior serves to highlight its contemporary, vibrant design.
Completed in 2008, the 16,000-square-foot building cuts a striking figure in its neighborhood with its red corrugated metal exterior. Sherwin-Williams has worked with pigment suppliers for more than 50 years to offer nearly limitless color options for its PVDF coatings. Therefore, it was a natural fit for its flagship Fluropon coating to be the product of choice for Formosa. Using Sherwin-Williams 70% PVDF Fluropon coating, a custom red color — Coronado Red — was inspired by the iconic nearby Formosa Café, and not only highlighted the texture and pattern of the exterior, but also contrasted with the green shades of the park. 
Skip carousel content
Project Image Gallery
Formosa 1140
Check out these great project photos.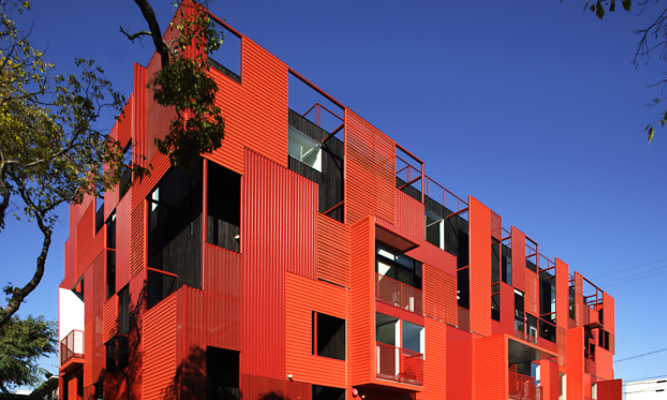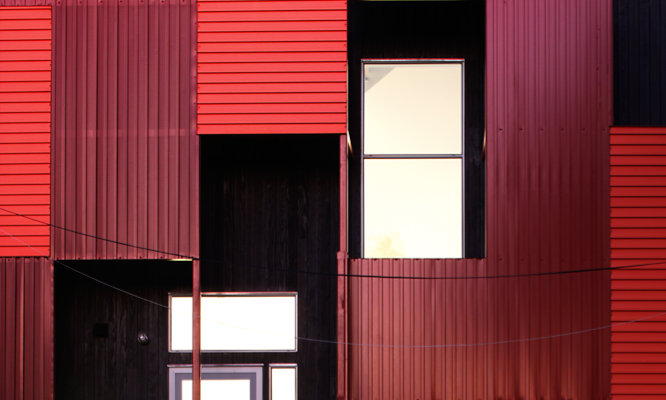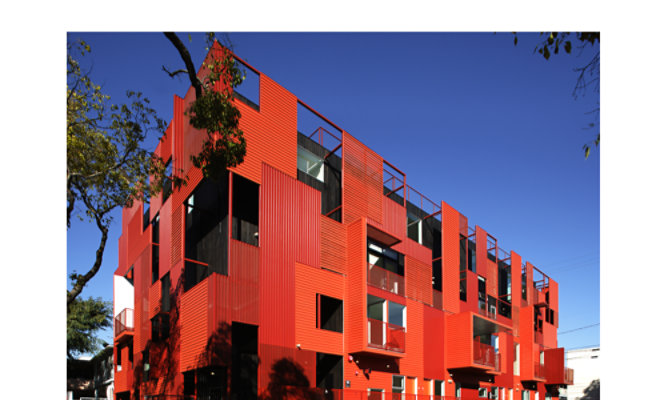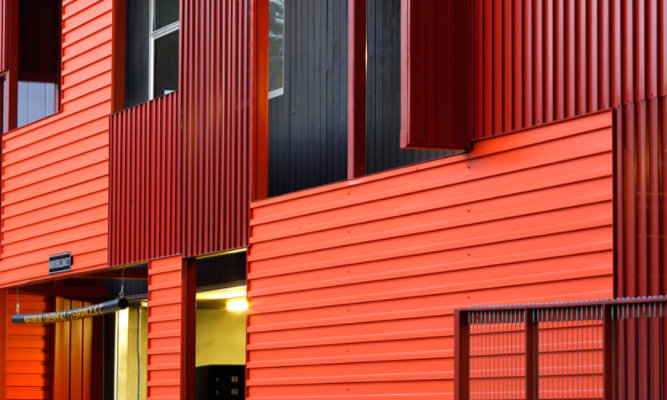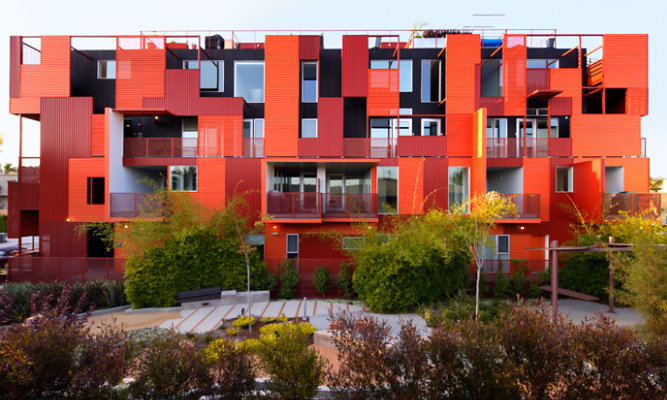 Tested under extreme conditions, Sherwin-Williams PVDF resin-based coatings are proven to resist humidity, fading, chalking, abrasions and chemicals, while retaining the intended color, gloss and appearance. Additionally, the Fluropon coating will offer the residential building long-lasting durability and UV protection — that will enable the unique color scheme to endure.
The metal façade is made of 12,900 square feet of perforated T16-E panels from Metal Sales Manufacturing Corporation, which conceal and shade outdoor walkways on the three-story building, giving residents a sense of privacy in spite of the structure's openness to the park and street.
While many condos and townhomes are constructed around the perimeter of a lot to create private green space in the middle of the complex, O'Herlihy went a different route with Formosa 1140. His design pushes the building to the side of the lot to create a public-private park on the property. This plan, O'Herlihy's firm says, "simultaneously creates density and green space and models a replicable prototype for incremental community-driven city development."
The idea has served as inspiration for similar pocket parks since the building's construction, and the accolades for the project are not only limited to the green space. The metal wall design received an Honorable Mention in the 2011 Metalmag Architectural Awards, with the judges noting the "stimulating yet harmonious" effect created by the "vertical and horizontal corrugations, solidity against perforated translucency, screen-type installation, and colors selected to complement the greens of the adjacent park."
O'Herlihy's firm is justifiably proud, stating on its website, "Formosa 1140's award-winning red form grounds its park, brightens its neutral surroundings, and has helped catalyze the revitalization of West Hollywood."
Editor's Note: This article was originally published on October 28, 2014. Valspar was acquired by The Sherwin-Williams Company on June 1, 2017.
"Formosa 1140's award-winning red form grounds its park, brightens its neutral surroundings, and has helped catalyze the revitalization of West Hollywood."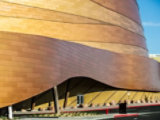 Fluropon is Sherwin-Williams flagship 70% PVDF coating system for architectural metal building products. Its superior durability and color retention keeps your building facade looking new for decades to come. Available in over 50,000 colors, Fluropon meets the industry's most rigorous standards including AAMA 2605.
Skip carousel content
Architectural Projects
Get Inspired
Sherwin-Williams has collaborated with architects and building product manufacturers around the globe to help bring monumental architecture to life in vibrant color that withstands the test of time.
View all of our projects