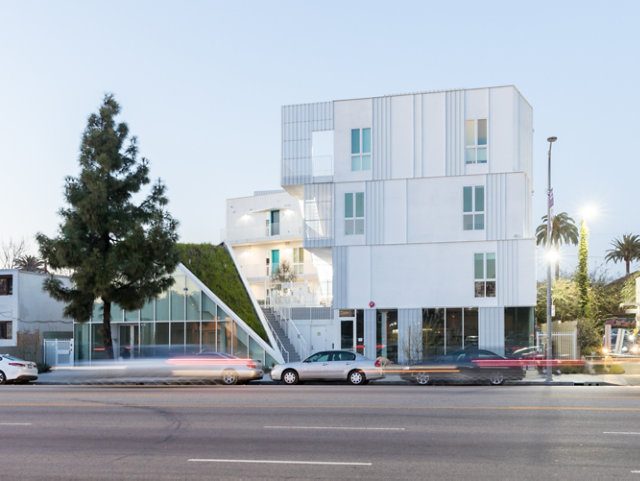 King 1101 Apartments
LEED Gold, affordable housing units at King 1101 Apartments rely on durable Fluropon coatings for cool roof and wall cladding
Dressed in Linen White Fluropon® by Sherwin-Williams Coil Coatings, King 1101 Apartments' affordable housing units in Los Angeles present a contemporary appearance with a bright outlook, while supporting the residential project's LEED® Gold certification goals for energy efficiency and sustainability. Lorcan O'Herlihy Architects, (LOHA) selected the warm, welcoming color and specified Fluropon's durable 70% PVDF resin-based coating for both the cool roof and the façade wall cladding systems.
Presenting 100% Affordable Apartments
Without compromising beauty, functionality, sustainability or dignity, King 1101 Apartments offer affordable housing that people are proud to call home.
Clifford Beers Housing developed the vacant lot at 1101 Martin Luther King Jr. Blvd. as an infill project with supportive multi-family housing to shelter residents with low incomes who previously experienced housing insecurity and homelessness. An estimated 580,000 people in the U.S., and 56,000 in Los Angeles, are living in homeless shelters, in vehicles or on the street. One in five of these people are children.
LOHA designed the four-story, 26-unit, 34,000-square-foot building to prioritize residents' social equity, health and well-being. Floorplan variations were included that were respectful to households with large families, to residents with special needs, as well as to tenants who are military veterans.
G.B. Construction built the L-shaped structure and its staggered elevation heights to maximize the architectural vision and apartment count. Asymmetrical exterior corridors and stairwells encourage healthy living and social interactions. Fostering these connections, the building hosts a community room and kitchen, with street-level retail space for local businesses and organizations.
Benefiting from Green and Cool Roofs
Adding greenspace to the neighborhood and a central gathering place for the residents, an elevated courtyard called the "outdoor living room" is positioned on top of a two-story mixed-use space. The taller four-story structure that houses the apartments features the cool roof in Linen White Fluropon.
The roof's white color reflects solar heat and the high-performance Fluropon coating provides exceptional resistance to ultraviolet (UV) radiation. These qualities contribute to optimizing the building's cooling load, and lowering associated energy use and emissions, which saves on utility and operating costs. The residents also enjoy a more comfortable interior and the community benefits from a reduced heat island effect.
Skip carousel content
Project Image Gallery
King 1101 Apartments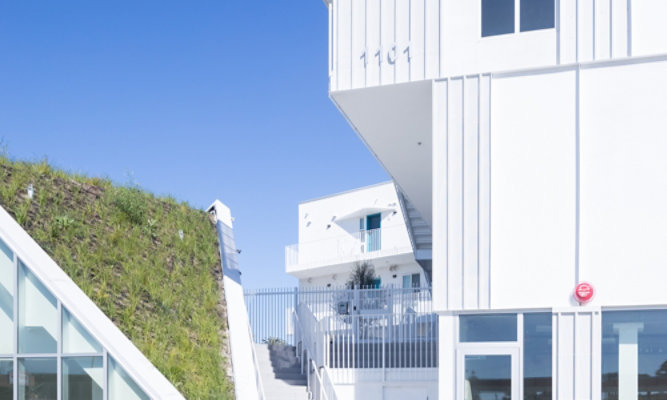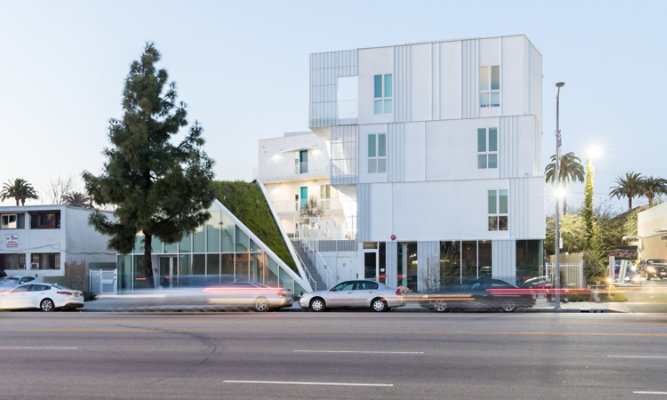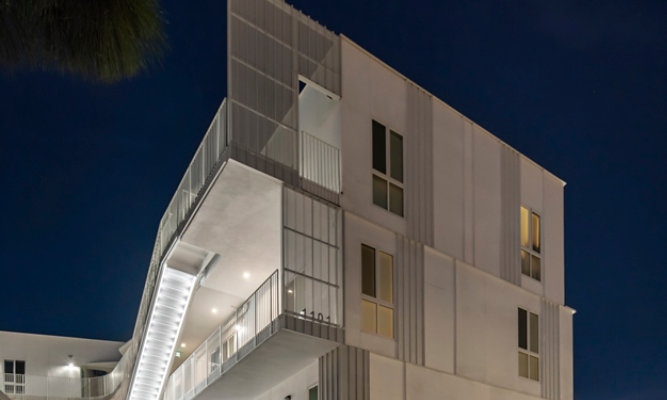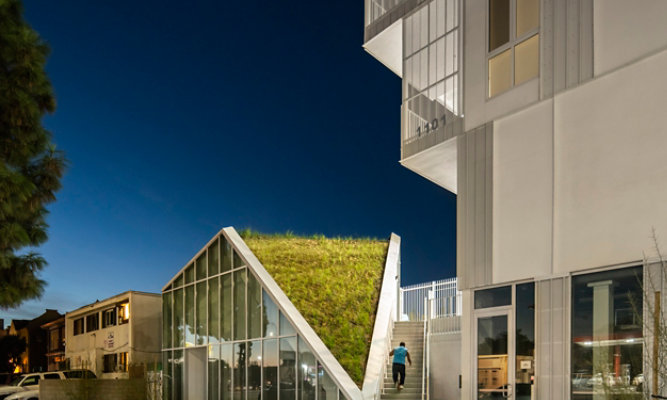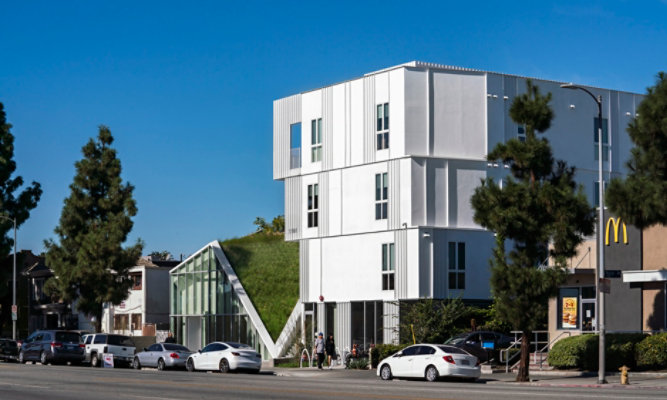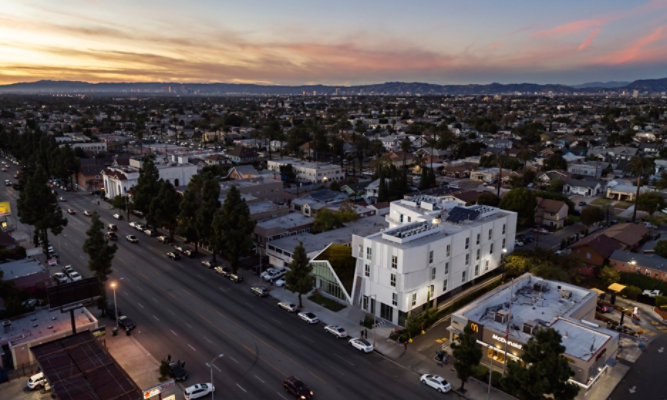 Designing with Sun and Shadow

LOHA favored the same Linen White Fluropon for King 1101 Apartments' façade cladding. Complementing the surrounding area's architectural aesthetic and bringing California contemporary style to life, the building envelope is constructed with proven, economical and environmentally responsible materials and finishes.
Metal Coaters California applied Fluropon coatings from Sherwin-Williams Coil Coatings to both the aluminum roof and wall panels. Metal Sales Manufacturing Corp. engineered and fabricated the panel systems for design versatility and large scale continuity, which were distributed through L.A. Roofing Materials.
The ribbed panels clad the façade, alternating with painted cement board. Vertical metal fins are integrated within the wall cladding and finished in the same Linen White Fluropon. The fins catch the light and cast shadows along the corrugated and flat walls, adding visual interest and texture to the façade's otherwise unadorned exterior.
The Linen White color "plays a great role," LOHA's founder and design principal, Lorcan O'Herlihy, FAIA, told Architect magazine. "There are so many colors within that color, in how the sun hits it."
Fluropon 70% PVDF resin-based architectural coatings by Sherwin-Williams Coil Coatings meet the industry's most stringent performance specification, AAMA 2605. Protecting and enhancing the aluminum roof and wall panels, the coating's strengths include resistance to color change, gloss loss, chemicals, UV, chalking, erosion, humidity and salt spray.
Project Credits:
Location: King 1101 Apartments, 1101 Martin Luther King Jr. Blvd., Los Angeles, CA 90037
General Contractor: G.B. Construction, Inc.; Yorba Linda, California
Exterior wall and roof system – manufacturer: Metal Sales Manufacturing Corp.; Fontana, California
Exterior wall and roof system – distributor: L.A. Roofing Materials, Inc.; Los Angeles
Exterior wall and roof systems ­– coating applicator: Metal Coaters California; Rancho Cucamonga, California
Exterior wall and roof systems – coatings: Fluropon® Linen White, Sherwin-Williams Coil Coatings
Photography: Paul Vu, Iwan Baan
Striving for Sustainability
These architectural coating systems by Sherwin-Williams Coil Coatings are tested under extreme conditions to ensure they retain their appearance and high performance for many years to come. Reducing the need for maintenance and repair further supports the apartment building's environmental and economical sustainability.
The project earned LEED Gold certification in December 2018. Along with its cool roof, durable finishes and recyclable aluminum panels, the building's other sustainable features include high-efficiency heating and cooling through individual fan-coil units, and windows that allow for natural light and air flow in every apartment.
The sunny, mild climate and passive ventilation helps reduce demand on heating, cooling and electric lighting loads. Aiding in energy and water conservation, a hot-water system heats water using solar arrays on the roof. The green roof and landscaping also support the project's green goals with drought-tolerant plantings and an edible garden.
Limited underground parking is supplemented by on-site storage for bicycles and EV charging stations for cars. The building's location in south Los Angeles takes advantage of exceptional public transit access, which reduces the individual expense and ecological impact of personal vehicles. King 1101 Apartments is nearby to the attractions of Exposition Park with the California Science Center, the Natural History Museum and more.
"Southern California desperately needs to improve energy and water conservation. Quality affordable housing should contribute to economic and social equity and bring environmental benefits to residents, neighborhoods and cities," said Cristian Ahumada, executive director of Clifford Beers Housing. "Our goal is to support people to leave the cycle of homelessness forever, and a clean, safe and healthy space is an important part of that."
Supporting Success, Uplifting People
Completed at an estimated total cost of $16.2 million, rental rates on studio, one-bedroom and three-bedroom apartments are capped at 30-50% less than the area's median income. Six different service organizations offer on-site support for mental health care, life skills training, medication and medical services, substance use disorder treatment, employment readiness and placement services, and self-help support groups.
King 1101 Apartments welcomed its first residents on Martin Luther King, Jr. Day on Jan. 18, 2019. At the dedication celebration, Emilio Salas, serving as deputy executive director for the Community Development Commission/Housing Authority of the County of Los Angeles, shared, "Dr. King's messages centered on ensuring dignity and showing respect for all people. Our agency is proud to play a role in developing quality housing for the County's most vulnerable residents, and empowering them with the tools to help them progress with dignity."
"This will become a permanent symbol for hope and the best of what we can be in the City of Angels," remarked local city councilmember, Marqueece Harris-Dawson, during a tour of the building.
Winning Recognition and Respect
LOHA's design for the King 1101 Apartments advances previous experience working with Clifford Beers Housing and other supportive housing organizations. The architectural firm noted that this "acknowledges the successful track record these housing complexes have had with integrating various populations, bringing supportive services in-house and creating uplifting living environments for people to thrive."
In addition to its successful achievements in the community and LEED Gold certification, King 1101 Apartments and its architectural team also have achieved such accolades as The Architecture MasterPrize™, a Westside Urban Forum 2019 Design Award for Affordable Housing and the Dezeen Awards 2019 Housing Project of the Year.
King 1101 Apartments also was presented with a 2019 Residential Architecture Honor Award by the American Institute of Architects Los Angeles (AIA|LA). The award judges comments called the project "architecturally stunning" and noted, "The green roof is a great example of how you can showcase the sustainability element by having it front and center for everyone to see." The judges concluded, "This is something to be proud of to see in LA."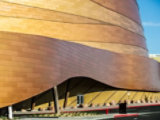 Fluropon is Sherwin-Williams flagship 70% PVDF coating system for architectural metal building products. Its superior durability and color retention keeps your building facade looking new for decades to come. Available in over 50,000 colors, Fluropon meets the industry's most rigorous standards including AAMA 2605.
Skip carousel content
Architectural Projects
Get Inspired
Sherwin-Williams has collaborated with architects and building product manufacturers around the globe to help bring monumental architecture to life in vibrant color that withstands the test of time.
View all of our projects